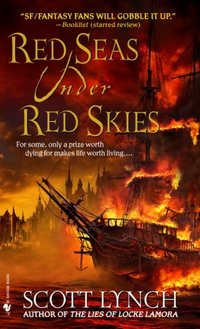 Purchase
Red Seas Under Red Skies
Scott Lynch
Spectra
August 2008
On Sale: July 29, 2008
Featuring: Locke Lamora
688 pages
ISBN: 0553588958
EAN: 9780553588958
Mass Market Paperback
Add to Wish List

In his highly acclaimed debut, The Lies of Locke Lamora, Scott Lynch took us on an adrenaline-fueled adventure with a band of daring thieves led by con artist extraordinaire Locke Lamora. Now Lynch brings back his outrageous hero for a caper so death-defying, nothing short of a miracle will pull it off.

After a brutal battle with the underworld that nearly destroyed him, Locke and his trusted sidekick, Jean, fled the island city of their birth and landed on the exotic shores of Tal Verrar to nurse their wounds. But even at this westernmost edge of civilization, they can't rest for long - and are soon back to what they do best: stealing from the undeserving rich and pocketing the proceeds for themselves.

This time, however, they have targeted the grandest prize of all: the Sinspire, the most exclusive and heavily guarded gambling house in the world. Its nine floors attract the wealthiest clientele - and to rise to the top, one must impress with good credit, amusing behavior…and excruciatingly impeccable play. For there is one cardinal rule, enforced by Requin, the house's cold-blooded master: it is death to cheat at any game at the Sinspire.

Brazenly undeterred, Locke and Jean have orchestrated an elaborate plan to lie, trick, and swindle their way up the nine floors…straight to Requin's teeming vault. Under the cloak of false identities, they meticulously make their climb - until they are closer to the spoils than ever.

But someone in Tal Verrar has uncovered the duo's secret. Someone from their past who has every intention of making the impudent criminals pay for their sins. Now it will take every ounce of cunning to save their mercenary souls. And even that may not be enough.…
Comments
8 comments posted.
All these cons sound like fun... for the most part. I wish you all the best at the Dillocon!!!
(Freda Mans-Labianca 10:05am August 15, 2009)
Cons are great fun. If you get the chance you don't want to miss Dragon*Con in Atlanta. I hate crowds so avoid the media frenzy part and head to the paranormal, sff&f lit, and ya lit panels. They are spectacular.
(Di Herald 10:07am August 15, 2009)
Con are fun- it is just my work schedule and travel requirements to get to one that always kept me away- and of course I am not a crowd kind of person without someone there I know to talk to.
I went to a sci-fi con when I was a kid to get to meet the Star Trek Next Generation cast and loved it! Got pictures of my favorite characters that I thought I would never get to meet.
(Sara Edmonds 12:12pm August 15, 2009)
I've never been to one, but would love to. I think they would be very interesting and you get to meet your favorite authors. How great would that be???
(JoAnn White 3:36pm August 15, 2009)
I haven't gone to as many as I would like, mainly because I live off the beaten track, but I've loved going to cons of almost any kind.

Just like anywhere you are or go, you can learn interesting things that broaden your horizons at museums, libraries, and, yes, cons.
(Sigrun Schulz 7:11pm August 15, 2009)
I've never been to a Con but a friend is going to the one in Toronto and she is thrilled; so I hope she will meet many authors and have a great time
(Diane Sadler 8:57pm August 15, 2009)
Haven't heard of any "cons" in our
area. However RWA will be 5 hours
away next year. It is really tempting to
clear my schedule, make reservations
and sign up as a volunteer. My
husband says "go for it" and I just
might. I work at a library, it could be
a job related trip.
(Patricia Barraclough 11:52pm August 15, 2009)
I had the opportunity to go to an authors and readers luncheon. It was a blast to speak to other booklovers and trade favorite titles. And it was a thrill to meet authors whom I admired as well as becoming acquainted with new authors.
(G. Bisbjerg 1:04am August 16, 2009)
Registered users may leave comments.
Log in or register now!