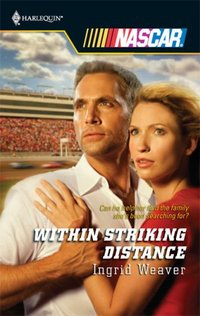 Purchase
Can he help her find the family she's been searching for?
Harlequin NASCAR
August 2009
On Sale: August 1, 2009
Featuring: Becky Peters; Jake McMasters
224 pages
ISBN: 037318526X
EAN: 9780373185269
Mass Market Paperback
Add to Wish List

Ever since she learned she was adopted, Becky Peters has dreamed of finding her birth parents. When a prominent NASCAR family reveals their daughter was kidnapped at birth, Becky dares to hope…to believe. Could she be "the lost Grosso"?
Private Investigator Jake McMaster knows he's in trouble the moment Becky walks into his office. With Becky stirring a lot more than his protective instincts, Jake's determined to keep his professional distance…until she becomes the target of someone just as determined to keep certain secrets buried. With Becky's life on the line, it's up to Jake to keep her safe and give her what she's been searching for—a family and a place to belong. And a love that's within striking distance.
Comments
11 comments posted.
I have been reading Harlequin books for the last 40+ years and throughout have seen them only getting better and better
(Diane Sadler 10:56pm August 5, 2009)
Thank you, Ingrid Weaver. I've noticed some of the same effects, variations on others.

While at the computer, I keep hard-copy reading material nearby to relieve monitor-related eyestrain. These are usually items I can spend a few minutes perusing during a slow upload, such as today's newspaper, magazines, and a quotation dictionary. Yes, I'm a quote freak; but I'll spare you this time!

For better ergonomics, when I just can't sit any longer I get up and exercise, which usually means doing physical chores or taking a walk.

I have carpal tunnel syndrome in one wrist so badly that sometimes I must wear a brace. In my regular (sort of) job as a substitute teacher, I once told my students I wear it to recover from wounds I got while fighting alligators. I meant it as a joke, but now they call me "Alligator Lady."

I sit down on a cushion or pillow in my chair, and vary them. Maybe I can't keep my butt from getting big, but I can sure help to keep it from hurting.

Frequently Lucretia, my big fat white cat, likes to sit on my lap while I'm typing. She's cat-napping there now, but sometimes she demands my attention. Otherwise she'll sit on my mouse or block my view of the screen. I must break my concentration and play with her, but I probably need the break. I figure stroking her and listening to her purr do me good.

I've had voices in my head since long before I started writing seriously. I can't blame writing for that.

NOTHING decreases my reading drive. There's never, ever enough time for all the reading I want to do. However, writing has had this effect: I no longer have any patience with works that aren't as good as what I think I can do. Whether I actually can do as well is another matter.

Keep up the good work!

Mary Anne Landers www.facebook.com/maryannelanders
(Mary Anne Landers 6:14am August 31, 2009)
Oh. My. God! Thank you ever so much for a great start to what promises to be a VERY long Monday!! My favourite? Combining the chocolate and caffeine in the chocolate-covered espresso beans!! Who needs a mug? As for those voices, they're telling me to get out with my camera, while the sun shines! Thanks again!

Later,

Lynn
(Lynn Rettig 10:57am August 31, 2009)
What authors need warning labels?! What about the readers we get hooked and can not not stop reading or buying books. Sometimes I just zone out will reading. Always searching the net for new books, no good book store where I live. my husband thinks that all I do is read books. I get hooked on the books that you write and I am a book junkie. I wonder if there is help for me.
(Jeanette Bowman 11:21am August 31, 2009)
Chocolate, Caffeine, hum...sounds like a typical day for me. I just use talking to my dogs as a "cover story" for my little voices:).I loved your books...keep them coming.
(Robin McKay 5:48pm August 31, 2009)
I agree with J B reading can be just as much of a problem. I read in snatches because I take care of my granddaughter during the day. By evening I'm curled up in any comfy spot reading until I fall asleep. Maybe I should try those chocolate covered coffee beans. MMMMM.....
(Theresa Buckholtz 7:03pm August 31, 2009)
Your comments made me smile. What a ray of sunshine on a Monday. I think that readers have some of the same symptons. We just have more fun with them than you writers do. Congratulations on your latest release!
(Rosemary Krejsa 7:49pm August 31, 2009)
Cute and all too true. I'm not an
author, but since discovering author
sites on the web (for my job of course,
I work at a library), I am suffering the
same symptoms. I don't get much
time at work to check out the sites, so
every evening, here I sit for hours. I
used to sit for hours in the evening
reading. Now my TBR pile is growing
and I'm trying to figure out how to
read more and visit more sites. Who
needs sleep?
(Patricia Barraclough 10:03pm August 31, 2009)
Hi, loved the comparison between the drug commercials and writing a book. Every time I see such a commercial--it's not often because we don't have drug commercials on our Canadian stations--I get more caught up by the possible side-effects than by the supposed benefits. Now, I don't even pretend to write books, but I seem to get the same effects from sitting at the computer doing other things.
(Sigrun Schulz 2:37pm September 1, 2009)
I am so with you about all these tv commercials..after hearing all the side affects why would anyone even consider trying them. I am so glad some one else out there feels the way I do. Some of the commercials are down right stupid..one in particular stating if the side affect lasts for more than 4 hours see your doctor..EXCUSE ME can you imagine a man going to the doctor's office in such a state. Unreal !!!!. I do like what you came up with about writing books and so on. As I am just a reader I will chance the side affects of reading a book if you are willing to chance the side affects of writing it. ha ha After all NOT READING has side affects too...like the saying..use it or lose it and I want to use my brain while I have one. ha ha Take care susan L.
(Susan Leech 11:34am September 10, 2009)
please send me ur website, it wouldnt go thru
(Karen Slaughter 1:16am October 6, 2011)
Registered users may leave comments.
Log in or register now!