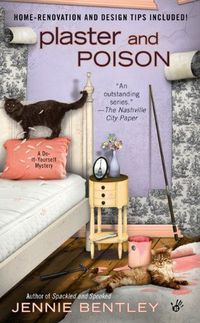 Purchase
Do-It-Yourself #3
Berkley Prime Crime
March 2010
On Sale: March 2, 2010
Featuring: Derek Ellis; Avery Baker
304 pages
ISBN: 0425233456
EAN: 9780425233450
Paperback
Add to Wish List

Local bed and breakfast owner Kate McGillicutty and Waterfield Police Chief Wayne Rasmussen are finally tying the knot. They've asked Avery and her boyfriend, Derek, to renovate an old carriage house behind the B&B. It's a daunting task, but Avery plans on remaking the relic into a romantic Parisian-style retreat.
But the course of true love--and home repair--rarely runs smooth. As proven when Avery stumbles across a lifeless body in the carriage house. And now, Avery's to-do list reads: find wallpaper…lay insulation…solve murder!
Comments
15 comments posted.
That was very interesting and I already have my book on my pile of books to read. I can't wait to read how the mystery gets connected to the crime.
(Dru Ann Love 8:49am March 4, 2010)
Thanks, Dru Ann!

I forgot to mention: there's a book giveaway at Books on the House, running this week: www.booksonthehouse.com/
(Jennie Bentley 9:06am March 4, 2010)
I like you new approach to mystery/crime genre.
(Vikki Parman 3:26pm March 4, 2010)
Thank you. This was fascinating.
(Mary Preston 4:05pm March 4, 2010)
I love mysteries with a dose of humor and your sounds great. Thanks for the intro.
(Robin McKay 4:31pm March 4, 2010)
Crazy weird and you are right...who would believe it! Very interesting!!!
(Cecilia Huddleston 5:01pm March 4, 2010)
Thanks, everyone! It's a really freaky coincidence, which makes for a very interesting backstory the next time I have to go up front of a group and talk about my books! Don't forget to go enter the drawing for a free copy of the book over on BooksOnTheHouse.com!
(Jennie Bentley 5:35pm March 4, 2010)
I am a native Texan, but don't recall ever hearing about a Chandler, Texas. I am going to check that out. The story sounds very intriguing.
(Gladys Paradowski 6:37pm March 4, 2010)
I love light mysteries such as Janet Evanovich.
(Diane Sadler 7:45pm March 4, 2010)
Gladys, I'd love to hear what you find out!

Diane, me too!
(Jennie Bentley 7:58pm March 4, 2010)
Wow! What a strange coincidence. I have not read any of your Do-It-Yourself Home Renovation mysteries, but now I have to. They sound great.
(Rosemary Krejsa 8:04pm March 4, 2010)
I have not read any of your books but I would love to!
(Brenda Rupp 9:38pm March 4, 2010)
Thank you, Rosemary and Brenda! Hop on over to booksonthehouse.com and enter the giveaway. Someone has to win, and it might as well be you!
(Jennie Bentley 10:15pm March 4, 2010)
How great for you and your story that
this name was there and popped out
at you. Not only that, but his death
was a murder. As you said, it is
enough to give you chills. I hope you
do find out more details about him.
(Patricia Barraclough 1:16am March 5, 2010)
That definitely is chilling. I've never had that kind of experience, but lately I've had several weird things happen to me especially concerning reading. Without conscious thought, at least, I've read 3 books with the word "pursuit" in the title this past year, 2 in one week; 2 books that I read one after the other had characters with the same somewhat obscure profession; and 2 others I read one after the other had almost exactly the same plot line. Not chilling exactly, but still weird. Maybe I've just never been conscious of these coincidences before.
(Sigrun Schulz 12:45pm March 7, 2010)
Registered users may leave comments.
Log in or register now!