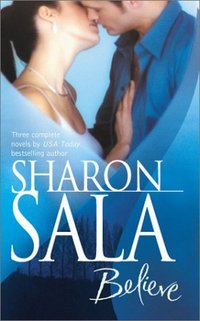 Purchase
Silhouette
October 2001
On Sale: October 1, 2001
768 pages
ISBN: 0373201915
EAN: 9780373201914
Paperback
Add to Wish List

Believe
Do you believe in magic . . . miracles . . . and the wondrous power of love?
Let bestselling author Sharon Sala convince you!
THE MIRACLE MAN
After years of longing, Antonette Hatfield wanted only to have a baby. But was the stranger she saved from the raging river the answer to all of her prayers?
WHEN YOU CALL MY NAME
Glory Dixon donated the blood that saved Wyatt Hatfield's life. She didn't know it would create a bond, one so powerful they could communicate without words . . .
SHADES OF A DESPERADO
She dreamed of an Old West outlaw who claimed she was his. Then Rachel Brant met mysterious Boone MacDonald. Was the love she and Boone shared meant to last for all eternity . . . ?
Comments
12 comments posted.
Re: Believe

I like to read an anthology - is there is some soft of connection between the stories - either a similar theme or a series. Just putting a couple of different stories by different authors together is not an anthology in my mind. I have seen some like this. Maybe they were trying to get new authors noticed.
(Karin Tillotson 11:25am May 31, 2009)
I like to read anything! Antholigies are great either way, linked together or a series of short stories, as long as they hold my attention and are good. Reading short stories makes me go out and buy the authors novels!!!
(JoAnn White 11:33am May 31, 2009)
I love reading anthologies and seeing what are the threads or themes connecting them together.
(Alyson Widen 11:58am May 31, 2009)
I also read anything. Every now and then, anthologies are kind of fun and although it's nice if the stories connect to each other, separate themes are appreciated, too.
(LuAnn Morgan 1:26pm May 31, 2009)
I like to read anthologies that have connected stories, but I suppose that is because I would rather read one long book rather than 3 small ones.
(Judy Anderson 2:24pm May 31, 2009)
I like to read anthologies the stories don't have to be connected. I often find new authors when I get anthologies.
(Dawn Owens 3:17pm May 31, 2009)
I only like anthologies when they are a part of a series and you want to know the fate of a particular character, but on the whole I prefer a full length book
(Diane Sadler 4:40pm May 31, 2009)
I like anthologies. It's a break from reading one long book. It doesn't matter to me if it's one author with two or three shorter stories or if it's three authors with different stories. I'm more apt to pick the book up if I'm a fan of at least one of the authors, but I'm just as drawn to the common thread of the stories. It's an excellent opportunity to experience new authors without the monetary investment of a book written solely by one author.
(Jill Hayden 5:07pm May 31, 2009)
Love anthologies and prefer the ones
with shorter stories. I actually prefer
those with a variety of authors and
centered on a single topic. I keep one
in my car for those times I have to sit
around and wait. Want something I
can finish in a short time. Don't want
to start a longer book I may not get
back to any time soon. Just picked up
an old favorite today.
(Patricia Barraclough 11:58pm May 31, 2009)
There are times when an anthology is just the thing because the stories are shorter. I do like there to be a common thread or a connection in some way. I usually only buy anthologies that have an author I already read, it is a good way to try the voice of a new to me author. Somethimes the theme of an anthology speaks to me. I find I don't buy as many as I used to as I do prefer longer books with more story to them.
I love the way you came up with the subject.
(Donna McClure 12:25pm June 1, 2009)
I have an attraction/aversion relationship with anthologies. I am always attracted to them, especially if it has authors I like, but then when I get them I tend to let them sit on the shelf. If it has a story that is part of series I like to read then I might just read that one story and leave the rest, or it takes me a long time to read the other stories.

I don't know what it is...maybe because the stories are so short they don't have enough time to build to a satisfying conclusion. Just as I start to get into the story, it ends.
(Michelle K 8:51pm June 2, 2009)
I like it both ways when there are three books by one author and one with several on the same story line and it keeps going.. I have read seveal authors who do that...
(Dona West 1:15pm June 28, 2009)
Registered users may leave comments.
Log in or register now!