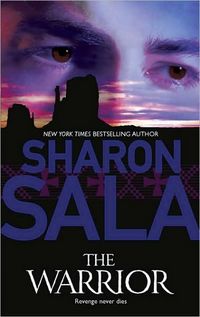 Purchase
Revenge Never Dies...
MIRA
April 2009
On Sale: April 1, 2009
Featuring: John Nightwalker; Alicia Ponte
384 pages
ISBN: 0778326330
EAN: 9780778326335
Mass Market Paperback
Add to Wish List

John Nightwalker is a strong, rugged Native American soldier who has seen many battles. While hunting down an old enemy, he crosses paths with Alicia Ponte. On the run from her father—a powerful arms manufacturer—Alicia seeks to expose her father's traitorous crimes of selling weapons to our enemies in Iraq. But Richard Ponte will do anything to stay below the radar…even if it means killing his own daughter.
Drawn to the mystery that surrounds Alicia, John feels compelled to protect her. Together they travel through the beautiful yet brutal Arizona desert to uncover deadly truths and bring her father to justice. But their journey is about to take an unexpected turn…one that goes deep into the past.
Comments
41 comments posted.
Re: The Warrior

The Warrior was a great read..as always Sharon Sala weaves a suspenceful book.
(Lois Imel 6:27pm May 11, 2009)
As of this posting I haven't gone, but I do have a ticket for the 2:00 show today. I also bought myself a good seat and
valet parking.

Are you feeling better?
(Sandi Shilhanek 10:13am May 24, 2009)
I'm a bit of both. I plan by putting books on wish list but I still love the thrill of visiting a bookstore/library & finding new discoveries. I may go in w/ something in mind but I come out w/ something else. Ummm...sort of like grocery shopping have my list for a few things but somehow the cart fills up. How was Fiddler on the Roof? I wish I lived nearby I would go w/ you. I love plays/theater but rarely get the chance to indulge. -- Pam
(Pam Nolan 10:41am May 24, 2009)
Hmmm, both, I start with a plan, and the best intentions, but find that anything will turn my head and off I go. Like a friend bought tickets to Judas Priest and WhiteSnake concert in Aug. Her usually concert partner doesn't want to go with her, and remember when WhiteSnake first came out as the first and at the time, only Christian hair band. LOL They quickly got corrupted by secular life and we got pour some sugar on me... not bad corruption. LOL So I am coming in to work late and won't be able to hear for three days... but it will be my third concert in my life. I am badly deprived. LOL

Hope you enjoyed Fiddler on the Roof.
(Melissa Tackett 10:53am May 24, 2009)
I try to have a plan when I go shopping, but when I get in a store my impulses take over and I go shop-a-holic. I just can't seem to help myself.
(Julie Harper 11:04am May 24, 2009)
Planning shopping attacks, I usually leave the list at home by mistake, so my shopping is search and hope to find. When back home, I discover the important thing still leftover on the list. However for books, I'm definitely an impulse buyer. For everything else, I shop the clearance areas first.
(Alyson Widen 11:17am May 24, 2009)
When it comes to books I am definitely a planner until I get to the book store. Then I have to try to control my impulse buying.
(Joyce Mandle 11:23am May 24, 2009)
I'm also both--I have a list, grocery or other, but usually get a lot more. I love internet shopping for books and lots of other things too. I could spend hours in the local Borders and come out with so many books LOL

Enjoy Fiddler I'm sure you'll love it--I saw a local production a few years ago.
(Barbs Ferris 11:27am May 24, 2009)
When it comes to book buying, I'm a planner and stick to my wishlist. Unless I come across a book I didn't have on my wishlist and I just have to have it. (I confess I'm a sucker for those big and beautiful coffee table books that you always see on the bargain tables at Borders and BN). As for shopping in general I used to be very impulsive, I'd wander into Walmart or Target without a list and come out with a full cart of impulsive buys. But now in these economic times I do not go shopping without a list and I force myself to stick to it no matter how tempted I am by something. Now when I win the lottery I think I might revert back to the impulse shopper that I was!!
(Shauna George 11:27am May 24, 2009)
I'm sort of both, like so many of the rest here. For the grocery, I keep my list in my purse, and do my best to stick to it. For the bookstore, well, I go in with the plan of just picking up that one new one by Author X or Y, and most of the time, come out with stuff by Authors A, B, and C also! However, I DID manage to get in and out of Border's yesterday with only ONE book!! It wasn't what I went in for originally, but with my 40% coupon, and some major thinking about the cash-flow situation in my wallet this weekend, I'm very glad I got what I got.

Later,

Lynn
(Lynn Rettig 12:08pm May 24, 2009)
My friends came into work to tell me they were booking a trip to Jamaica. I had previously told them we were not going this year because we were doing renovations on our home. My friends asked me to come to the travel agent with them and I ended up booking the trip on the spot....without even talking to my husband about. That is the most impulsive thing I have ever done! We had a great trip and came home to find out my husband was offered a better job with more pay and so we are still able to do our reno!
(Cindy Boucher 12:24pm May 24, 2009)
I'm probably somewhere in the middle. Not really impulsive, but I don't stick to an absolutely strict schedule, either.
(LuAnn Morgan 12:49pm May 24, 2009)
I'm definitely an impulse buyer and it's usually books. I can't remember what the last ones were, but if I go in for one specific book - I often come out with a bag with many more books than that.
(Yvonne Hering 1:08pm May 24, 2009)
I would say I am an impluse buyer...unless we are talking about lots of $$$
(Marilyn Warner 1:49pm May 24, 2009)
Both! I start out with a plan, but if I see something I like I usually go ahead and get it. If I don't, once I leave when I come back it's gone!
(JoAnn White 1:50pm May 24, 2009)
Sandi--Enjoy FOTR. I saw it years ago and it is a great show.
I keep a list of books to buy but have been known to buy one on impulse now and then. I am also a home sewer and I am an impulse buyer when it comes to fabric. I have been better in recent years mostly because my favorite fabric store closed and I don't go as often to the others. I did go yesterday and bought some fabric for grandkid pj's (on my list) but also bought some for myself.
(Mary Perry 1:52pm May 24, 2009)
I don't think wanting to see Fiddler on the Roof final tour and getting tickets would be considered impulsive! This is once in a lifetime thing! I loved the movie and envy you for going! I only hope someday it will be on tv, but probably not. Am I impulsive? Yes, sometimes I am, especially when it comes to buying things. Sometimes I see things on the shopping channels and just have to have it! And buying books all the time. Someone would mention a great book, I would look it up and see the reviews and purchase it, even used, hardcover, if it is available! I must have about 90 books I haven't read it, and I still keep buying! Also, very impulsive buyer when shopping at WalMart! Very bad girl there!
(Peg Fragale 2:00pm May 24, 2009)
I'm afraid I'm temptable. I go into a book store to buy a specific book but seldom come out with just that one. Something on the new release rack or the sale table will call my name and it must come home with me.

Enjoy Fiddler on the Roof. I most always go to movies/museums/concerts by myself. I realized long ago that I prefer that than having to work around other people's preferences and schedules. Also, you can almost always find a fabulous single seat close to the front.
(Jill Hayden 2:07pm May 24, 2009)
I am much more of a planner this year than in the past. I make a list and stick to it, but I have also been known to be under the budget I set for myself so I can sort of feel like I was able to pick up something on the spot. I have my priority list and usually stick to it unless what I want is sold out. But even with a budget I find myself spending an hour or more in the bookstore searching for something to add to the list for later.
(Sara Edmonds 3:55pm May 24, 2009)
I'm both a planner and an impulse buyer. I always try to plan ahead and list the books I want to get when they come out but at the same time I buy on impulse and get things right away because I know the next time I go back it won't be there.
(Debbie Beverley 6:19pm May 24, 2009)
I;m both: a planner when it comes to making grocery lists based on how low our stock is, the I go through sales papers and pick my items from there and so on till I've filled my stock again; same for books I have a wish list with the specific dates of releases. However in both cases and when I ma out and about, if I see something interesting I pick it up.
(Diane Sadler 7:06pm May 24, 2009)
For anyone interested Fiddler On The Roof was beyond fantastic. If you live in an
area where it's going to be seen it's well worth the ticket price! Be warned
because you'll want to buy tickets for other shows they're bound to be
advertising, and you'll be humming Fiddler songs long after the show!
(Sandi Shilhanek 7:41pm May 24, 2009)
I am a planner since I am also disciplined in budgeting. That means that if I see something in a store that I fall in love with, I often still leave without it to see if I want it less with time to think on it. Glad to hear that you enjoyed enjoyed the show.
(G. Bisbjerg 7:56pm May 24, 2009)
Like others I am both. The balance in the checkbook dictates wether I dare buy on impulse! Some things are planned, others not so much. My car was an impulse buy!! That is a biggie! I don't have to talk it over with anyone else so it was entirely my decision, to good a deal to pass up & my credit union along with the car dealer made it way to easy! I've never been sorry.
Sandi, I'm so glad you enjoyed the theater. I can imagine humming the music after.
Enjoy the extra day tomorrow.
(Donna McClure 8:37pm May 24, 2009)
I do both. I plan when I can. Our
son-in-law had surgery scheduled at
Duke and we were going down for the
week. Guess what - Fiddler On The
Roof with Topol was in town. No
question, we were going. Good thing
we didn't buy tickets. Got half way
there when our daughter called, in
tears, to tell us the operation was
postponed for a week. Rats! Selfish, I
know, but I so wanted to go and it
won't be showing anywhere else
close. I plan what to do and get most
of the time. However, I never pass up
a good deal if one comes along. So
far we haven't gone overboard and
done something we can't afford.
(Patricia Barraclough 9:06pm May 24, 2009)
I am glad you got to see a fantastic show! I have to confess that I am an impulse shopper, groceries, books, whatever! I bought my kids a Wii game today that I had not planned on at all and that they really didn't need, but, hey, it was on sale! Now, to find some books that I can impulsively buy!
(Sharla Long 10:13pm May 24, 2009)
I'm not really an implusive buyer. The last purchase I made that was an impluse was the Katy Perry CD this past Friday night. Otherwise I usually plan out what I'm going to getting(usually I have a coupon for a hardcover, on sale (50% off), or just came out in pb.).
(Maggie Roso 10:19pm May 24, 2009)
I almost forgot about the blog contest until I checked Facebook.
Unfortunately, I am definitely an impulse book buyer. I usually go in for a specific book but I too walk out with a stack. Of course since Half price books is doing an extra 20%off this weekend, I had to shop.
(Summer Sharp 11:24pm May 24, 2009)
I'm impulsive when it comes to buying books, that's for sure. Especially when it comes to books
for my kindle!

I saw Topol in Fiddler back in the... well, lets just say when I was a teenager. The play was on
Broadway. Absolutely wonderful.
(Mary Hundley 8:07am May 25, 2009)
I sure as heck can be, Sandi! Although, sometimes it can pay off. I once, on the spur of the moment, decided to buy concert tickets. Logged on JUST as they went on sale and got FRONT ROW CENTER tickets to see my favorite man. LOL And well, when it comes to book stores... I don't go in unless I know I can walk out with a fistful! LOL
(Amy Inholt 11:52am May 25, 2009)
Hi all. I'm a little bit of both. Sometimes I plan a purchase for a long time before spending my hard-earned $$, and the next time "poof" and the $$'s gone.

I very seldom visit the book store, I do 99% of my book shopping at eHarlequin where I find it only to easy to click on the "purchase all" button. . .

For other shopping I can usually control my impulses (my wallet won't let me do otherwise) but if I've been thinking about buying something and suddenly see it on sale, I can usually justify picking it up right then, and leaving something else for later.

Sharla, my grandkids have had a Wii game (with all the different activities included) for quite a while, and I've watched them use it on many occasions. Quite frankly, it's the best thing my daughter has spent $$ on in a long time.

Sandi, I'm glad you enjoyed FOTR. We don't have a lot of occasions for things like that around here. Mostly it's dance and piano recitals for us. . .
(Donna Breitkreuz 12:05pm May 25, 2009)
I am both. I used to be more impulsive than I am now but hard times have forced me to be very careful when I spend money. However, when it comes to buying books, that's a whole different story, although I don't buy as many as I used to and I looked for "great price" on books in stores. But, coming back from PA, I was browsing an airport shop when I spotted some earrings made by a local artist; I definitely had too much time on my hands because I bought a pair and am wearing them now. Impulsive still but more careful!
(Trudy Miner 1:46pm May 25, 2009)
I'm totally an impulse buyer, Sandi. Not as bad as I used to be, since money is a little tighter, but still....alot of times I'll go to the store w/ no certain item in mind, and wind up buying all kinds of things. Today went to Wal Mart just to look around and bought Moonlight Warrior, a new blowdryer, a tie dye kit for my daughter....just things, lol. Nothing I needed or was even really looking for.
(Melissa Bradley 8:38pm May 25, 2009)
I'm not very impulsive except when I see a new flower I just have to have. I don't think it's impulsive to purposely go to Half Price Books and get a box full at 20% off lol.
(Ilene Pedersen 8:46pm May 25, 2009)
I'm an impulse buyer. I may go in for one book and come out with 4. My sister told me I had to check out your facebook site to see everything you have going on.
(Vale Black 9:01pm May 25, 2009)
I'm both too! I decide what I want to buy, do the homework, especially if it's a higher ticket item, but I get impulsive after I've done the pre-planning because once I spend all that time thinking about what I want, I usually buy it whether or not I should, lol.

Suzanne
(Suzan Forster 1:26pm May 26, 2009)
I use the B & N Wish List. I prioritise my list. How long the list. I go down the list. Then I impulse buy if I have money left over in my book budget. Actually I have a hard time without a list. If I were to browse the shelves w/o a goal I would spend time in the store I could spend reading. I have on occasion gone into a store and spent two hours and only found one book.

Ray
(Ray Getzinger 2:22pm May 26, 2009)
Oh yes, I am VERY impulsive...at times I wish I wasn't! My last impulse-buy wa a karge print of a cougar that cost three-quarters of what I had budgeted for groceries! Talk about stupid. Love your books.
(Patsy Hagen 2:42pm May 26, 2009)
Impulsive describes me to a tee
(Marilyn Shoemaker 10:14pm May 27, 2009)
Sad to say, I'm impulsive a little tooooo often. Not on big purchases though. Have to think those thru. Now hubby, on the other hand, is impulsive on the big stuff. Good thing I'm there to stop him:)

Books are definitely the biggest impulsive buys (w/clothes a close second). Can't resist adding a few more to that mountain I call a tbr pile. I probably should control it more at this point, but really, what fun would that be?
(Amanda Reeder-erdly 12:08pm May 29, 2009)
I am not an impulsive buyer.. well at least most of the time. I try to stick to a list.
(Joy Hoormann 11:08am May 29, 2009)
Registered users may leave comments.
Log in or register now!