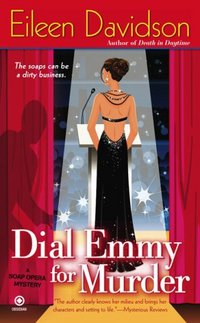 Purchase
The soaps can be a dirty business.
A Soap Opera Mystery
Signet Obsidian
June 2009
On Sale: June 2, 2009
Featuring: Alexis Peterson
304 pages
ISBN: 0451228251
EAN: 9780451228253
Paperback
Add to Wish List

Alexis Peterson's days are filled with scheming, backstabbing, adultery and murder. She is a soap opera star, after all. But a new role has her feeling like she's in the horror business.
Tabloids and fans are stunned when soap star Alexis Peterson leaves her popular show for another soap, but she's too busy preparing for her new job as a presenter at the Daytime Emmy® Awards to notice. When her co-presenter goes missing on award night, Alex realizes she has another murder mystery on her hands.
Working behind the scenes to find out how her costar could have met such an end, Alex invites handsome Detective Frank Jakes back into her life. But first Alex must focus on finding the killer before she sees another one of Hollywood's brightest stars burn out. Who knew soap operas could get so dirty?
Comments
50 comments posted.
Hmmm, I seem to be four days early. How did that happen and I hope I get a chance to re-comment on June 20.
(Sandy Miresse 8:11pm June 16, 2009)
Wow..... I just went through your giveaways and its all superb stuff. Seriously, hats off to you for this. Please enter me in this competition coz i would love to win this book. Thank you
(Germaine Perera 1:06am June 20, 2009)
Sounds like a odd way to wright a book but what ever works for you got to be good because it's working
sasluvbooks@yahoo.com
(Stacey Smith 2:19am June 20, 2009)
Hi Stacey.. you're right! It is an odd way! But when your writing partner lives across the country, you gotta do what you gotta do, right? At first it seemed very strange. I guess I'm kind of getting used to it!
(Eileen Davidson 8:57am June 20, 2009)
Interesting writing with a partner across country! I can't imagine doing that and keeping my sanity. :)
Your books sound like great reads.
(Karen Barnett 10:27am June 20, 2009)
Email is a fantastic way to stay in touch! What a great avenue to write a book also - keep up the good work! Would love to win this book!

Thanks for the opportunity to enter this contest via a "blog"!

Have a great day!
(Katherine Reese 11:20am June 20, 2009)
Looking forward to your reads, I'd like to be included!
(Teresa Warner 11:25am June 20, 2009)
I have always watched you on the soaps and you were great! so i would love a chance to win one of your books
(Donna Howard 11:37am June 20, 2009)
Wow, I'm impressed with your ability to multi-task, acting while writing. And you couldn't have chosen a better storyline, since they always say you should write what you know about.
(Jody Faltys 12:11pm June 20, 2009)
Waiting to read your books!
You are an amazing actress and now an accomplished author.
(Rebecca Booth 12:25pm June 20, 2009)
Thank you so much! I'm having a lot of fun writing about the behind the scenes stuff.I'd like to say I exaggerate the different scenarios, obviously I do change them, but there really is so much reality to draw from! Thankfully, or I wouldn't be writing the books!
(Eileen Davidson 12:39pm June 20, 2009)
The cross-county email writing partnership sounds fascinating. I'm with you, though--I'd need the plot and villain lined out up front.
(G S Moch 1:47pm June 20, 2009)
Otherwise I have a hard time figuring out what comes next. Maybe with more experience I could do it that way. Bob likes to be surprised. I guess I'm more of a control freak!!btw I am heading out to my 8 year old niece's talent show. I'll be back in a few hours. Does anyone have any questions? If you do, I will answer them when I return. I'm really enjoying blogging. It's fun to communicate with all of you!
(Eileen Davidson 2:04pm June 20, 2009)
Eileeen, is this type of writing team a common practice? It must be difficult to complete your book without killing each other. However, the process must work since you have written three mysteries. I definitely want to read this book. It sounds like a good summer read.
(Rosemary Krejsa 2:26pm June 20, 2009)
I am one soap opera addict, General Hospital for almost 30 years. Can't break the habit.
(MaryEllen Hanneman 3:02pm June 20, 2009)
WOW! I have always enjoyed watching you on "The Young and the Restless" and now I get to enjoy your books. Thank you for many hours of happy reading!
(Debra Knotts 3:04pm June 20, 2009)
I saw the title to your book and my first thought was Erica Kane. Then I saw the name of the author and I thought Ashley. You have a very unique way of writing, I wonder if there are any other authors that write the same way. Can't wait to read your book.
(Judy Anderson 3:07pm June 20, 2009)
When I approach a project or something I have to write, I too like to make sure it is outlined and I know where I am going so I can sympathize with your frustration. I also seem to get more writer's block that way though.
(Sara Edmonds 3:19pm June 20, 2009)
I'm just now reading about your books. I don't know how I've missed them. I'm ready to dive in ... they sound like a fun read.
(Margie Whitten 3:23pm June 20, 2009)
Your books are truly fantastically fun! Love your characters. I just don't know how you manage to do all that you do and do it all so well!!
(Betty Cox 3:36pm June 20, 2009)
I'll bet that Missourian gives you lots of midwest input. Having grown up in that state, I find that some of my "back home" back ground isn't so bad in the fast pace of CA. I too, like to outline what I write; a letter, a poem, my family's history, my attempt at story telling. I'll bet you have a great deal of angst AND fun writing the way you do.
(Jean Merriott 3:47pm June 20, 2009)
So are you going to do an upcoming book showing soap writers plotting out future episodes where one offs another because they do or do not plot/outline what they see happening?
(Summer Sharp 3:56pm June 20, 2009)
How did you get together with your writing partner? How did you figure out you both would make a good team?
(V Scott 4:16pm June 20, 2009)
It must be very difficult writing as a team via email
(Diane Sadler 4:25pm June 20, 2009)
Thanks for the opportunity to win one of your books. Have a great day.
(Roberta Harwell 4:28pm June 20, 2009)
I can't possibly offer suggestions since I'm an avid reader who would be terrified to try writing. I think you're doing great!
(Sandy Miresse 4:52pm June 20, 2009)
Hello to an author I have not heard about before - one reason I take this blog. Your interview is interesting.
I would think writing a book with someone else would be very difficult - especially a man. Women and men think with different sides of their brains.
I'd love to win your book so I could review it.
(Jane Squires 5:47pm June 20, 2009)
Interesting interview! Now I know I'm not the only one who goes through weird stages before starting something new!
Books sound like great reads! Best Wishes!!!
(JoAnn White 6:38pm June 20, 2009)
I have always thought you should write what you know and you do just that. I haven't had a chance to read any of your work but I look forward to the chance.
(Tabatha Basham 7:49pm June 20, 2009)
Hi I am back! In answer to Rosemary's question I have no idea if this is common practice. I personally don't know of any other writing "teams". And Jean! You are wo right! Bob definitely has a different flavor to his writing. He is a prolific mystery and western novelist. Sometimes, especially at the beginning of a new book, his Alexis (our heroine) voice is downright male! Just a couple of weeks ago I had emailed him the first few chapters of our third book, "Diva Las Vegas" and he emailed me back some chapters. After I read them I emailed him and asked if he had just finished a western. Alexis sounded like a cowboy! Not to mention he uses terms that are simply not California. It's actually pretty humorous. I'm sure he finds my choice of words and tone funny, too. Such as I had written an actress referring to another woman as a "chick". He thought that was immature. I'm sure it is, but that's how some of us grown women talk out here!! To V. Bob had approached my husband who is Vince Van Patten (cohost of the World Poker Tour) to write a mystery novel in the poker world. My husband is very bad at typing, so Bob would fly out here for a week and they would write 24/7. We had him over for dinner and I suggested we write a SOAP OPERA MYSTERY.He said sure but nothing ever came of it until two months later I called him up and asked if he was serious. He said yes and did I have any ideas and I said yes and typed them up. He pitched it to Penguin Publishing and we got a two book deal! Sorry the comment is so long!!!!
(Eileen Davidson 7:58pm June 20, 2009)
I would probably enjoy this as I am a covert fan of soap operas. RIP Guiding Light, I am so sad!
(Mari M. 8:12pm June 20, 2009)
I know. Very sad. I can only hope you would enjoy them. They are very informative what goes on behind the scenes. I call it 'truthiness'. (I think Steven Colbert coined that word, I stole it!) a little truth and a little imagination.
(Eileen Davidson 8:16pm June 20, 2009)
What a great use of technology to write with a cross country partner using email!! I'd love to win a copy of your book.
Penny T.
(Penny Tuttle 10:14pm June 20, 2009)
I have never heard of a writing partner before, very interesting.
(Vikki Parman 10:51pm June 20, 2009)
Writing partners are very common when it comes to script writing. You often see scripts written by two people. As far as books go, it obviously needs to be very collaborative. Bob and I really don't fight! If I feel strongly about something he will relent. And I certainly try to maintain an open mind with his choices, especially since he is the expert. He (and his wife, Marthayn, another wonderful novelist) have both taught me so much.
(Eileen Davidson 11:06pm June 20, 2009)
I can't imagine co-writing a book that
way. I know of several writing teams,
but most are married couples. Long
distance with someone with a different
"voice" seems difficult, especially when
your writing process and style are so
different.
The differences I'm sure lend a special
flavor to the book.
(Patricia Barraclough 11:07pm June 20, 2009)
I certainly hope so!!! That's why we email back and forth. If I get something back from Bob that just seems wrong, I rewrite it and send it back, and vice versa. His strengths are the cop stuff, and plot points and development. I am better at dialog, romantic stuff and female character development. Also anything Hollywood or industry related and California. for obvious reasons.
You guys are making me think this is a crazy undertaking! How have we written almost 3 books this way!!!!
(Eileen Davidson 11:23pm June 20, 2009)
I'm curious, though, how did you find your writing partner?
(LuAnn Morgan 12:39pm June 21, 2009)
Lucky you to find a writing partner - no matter how crazy it gets! Keep up the great work!
(Juanita Stender 3:29am June 21, 2009)
tell Robert when he thinks of things outside your outline to save them as a possibility for a new book.
(Karin Tillotson 8:27am June 21, 2009)
The writing "process" used to be a mystery to me. Now I know more about the grit and guts involved. The teamwork in writing with more than one person I've heard about for a 3 section romance novel where each took a century and had one static object in common.
(Alyson Widen 8:54am June 21, 2009)
Wow! Where do you find the time? I've been following you on Y&R for years & I'm sure your books are enjoyable to read. I wish you continued success in all you do!
(Cheryl Snyder 10:28am June 21, 2009)
Just like all busy moms, it's amazing what we can do when we put our minds to it, right? It's called one of woman's greatest gifts, multi tasking!
Thanks to everyone that posted comments. I had a great time and hope to do it again. Happy Father's Day! xo Eileen
(Eileen Davidson 12:46pm June 21, 2009)
I love the idea of "discovering" the villain.
(Mary McCoy 1:13pm June 21, 2009)
I like to think about what I'm reading. Following the clues to figure out who did it or who can't be trusted. I think w/a partner we are getting the best of both worlds. A male & female view.
(Donna Petrilla 3:01pm June 21, 2009)
I'd love to win this. If you write as good as you act, this will be a best seller!
(Mary Smith 3:27pm June 21, 2009)
I'd love to win a copy of this book it's sounds great!!
(Martha Lawson 10:37pm June 21, 2009)
I wonder how you found a wrting partner to begin with. I wrote a non-fiction booke with a collegue I work with so it was easy to find a co-author. How do fiction writer's work?
Jane Halsall
(Jane Halsall 4:01pm June 22, 2009)
one of my previous comments, the very long one above, answers that question!
(Eileen Davidson 8:09pm June 22, 2009)
Wow what a delight to find you here.. I don't uselly read murder but I am giving this one a try soon.. I watch you daily on Y&R what a story line right now... But back to the books good luck and after I read one I will get back and let you know what I thought
(Dona West 12:19pm June 28, 2009)
Registered users may leave comments.
Log in or register now!