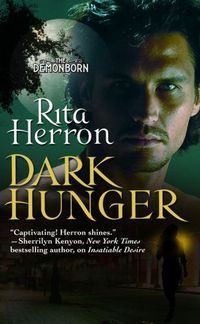 Purchase
He's everything she fears...she's everything he craves...
Demonborn #2
Forever
August 2009
On Sale: August 1, 2009
Featuring: Annabelle Armstrong; Quinton Valtrez
320 pages
ISBN: 0446199486
EAN: 9780446199483
Mass Market Paperback
Add to Wish List

Telepath Quinton Valtrez wants nothing from Annabelle Armstrong except her luscious body. One peek into her mind, however, and he knows that that this CNN reporter has uncovered his identity as a government assassin and is determined to expose all of his dark secrets, one by one. He'll never let that happen, his uncontrollable hunger for her be damned. But when a bomber strikes as they're both in range, killing hundreds, Annabelle devotes herself entirely to the story.
Thrown together by danger and desperate to stop the violence, Quinton and Annabelle uncover that the serial bomber is a supernatural attack, perpetrated by an evil force that exerts mind control over people and turns them into killers. But when the forces of evil unite to overpower them, targeting Annabelle in order to ensnare him, Quinton must face his own destiny as one of the Demonborn and join forces with his brother Vincent (from Insatiable Desire) to save Annabelle and fight the evil threatening to overtake them.

Comments
34 comments posted.
Re: Dark Hunger

I have live in a house were thing would move and light would go on and of it seem normal to me because i live around that type of stuff all the time win i was little now that I'm older and live in lots of house where nothing is going on i see that it was strange .it just seem like apart of life when i was young that ghost where all around us.
sasluvbooks@yahoo.com
(Stacey Smith 4:14am August 5, 2009)
Hi, Stacey,

How interesting -- and spooky! I love
to write about the paranormal but if
that had happened to me, I'd probably
be spooked!

Thanks for sharing.
Rita
(Rita Herron 10:24am August 5, 2009)
Anything with a paranormal feel is my cup of tea! Sounds wonderful!
(Joanne Reynolds 11:07am August 5, 2009)
Hi Rita. Your books sound good. Once I lived in a trailer that had a little boy ghost. He would turn pictures upside down and draw on the walls. I saw him one morning standing by my bed. He wasn't scary. He just seemed sad.
(Crystal Broyles 11:39am August 5, 2009)
Hey Rita!

Saw your shout out over at Dangerous Women and had to come by and read your blog post.

You had me at "New Orleans"! Only my fave spooky city in the world. You cannot beat it for a spine chilling, dark magic, absolutely terrifying setting. Cannot wait to read your new book!

I have a question...as a writer...do you find it difficult to keep a series going and keep it fresh? I love (meaning I'm addicted to) series books as a reader. I just don't know if I could ever do it as an author. Any thoughts on how to write a successful series?
(Kerri Waldo 11:47am August 5, 2009)
I would love to read both books as mentioned above. As a fellow Southerner (shout out to Ky) I can appreciate the Tennesse setting. The best ghost tour I have been on was in Gatlinburg. Who would have thought it?
(Vikki Parman 12:26pm August 5, 2009)
I remember visiting a plantation in Louisiana that was reported to be haunted. It felt so creepy in there, kind of cold but I never actually saw anything as others have.
(Cherie Japp 12:49pm August 5, 2009)
I enjoy the Supernatural thats why this show is my favorite. It has introduced me to many different Urban legends and Supernatural things.
(Teresa Warner 1:14pm August 5, 2009)
Hi Rita! We have Cry Baby Bridge where supposedly you can hear a baby crying from under the bridge at a certain time. Also, there was supposedly an accident (in the past 10 or so years) where a baby was ejected from the vehicle and hit a sign and everyone that drove by the sign after was freaked out because you could see the shape of a baby in fetal position dented into the sign; they complained and it was replaced with a new sign, but the dent came back.
(Kelli Jo Calvert 1:29pm August 5, 2009)
Hello Rita,

Just stopped by to say, I loved Insatiable Desire. I can't wait to get my hands on Dark Hunger. Have a great day.
(Roberta Harwell 1:51pm August 5, 2009)
Rita, your books sound wonderful and are now on my 'want' list! I *love* the paranormal themed books!

I've been 'visited' by loved ones at the time of (or right after) their passing. On my mom's side of the family the women often 'know' things and I've heard the stories going back several generations. My great-grandmother, my grandmother, and my mom were like that. I am and so is my daughter. My youngest grand-daughter has also said some things that make me think she's the next one to have the gift.
(Kay Martinez 2:43pm August 5, 2009)
I have read several of Rita Herron books and she is one of my favorite authors. Always her books are intriguing. They keep you in suspense and you have to read them without interruption all the way through because although you never want the book to end you just can't wait to see what happens next !!!!
(Louise Lucchetti 4:06pm August 5, 2009)
Melissa,
Oh, my gosh. How cool. I'm actually
working on a series set around a
haunted mental hospital! My
inspiration - my twin sister and I were
actually born in one - LOL> They did
have wings for other patients but at
the time the hospital was known as
the state mental asylum.
Rita
(Rita Herron 4:13pm August 5, 2009)
Crystal,
Ohh, gives me goosebumps and so many
ideas...Did you ever find out what
happened to him?
Rita
(Rita Herron 4:14pm August 5, 2009)
Kerri,
Writing a series can be challenging. I
love series though and tend to think in
series concepts.
The Nighthawk Island series I did for
Intrigue was a little easier because the
books were very loosely connected,
mostly by this research center, so I
didn't have to lead one book into the
other all the time or keep up with too
many details.
I try to keep a Bible of characters,
places, etc. I use in a series to keep
details consistent. It's also easier if
you write the stories closer together as
sometimes after working on a project
in between, I forget.
Sometimes it's challenging to make
the heroes or characters or storyline
different enough, but that's also true
of writing different books.

I'm sure if the right premise strikes
you, you could do it. I actually do a
workshop on series writing and have
an article on it (I think it's on my
website. If not, I'll dig it up and post it
if you're really interested.
Rita
(Rita Herron 4:19pm August 5, 2009)
Vicki,
I love KY - my best friend and critique
partner is from there and my sister-
in-law lives in LaGrange.
And I've been to Gatlingburg, too. I"m
a GA girl and there's actually several
small towns around me that have
haunted houses.
Rita
(Rita Herron 4:20pm August 5, 2009)
Cherie,
I love Louisiana. My daughter is
moving to New Orleans in a couple of
weeks, and although I've been there
before, I'm looking forward to going
again and seeing the sites - I love the
old graveyards and voodoo!
Rita
(Rita Herron 4:21pm August 5, 2009)
Teresa,
I love that show, too. Have it on DVD and
a few more to watch!

Rita
(Rita Herron 4:22pm August 5, 2009)
Kelli,
Oh, my goodness - I've read about a
bridge like that, and what a spooky
story about the sign.
I actually put the Cry Baby Bridge in
one of my proposals and my agent
thought it was too unreal! I may try it
again though.
Rita
(Rita Herron 4:23pm August 5, 2009)
Roberta,
Thanks for letting me know about ID - I
so appreciate your support!
Rita
(Rita Herron 4:24pm August 5, 2009)
Kay,
How interesting. My mother
sometimes has "feelings" that come
true. And I've had repeated dreams of
my father after he passed.

You should keep a journal of all of
them. I've really been intrigued by
listening to a lot of stories from Sylvia
Browne and also people who ask her
questions on talk shows.
Rita
(Rita Herron 4:26pm August 5, 2009)
Hi, Louise,
Oh, goodness, I'm blushing! Now if I
could clone you a million times, you
and Roberta!

glad to see you here!
Rita
(Rita Herron 4:27pm August 5, 2009)
Would love to see it Rita! If you have it available, would you let me know? Thank you!!!
(Kerri Waldo 5:32pm August 5, 2009)
Kerri,
I found it but will have to get it to my
web mistress for her to post so check out
my site next week for it.
Rita
(Rita Herron 6:19pm August 5, 2009)
Everyone, FYI - my publisher is
offering a special on the first book in
the Demonborn series, Insatiable
Desire, for $1.99 ebook so you can
order it at any online store this month
for a bargain.
Rita
(Rita Herron 6:21pm August 5, 2009)
Hi Rita..just me again to say good to see you are here. susan L.
(Susan Leech 10:05pm August 5, 2009)
I love paranormal books but I honestly have never had any kind of supernatural event in my life other than in my imagination that is
(Diane Sadler 10:54pm August 5, 2009)
I've had a pretty uneventful life. That's
why I read books like yours!
(Sue Ahn 11:38pm August 5, 2009)
;0 you are a auto buy for me, i dont even botver with title, just see you name and know it will be a wonderful book
(Tasha Tipton 11:59pm August 5, 2009)
ack didnt know it showed last name
(Tasha Tipton 12:00pm August 6, 2009)
i posted a comment, pic of my book on ur myspace :))
(Tami Bates 12:37pm August 6, 2009)
I love your books.
(Linda Henderson 1:49am August 6, 2009)
you so totally rock!!!!!!!! ive read your books for yrs
(Crystal Loves Books 5:11pm August 6, 2009)
Hi Rita
when i first came to Canada we stayed with my sister & her family the rocking chair in my nieces bedroom would move when noone was in it
BIL said it was the crooked floor (Yeah Right) that's why my niece would say the lady in pink would talk to her while she was in her bed.
I have always loved paranormal stories.
your's sound very exciting.
Have a good one ann
(Ann w 3:39pm June 17, 2010)
Registered users may leave comments.
Log in or register now!