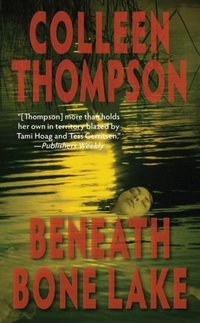 Purchase
Love Spell
June 2009
On Sale: May 26, 2009
Featuring: Ruby Monroe; Sam McCoy
336 pages
ISBN: 0843962437
EAN: 9780843962437
Mass Market Paperback
Add to Wish List

Ruby Monroe knows she's way out of her depth the minute she lays eyes on Sam McCoy. She's been warned to steer clear of this neighbor, the sexy bad boy with a criminal past. But with her four-year-old daughter missing, her home incinerated and her own life threatened by a tattooed gunman, where else can she turn?
Drowning in the flood of emotion unleashed by their mind-blowing encounters, Ruby is horrified to learn an unidentified body has been dredged up, the local sheriff is somehow involved, and Sam hasn't told her all he knows. Has she put her trust in the wrong man and jeopardized her very survival by uncovering the secrets...
BENEATH BONE LAKE
Comments
65 comments posted.
Sounds fascinating.......
(Jane Hixon 11:21am May 9, 2009)
I can't say I am afraid of spiders but I don't want them around. I don't like snakes at all. No an alligator I would be afraid of for sure. I just don't live where they live, maybe if you lived close to them they would bother you as much. I think I would reather just stay away from them
(Gail Hurt 12:35pm May 28, 2009)
Mice! I'm not afraid of them, but more
like they disturb me. I had an incident
where a mouse ran across me while I
was at a rustic winter cabin asleep in
bed. Considering it was also bear
country I'll take on a little mouse over
a bear any day and count myself lucky.
(Sue Ahn 12:50pm May 28, 2009)
It's snakes for me. I was on a week-long hike with my family when I was in my teens and I woke up one morning to find a snake slithering on my chest. My scream could have set the standard for horror movies, sad to say.
(Michelle St. James 5:13am May 28, 2009)
I actually don't have a problem with spiders, I grew up with them around the house and my dad always told me they were the good guys because they ate the other bugs! :) Snakes are another story, I can't see one without my heart racing and quickly grabbing the nearest arm, hopefully one of someone I know...
(Katherine Ryan 5:54am May 28, 2009)
I don't have any horror stories as to why I have the phobia that I do, but snakes pretty much paralyze me with fear. How bad is it, can't even touch a page in a magazine that has one pictured, and even worse if I happen to see a TV show that has a snake in it I almost always dream about them that night. Sends chills down my spine just thinking about it!
(Carrie Divine 7:46am May 28, 2009)
I'm afraid of spiders. I was bitten by one once and every since then I can't stand them. I'm doing better with my fear but they still give me the creeps. Your book sounds awesome. Have a great day.
(Roberta Harwell 8:50am May 28, 2009)
Spiders are creepy and I hit them with my shoe. I have a special flyswatter for other insects and it has a dustpan so you don't have to get too close. To have an alligator take care of a body problem means that there's no bones leftover, quite a tidy package deal, right?
(Alyson Widen 8:58am May 28, 2009)
Snakes when I don't know they're there! I think it is the sudden movement that gets me. When I see a snake before it starts moving, I can accept it and I keep moving. However, that sudden movement!!!
(Karin Tillotson 9:08am May 28, 2009)
Spiders! Of course, I'm allergic to their bites, so I always run the other way when I see them.
(LuAnn Morgan 9:49am May 28, 2009)
some snakes and spiders, but not all
(Shannon Scott 10:17am May 28, 2009)
I'm not afraid of spiders, but I sure hate snakes!
(Cheryl Snyder 10:54am May 28, 2009)
My fear is snakes. I don't want them anywhere near me, but when my grandson wanted a picture at Gatorland with a snake and a gator. I smiled and said "sure". I even let them put the snake around my neck. It goes to show that love is stronger than fear.
(Rosemary Krejsa 11:27am May 28, 2009)
Cockroaches! I have a couple of stories about them, but the worst is one day a woman came into my office; when she opened up her purse, roaches started crawling out - all over the place including one that was crawling up her! She didn't even seem to notice! I finished waiting on her and she left - I ran out to the bathroom and threw up - twice! The girl I worked with hurriedly sprayed my work area while I was in the bathroom. The rest of the day, whether they were really there or not, I saw cockroaches EVERYWHERE!
(Kelli Jo Calvert 11:33am May 28, 2009)
Rattle Snakes! Their beady little eyes follow you as you move across the Montana grasslands and they threaten you with their rattles. Alligators? You think you have alligators? Early Montana had a crocodile 40 feet long! (65 million years ago)
(Del Lonnquist 11:34am May 28, 2009)
Oh dear. I normally associate canoes with happy thoughts. :D

Creepy crawlies. If it's creepy and crawly, it scares the heck out of me. Though, if it's contained for example, at the zoo, I'm okay with that. There was this t-shirt I saw online that said, "The ONLY thing we have to fear is FEAR ITSELF...and spiders."
(Jacqueline Lam 12:10pm May 28, 2009)
*Shudder* I'm pretty fearless about animals (says the girl who chased around her sister with a live snake) but you all are seriously creeping me out. Especially the roach in the purse story. Argh!

Thanks for sharing. Taking notes for my next thriller. :)
(Colleen Thompson 12:15pm May 28, 2009)
Being a native west Texan, I'm not afraid of most insects, but I do have a healthy respect for them. Snakes are my nightmare. Just a few years ago during cold weather, I found a cotton mouth hibernating in my garage. I was total paralyzed, as he/she might be slow in cold weather, but they are still dangerous. I yelled for my husband, telling him there was a snake coiled in my garage, and he laughed -- until he came out. Thankfully, the incident ended with no casualties on either side, but I still have jitters when I go into the garage.

Love your books -- as you well know. Looking forward to reading the new ones.
(Betty Cox 12:26pm May 28, 2009)
I cannot stand mice. We have a couple in our house over the years and they creep me out. Can't wait to read your new book.
(Judy Anderson 12:31pm May 28, 2009)
Thanks so much, Betty and Judy!

I don't hate snakes in general, but water moccasins (cotton mouths) bug me, too. Esp. when they're swimming in the same body of water where I happen to be. Eeeps!
(Colleen Thompson 12:35pm May 28, 2009)
For me, it is snakes, bees and rats. The thoughts of them make me cringe.
(Crystal Broyles 1:01pm May 28, 2009)
I keep respectful distance to snakes, but spiders... Ick! And we don't even have any poisonous ones around here.
(Minna Puustinen 1:26pm May 28, 2009)
Cockroaches will still be here even after a nuclear holocaust; you can cut the head off of a cockroach and it will live for three days; you can freeze a cockroach, and it will still be alive when it thaws!
(Kelli Jo Calvert 1:32pm May 28, 2009)
Ticks I just can't handle them one I find one on me I feel like I'm covered in them and now with lymes yuck
(Beth Reimer 1:40pm May 28, 2009)

(Chris Roberts 1:48pm May 28, 2009)
Frogs. Can't stand how they can just jump any which way with no warning. UGH
(Chris Roberts 1:49pm May 28, 2009)
Have you ever seen a prehistoric alligator? They look the same as the modern ones, only slightly larger. Okay, a lot larger but, they haven't changed their appearance.

I have a little boy so, I have to be somewhat fearless when it comes to small creatures. Today, some weird bug flew into our house and he insisted it was a stink beetle. I calmly got a tissue and got rid of it. We don't live in a stink beetle area, thankfully.
(V Scott 2:08pm May 28, 2009)
Spiders and snakes don't scare me but I get the willies when I see worms or grubs. I think it stems from when I was in high school and we had to dissect them and one boy put one of those things down the back of my dress. I went into a screaming fit which my teaher did not appreciate. ugh
(Joy Isley 2:33pm May 28, 2009)
I hate snakes whenever I see one I run the other way!
(Teresa Warner 2:44pm May 28, 2009)
Not a fan of snakes, luckily don't encounter very many of them here and if I do they are just garter snakes.
(Jean Patton 2:57pm May 28, 2009)
I am afraid of small bugs. Spiders, cockroaches, centipedes, any small insect. Snakes, lizards, or rodents are fine as I've had them as pets but just keep the small bugs away.
(Gayle Oreluk 3:05pm May 28, 2009)
I'm not afraid of the creepie crawlies - just don't like them! Especially the centipedes....yuck!
(Karen Barnett 3:11pm May 28, 2009)
I really hate centipedes! Don't like, spiders, snakes or mice either! lol There are no alligators where I live so that's not a problem.
(Carol Mintz 3:14pm May 28, 2009)
I so do not like any kind of bugs but cockroaches I think are one of the worse. Yuck!!!! My guy has to deal with those for me. :-)
(Larena Hubble 4:01pm May 28, 2009)
Anything little creature that crawls makes me shutter! When I see one I can just feel it crawling on my skin. Ick. Hate them all! LOL.
(Sandra Marlow 4:21pm May 28, 2009)
I have a healthy fear of anything that could kill me like grizzly bears and cougars, but the startling effect of a mouse racing across the room can really start my heart racing.
(Diana Corlett 5:16pm May 28, 2009)
rats are something that scares the heck out of me. We had a nest of them in our attic and for a few nights we could here them chewing on the wood - to say the least we got rid of them very fast LOL
(Barbs Ferris 5:30pm May 28, 2009)
I can't believe I wrote that -- "we could hear them" LOL
(Barbs Ferris 5:32pm May 28, 2009)
Spiders have always creeped me out. I was bitten by a brown recluse and was in the hospital for 3 days about 9 years ago, since then, I am totally freaked by any spider bigger than a nickle.
(Joyce Kenneson 5:42pm May 28, 2009)
I'm scared of everything. lol I hate spiders, snakes, rats and most definitely alligators. The book sounds great!
(Crystal Faulkner 6:44pm May 28, 2009)
Looking forward to reading Beneath Bone Lake!
(Teresa Ward 6:44pm May 28, 2009)
I can't stand spiders but I still kill them without hesitating; I don't like mice either but those I chase away unless my cat gave it to me as a gift(usually dead by then). That's it
(Diane Sadler 7:11pm May 28, 2009)
My biggest fear are rats or mice. I once moved because I found mice in my house!
(Velma Greene 7:45pm May 28, 2009)
I can't take Spiders they give me the creeps and some time make me screem.
sasluvbooks@yahoo.com
(Stacey Smith 8:54pm May 28, 2009)
Thanks so much, Teresa W!
(Colleen Thompson 9:36pm May 28, 2009)
Snakes, definitely! I don't care what kind, I'm not hanging around to get acquainted with them!! I want them gone!
(Martha Lawson 10:18pm May 28, 2009)
Spiders. Can't deal with them. I am
getting better. I'm allergic to spider
bites, so that is my excuse. Snakes
are no problem - I like them (have a
ball python and take it to classrooms).
I did have to call a truce with spiders
while I was in the Peace Corps. They
were just too big to smash. In three
years I only killed one. It was in the
middle of the door to my room and
wouldn't let me out. An aggressive
poisonous one, it had its front legs
raised and its fangs displayed.
Smacked it good. The mosquito
netting was really more to keep
spiders from crawling into bed with me
at night. I'd wake up in the morning
and there would be one at eye level on
the wall.
(Patricia Barraclough 12:11pm May 29, 2009)
I'm not so afraid of animals & bugs as long as they are ALIVE. But the moment I see a mounted animal head I panic. My heart starts thumping and I freeze. As a teen my friends tried to cure me of my fear and took me blindfolded to UNL's Elephant Hall (NE Natural History Museum) and I started breathing so hard & turned whiter than white that I frighten them and they rushed me out.
(Susan Lathen 12:29pm May 29, 2009)
Wow! These are so creepy to read. Thanks, everyone, for sharing, and best of luck in the drawing!
(Colleen Thompson 8:55am May 29, 2009)
I am absolutely terrified of snakes. My mother actually faints when she sees one.
(Vikki Parman 10:50am May 29, 2009)
Creepy...crawly...MAGGOTS!

Colleen, I know a lot about alligators. I'd love to tell you some interesting things about them. For example, did you know they can climb fences? And I'm from west Texas too! Lubbock.
(Melissa Keith 11:33am May 29, 2009)
I hate scorpions... I do not mind spiders, snakes are okay as long as they are not poisonous, Love rodents, but please keep those nasty scorpions away.
(Colleen Conklin 2:00pm May 29, 2009)
I am definitely afraid of spiders. Two years ago, I was bitten by a brown recluse spider on my elbow. The next day, my elbow was beet red and swollen by the next day my arm was swollen too. It was like it was on fire and I could not let anything touch it. When I went to the doctor, he immediatly put me in the hospital. I was on IV antibiotics for 3 days after which I ended up in surgery followed by a cast on my arm. My whole summer was wasted as I could not do anything with my arm. Finally ended up in therapy and all ended well.
(Kay Pritchard 3:27pm May 29, 2009)
Never heard of them climbing, Melissa. That's fascinating.

And I hate scorpions, too, Colleen C. Those nasty little arched stingers... Shudder.

Oh, my, Kay! Those brown recluse bites sound awful. Worse than black widows (which are plenty bad enough.)

One animal I fear that many people love is a ferret. My friend's stuck his weaselly little head up the leg of my jeans and sank his fangs straight to the bone. It was a really painful and utterly unprovoked bite, and I've never been able to look a ferret in its beady eyes since. Although if that hadn't happened, I'm pretty sure I would've loved their cute little antics.
(Colleen Thompson 7:15pm May 29, 2009)
snakes and codkroaches really do not belong in my world. They make my skin crawl.
(MaryEllen Hanneman 11:14pm May 29, 2009)
I don't know why - really - but for me it's a toss-up between snakes and cockroaches. Especially the roaches.

I've somewhat overcome my terror of snakes, although I still have a tendency to want to jump on the roof if I see one unexpectedly, but that's more of a control issue. *shrugs*

Roaches, however, still have a tendency to give me the cold sweats (and this was since before watching the roach in ear incident in Brokedown Palace - which did not help matters).
(Gabby Raines 12:52pm May 30, 2009)
I have a healthy respect for anything that would look at me like I am part of the food chain, so I have always stayed out of their environment. Otherwise, the only fear I really have is not reasonable.....it is dinosaurs. I have finally gotten to the point that I can watch some movies, but not Jurassic Park. Crazy, or is it a genetic phobia?
(Ruby Davis 12:53pm May 30, 2009)
I am terrified of bees. I have never been stung by one, but I still go nuts whenever one is around me. Spiders...I have a healthy respect for. I won't kill them if they stay away from me.
(Patsy Hagen 2:02pm May 30, 2009)
WOW! This sounds terrific. Just my kind of book! I love mysteries, suspense and thrillers. Will be looking for this one!
(JoAnn White 8:58am July 14, 2009)
I hate snakes, spiders or anything that is creepy, crawly or slithery! But I do like some dinosaurs--but if any of these are involved in a mystery book I'll read it. This one sounds like a must read!!!
(Avis Gill 1:49pm July 14, 2009)
Hi Colleen,
This sounds like an awesome read. Please enter me in your contest. Thanks.
Lorraine
moml1@cox.net
(Lorraine Larose 3:43pm July 14, 2009)
If my 4-year-old were missing, I would also look to who could best help! Good for Ruby!
(LuAnn Morgan 4:41pm July 14, 2009)
Have read several reviews of this book
and they have been good. It sounds like
a chilling read. Will be looking for it.
(Patricia Barraclough 9:22pm July 14, 2009)
BUGS OF ALL KINDS.
(Janet Duffey 9:49pm July 14, 2009)
I guess it depends on how big the spiders are. Not my favorite creepy crawly.
Not found of Snake but having a pond and trying to keep the garden as natural as possible we do get Gardner Snake as well as other critter's that are Not on my Favorite list.
(Ann w 6:33am July 15, 2009)
Registered users may leave comments.
Log in or register now!