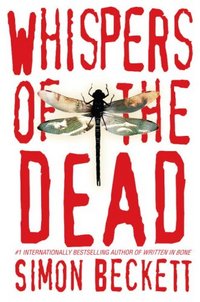 Purchase
Dr. David Hunter #3
Delacorte Press
May 2009
On Sale: May 19, 2009
Featuring: Dr. David Hunter
320 pages
ISBN: 0385340060
EAN: 9780385340069
Hardcover
Add to Wish List

Mystery Psychological | Thriller Medical
A field of corpses, laid out in a macabre display…A serial killer who confounds even the most seasoned profilers…A doctor whose life has been shattered by crime—plunged into the heart of a shocking investigation… In this masterful new novel by Simon Beckett, #1 internationally bestselling author of Written in Bone and The Chemistry of Death, forensic anthropologist David Hunter is thrust into his first murder investigation on U.S. soil—and his most devastating case yet.

In the heat of a Tennessee summer, Dr. Hunter has come to Knoxville's legendary "Body Farm"—the infamous field laboratory where law enforcement personnel study real corpses—to escape London and the violence that nearly destroyed his life. He's also here to find out if he's still up to the job of sorting through death in all its strange and terrible forms.… Hunter will soon find his answer when he's called to a crime scene in a remote Smoky Mountain cabin—a scene as grisly as it is bizarre.

The body is taped to a table. Everything about the crime scene—the wounds, the decomposition, the microscopic evidence—quickly short-circuits the tools and methods of forensic experts. Within days, Hunter knows he's dealing with a serial killer, someone intimately familiar with the intricacies of forensics. All around him, egos and hierarchies clash—from the boasts of a renowned criminal profiler to the dogged work of a young female investigator—but fate keeps pushing Hunter further into the heart of the manhunt. And the killer keeps coming up with surprises: booby-trapping corpses, faking times of death, swapping bodies—finally turning his sights on after Hunter himself.…

An electrifying race against time, a fascinating journey into the world of forensic science, and a terrifying portrait of a killer in love with death itself, Whispers of the Dead is a thriller of the highest order.
Comments
8 comments posted.
Thrillers are my favorite.....this sounds
wonderfully suspenseful!
(Jane Hixon 11:31am May 9, 2009)
I'm not sure I'd want to be walking a graveyard at dusk though I admit my husband and I have visited some more historical graveyards, during the day, where we get to read the dates that go way back.
(Diane Sadler 9:08am August 12, 2009)
Had to laugh at your prep comments since I hate having my photo taken.
(Karen Barnett 4:12pm August 12, 2009)
Sounds...interesting... I may have been a little weary about the time of day!
(Kelli Jo Calvert 4:53pm August 12, 2009)
I sure wouldn't want to be in a grave yard at dusk!! Too spooky! I'm like you - hate to have my picture taken!
(Martha Lawson 9:19pm August 12, 2009)
There are worse places to have your
picture taken. We once rented a
house out in the country directly
across the street from a cemetery. We
got a lot of smart remarks and dire
warnings. An elderly relative had the
best comment. "They'll be the
quietest neighbors you'll ever have."
They really were.
(Patricia Barraclough 11:46pm August 12, 2009)
You don't need to worry about the gym or new clothes when you are getting photographed in the rain - no matter where it is!
(Karin Tillotson 12:27pm August 13, 2009)
I've been photographed in a graveyard. But it wasn't at dusk, nor in the rain. Above all, I wasn't posing for a publicity photo. lol And I never feel photogenic. I look at some recent family photos and can only say, "Yuck, get me out of here."

Do we get to see finished product? Which German publication was the photo for? The German translation of your books?
(Sigrun Schulz 10:05am August 13, 2009)
Registered users may leave comments.
Log in or register now!