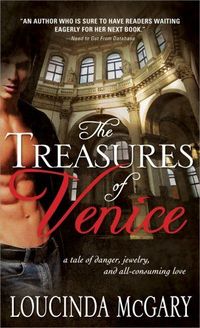 Purchase
A tale of danger, jewelry, and all-consuming love
Sourcebooks Casablanca
September 2009
On Sale: September 1, 2009
352 pages
ISBN: 1402226705
EAN: 9781402226700
Paperback
Add to Wish List

Somewhere amid the canals and palazzos of romantic Venice, a beautiful damsel is in distress. Held against her will, her fate depends upon unraveling a centuries old mystery. Also in this ancient city of love, two couples separated by over 500 years, defy both church and state as they challenge destiny to be together. And all find themselves inextricably linked to the Jewels of the Madonna.
Venice at the height of her glory
Serafina – the beautiful daughter of a famous and wealthy Venetian architect. She must sacrifice everything she's ever known to be with the man she loves.
Nino – a talented young Florentine sculptor. For the love of Serafina he will defy Heaven itself.
Venice in her elegant decline
Kathleen Fitzgerald DiLucca – a modern day scholar long fascinated by a legend she somehow knows is true. Her obsession with the 15th century star-crossed lovers might very well lead to her death.
Keirnan Fitzgerald – a charming Irish rogue who never met a lock he couldn't pick. He must force Venice to divulge a 500-year-old secret in order to save his sister's life.
Samantha Lewis – an American librarian in Venice for the first time, trying to overcome her broken heart. Is the man she's so compellingly drawn to her soul mate from a previous life? Or are they merely pawns in a relentless quest for a priceless treasure?
Comments
58 comments posted.
I have just discovered your works and look forward in reading them.
(Tracey Dent 9:21am August 26, 2009)
Hi AC,
Congrats on the new release. Can't think of what other occasions we celebrate other than the usual. I do remember celebrating the last day of school when I was little. Sometimes we celebrate after finishing a project at work.
(Jane Cheung 3:57am August 27, 2009)
Congratulations on all of your September anniversaries. Would love to help you celebrate by winning and reading your novels. Thank you!
(Joanne Reynolds 6:31am August 27, 2009)
Congrats on your new release! Sounds awesome and I definitely must get a copy.
Mainly I celebrate the regular holidays but even now and then you need to celebrate the little things too. Or even just celebrate for the heck of it. It kind of snaps you out of the ordinary once in a while which can really be helpful if your going through what seems like a rough time in life.
(April Harvey 6:40am August 27, 2009)
Congratulations On receiving "The Call" and your new release. Celebrate the usual but sometimes the grandkids and me have a little party for no reason.
(Jeanette Bowman 9:14am August 27, 2009)
This sounds like a great read! I can't wait to check it out. I celebrate baseball's opening day annually! It's my own personal holiday (well, only 45,000 other people join me). ;)
(Erica Paczesny 9:26am August 27, 2009)
I celebrate every day. I'm just grateful being around having recovered from a serious illness.
(Fanny Vanwinge 9:39am August 27, 2009)
Congratulations! September seems to be a great month for you! Best Wishes!
(JoAnn White 9:52am August 27, 2009)
Ah, Venice, what a lovely spot for romance and adventure. I'd love to read it and remember the time I spent in Venice.

I hope you thoroughly celebrate the anniversary of your getting "the call." Congratulations.
(Sigrun Schulz 10:16am August 27, 2009)
Love to hear your call story, Cinday. It still gives me chills. Congrats on the release of your latest book. It's a great one!
(Jo Robertson 10:37am August 27, 2009)
Oops, and that would be CINDY! lol
(Jo Robertson 10:38am August 27, 2009)
Hi, Cindy, love hearing your Call story. It still gives me chills. Congrats on your latest release. I've read it and promise it's a keeper!
(Jo Robertson 10:39am August 27, 2009)
Hi Cindy. Congratulations on your new release. Love the cover.
(Crystal Broyles 10:41am August 27, 2009)
A very special day I recently celebrated was my older daughter's graduation from high school. But now she is off to college (on Saturday!) and I'm feeling kind of sad - I'm going to miss her so much!

Congrats on the new release!

Margay
(Margay Roberge 11:16am August 27, 2009)
Glad you didn't have to go years and years between leaving your day job & getting the call. BTW, that must have one h**l of a wake-up call for you that day! Love the story.

Congratulations on your latest releast...sounds good!
(Karen Haas 11:23am August 27, 2009)
Congrats on you release. looking forward to it!
(Teresa Warner 12:25pm August 27, 2009)
I suppose you could say that I have a mini-celebration any day that my children and/or grandchildren stop by for a chat. It happens often enough that it is not a shock to my system, and I like to make them aware that I appreciate their attentiveness to me.
(Cindy Gowett 12:43pm August 27, 2009)
Congrations on your new release!! I look forward to reading you novels.
(Jenny Ng 1:30pm August 27, 2009)
I guess the thing we celebrate the most (outside the normal stuff) is when someone gets a pay raise. And it usually means a trip to Red Lobster! Poor me. ;)
(DeeAnn Szymanski 1:54pm August 27, 2009)
Hi Everyone!

Thanx a bunch for stopping by to say hi, and thanx even more for the compliments about my books! Good luck to everyone and I hope you all enjoy reading them.

Aunty Cindy
(Loucinda McGary 2:24pm August 27, 2009)
April, I like your idea of celebrating just for the heck of it! If travel counts as celebrating, then the DH and I do that a lot. ;-)

Jeanette, a little celebration with the grandkids sounds like lots of FUN! I'm envious.

AC
(Loucinda McGary 2:28pm August 27, 2009)
Having been to Venice in 1970, I love the setting for your book and will see what matches up from back in 1485. I'll bet the costumes are rich in sumptuousness, beading and brocade.
(Alyson Widen 2:30pm August 27, 2009)
Erica, you and those 45,000 others have a lot to celebrate! With my son, the NFL draft day is cause for major celebration. For me, it is the Daytona 500. VROOM VROOM!

Fanny, I'm so glad you are recovered! There is nothing like a serious (or sometimes even a not-too-serious) illness to make us truly appreciate every day.

AC
(Loucinda McGary 2:34pm August 27, 2009)
Sigrun, I hope the story will make you feel like you are in Venice again. I visited in Feb. right after Carnevale so that is when the story is set.

Margay, CONGRATS on your daughter's graduation! Definitely something to celebrate and even though you will miss her, there are lots of POSITIVE things about ye olde empty nest.

AC
(Loucinda McGary 2:39pm August 27, 2009)
Cindy, I am so happy for you. Those are events that are hard to discribe to others as they are so personal. You did a good job relating the story to us. I come from a strange family, we don't seem to follow much of the traditional events. My husband and I like to celebrate the changing of the seasons. Living is Florida, that is vague at times. We buy a large jigsaw puzzle with a picture of the season we are celebrating and after we assemble it, we turn it over and sign our names, date,city,state and e-mail screen name, with a magic marker. Then we donate the puzzle to thrift shops. It always tickles us when we get a message from someone who saw the writing and contacts us. I have to find a fall puzzle soon.
(Rosemary Simm 2:44pm August 27, 2009)
Cindy, none of my immediate family (except my son)lives close enough to drop by for a chat. Most of the time, this is fine by me, but I do miss seeing the little ones and all their excitement over everything. :-)

DeeAnn, a pay raise is BIG CAUSE for celebration! Can I come to your place and join the fun?!?!

AC
(Loucinda McGary 2:45pm August 27, 2009)
Alyson, the costumes were what really drew me to the 1485 period. Like my heroine, I LOVED the paintings in the Academia museum that depicted Venetian street scenes from the 15th and 16th centuries.

Rosemary, what a FUN thing to do with the puzzle!! I should try that sometime, but I haven't worked a jigsaw puzzle in years. Hope I remember how!

AC
(Loucinda McGary 2:53pm August 27, 2009)
Congratulations on your latest realease.
(Theresa Dell 3:29pm August 27, 2009)
I celebrate my anniversary of when I started working where I do; I celebrate my Alma Mater's Homecoming.
(Kelli Jo Calvert 3:54pm August 27, 2009)
I like to celebrate odd things that come up on web sites or my calender. One day is was celebrate monkeys day. My DSL works with monkeys so that was fun.
(Anne Jones 3:57pm August 27, 2009)
As a youngster, my Grandmother had a big "July Birthday Bash" out in her back yard every year. Not only did it celebrate her birthday and Fourth of July, it was a great get together for the extended family. I loved the chance to see all of the cousins. I miss those gatherings.
(Robin McKay 4:32pm August 27, 2009)
Congratulations on your new release and 'the call" that started it all. Your new book sounds great. I am anxious to read it.
(Rosemary Krejsa 4:35pm August 27, 2009)
Hi Cindy! Congrats on the upcoming release of "The Treasures of Venice". I'm sure a whole lot of readers out there are going to love this terrific story just as much as I did.

Great call story! Sounds like September is your month to celebrate!

~PJ
(Pj Ausdenmore 4:51pm August 27, 2009)
Congrats on your new book. I probably would have fainted if I ever got the CALL. I celebrated this past monday with my nieghbors. Their children and my grandchildren went back to school. We danced in the street. Let's hope we see a third book in the makin'.
(Evelyn Day 4:52pm August 27, 2009)
We celebrate the day we lost our house and had to start over again. It was a sad time, but turned out to be the best thing that ever happened to us!! It might be rough, but we're happy!!
(Peggy Roberson 5:01pm August 27, 2009)
"The Treasures of Venic" looks fabulous. Love the name. It says read me. We celebrate the arrival of spring after a long cold winter.
(Mary Preston 5:41pm August 27, 2009)
My husband has a german background. Every year His father took his sons to the german-american festival. As the years passed my father-in-law became to ill to go, we carried on the tradition. In 2002 sadly my father-in-law died. To this day we go to the festival,sometimes with our kids and their families, or we go ourselves. It's a tradition we do to honor a very special man.
(Theresa Buckholtz 5:47pm August 27, 2009)
Both of your books sound really good. I've had The Wild Sight on my list for quite a while, but I've never seen it here in Ontario. I'm going to keep looking, though. LOL
(Chris Binns 6:02pm August 27, 2009)
Congratulations on the new book. We celebrate Fourth of July and Memorial Day in some way each year.
(Maureen Emmons 6:30pm August 27, 2009)
Your book sounds like a "page turner!!". Looking forward to reading it. Our family comes from the middle of our country, so we were excited when we found we were to move to CALIFORNIA!! To us it was a real adventure. We caravand two cars, seven people(including an almost 1 year old)& two German Shepherd dogs & 1 irritated cat. It was a great time seeing a whole new part of the world. Our little group rolled into California September 1, 1980 & every Sept 1 thereon, we call each other & wish each other Happy Anniversary! A fun thing for our family & a chuckle for our friends.
(Jean Merriott 7:32pm August 27, 2009)
Congrats on your new release! We celdbrate Fourth of July and Christmas is a big one for us also.
(Gail Hurt 7:36pm August 27, 2009)
Congrats on your new book and anniversary. The story sounds like fun and I look forward to reading it. We don't have any annual days that we celebrate like your "Call," but every summer we look forward to the pool parties. A cousin invites all the families over at least 2 or 3 times before school starts and we have a blast, and really enjoy each others' company, and that in itself is worth celebrating.
(Brenda Everett 7:55pm August 27, 2009)
Congrats on the new release. We do traditional holidays but we also celebrate our own versions of celebrations mom had when she was a little girl growing up in the country in Puerto Rico.
(Cherie Japp 8:00pm August 27, 2009)
My husband and I celebrate the anniversary of our first date by eating at the same restaurant every year.

Anniversaries sure can be a lot of fun. lol
(Deidre Durance 10:23pm August 27, 2009)
So much to celebrate! Congratulations on
your achievements!
(Sue Ahn 10:36pm August 27, 2009)
The only day I can think of is the anniversary of when my husband proposed.
rsgrandinetti(at)yahoo(dot)com
(Renee Grandinetti 11:08pm August 27, 2009)
September has always been my
favorite month. For some reason, I
remember and celebrate our
engagement, Sept. 25, as much or
more than our wedding anniversary. I
think I celebrate the season more so
than a special day. In spring, I look
forward to that time when the fields
and trees are a wide range of fresh
bright greens. In September, It is just
the cool briskness, the smell of the
leaves, the turning of the leaves, and
bushels of apples. It is the perfect
time to celebrate just being alive!
(Patricia Barraclough 11:10pm August 27, 2009)
Happy early book birthday!

Gosh, aside from the usual, I can't think of anything else I celebrate. Oh wait, back in university, some of my friends invented "Salad Day" and we still all make sure we eat a salad on that day. :D
(Jacqueline Lam 11:52pm August 27, 2009)
well when my neice was born7/11/93 and my outher neice was born on 10/11/95 was great for me and when my nephew was born on 11/11/04 see a link thay were all born on the 11th strange but true but thay are my lifes joy I love them.
Happy Annivery on your books.
sasluvbooks@yahoo.com
(Stacey Smith 4:52am August 28, 2009)
Waving Hi Aunty Cindy sorry I am late but I had to work late today.
Congrats on the anniversary I am so glad they rang you I loved The Wild Sight and am so looking forward to reading The Treasures Of Venice

Have Fun
Helen
(Helen Sibbritt 8:12am August 28, 2009)
What an exciting anniversary.
Congratulations!!
(Gigi Hicks 9:39am August 28, 2009)
Every Sunday we all go over to my mom's and have dinner. My aunt, uncle, cousin, sister, nephews, brother...all of us get together and just eat, talk, watch the kids play. It is always a good ending to a long week, and a nice way to start the week.
(Amy M. 12:57pm August 28, 2009)
Hi, Cindy--What a gorgeous cover! I have the book and am looking forward to reading it. My wedding anniversary is in September, as was my parents', and my cousin's son is getting married on our anniversary. It's a big month at our house!
(Nancy Northcott 2:16pm August 28, 2009)
I celebrate the day I retired. Now there is time for my favorites crafts,yard work and of course reading. Looking forward to reading your book,it looks interesting.
(Elizabeth Parzino 2:33pm August 28, 2009)
WOW! So many new and wonderful comments since last time I popped by.

HUGE THANX to everyone for you interest and congrats for my books. I hope you enjoy reading them as much as I enjoyed writing them!

AC
(Loucinda McGary 3:10am August 29, 2009)
Congratulations on the anniversaries!
(Mary Smith 7:44am August 29, 2009)
I agree that those 'personal' anniversaries may mean so much to us; I met and fell in love with-at first sight-my Old Boy-my husband ,friend,lover on my 16 birthday across the proverbially 'crowded' room. So in addition to my birthday the Old Boy and I have a 'personal anniversary' on that day.
(Dawn Raymer 8:45am August 29, 2009)
I celebrate our anniversary,and our birthdays. Not much else except we make time to just have fun sometime during the summer every year, just us and the kids.
(Breia Brickey 5:54pm August 29, 2009)
Registered users may leave comments.
Log in or register now!