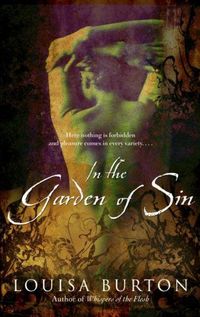 Purchase
Louisa Burton invites readers to indulge in their most sinful fantasies with these two thrilling and edgy new tales of eroticism and romance.
Hidden Grotto #4
Bantam
July 2009
On Sale: July 14, 2009
320 pages
ISBN: 0553385313
EAN: 9780553385311
Trade Size
Add to Wish List

Romance Erotica Sensual | Erotic
Two linked tales are set in an ancient castle where four exquisitely beautiful beings who thrive on carnal energy entice and ravish their human guests.

Hannah Leeds is The English Courtesan, a seventeenth-century maiden who apprentices herself as a courtesan-in-training to Venetian nobleman Domenico Vitturi, offering her body in exchange for his patronage. Don Domenico has resigned himself to a life without love, his once-handsome face having been disfigured by the scars of war. He brings Hannah to the Castle of the Hidden Grotto to be tutored in the arts of love by its insatiable and inventive residents, little knowing that she has come for more than just an erotic education….

In Hunger vampires Anton Turek and Galiana Solsa satisfy their voracious erotic appetites while feeding on their prey. Weary of playing lapdog to the powerful, sadistic Galiana, Anton renews his quest to possess Lili, the beautiful succubus with whom he's been obsessed for centuries—while Galiana sets her sights on the godlike, sexually ravenous Elic, whom Lili loves but can never make love to. Desire and vengeance reach a fever pitch at the Castle during an invitation-only Renaissance festival with a BDSM twist.
Comments
15 comments posted.
Today we just call them perverts :>)
(Karin Tillotson 8:20am July 14, 2009)
Very interesting! Thanks for all the info. This sounds like a good read. Best wishes!
(JoAnn White 9:05am July 14, 2009)
That is cool information! Your latest book sounds like a hot read!
(Sharla Long 9:12am July 14, 2009)
Your titles are attention grabbers.
(Robin McKay 11:39am July 14, 2009)
Gonna have to read these! Great research!!
(Kelli Jo Calvert 11:59am July 14, 2009)
You've hooked me and I will have to read your books. Thank you for your fascinating research - great when a writer gets so much into their story.
(Patricia Reed 12:28pm July 14, 2009)
I had already read the excerpts before this blog came into being, and I can guarantee that these books are smoking hot!! I just haven't been able to find out if they are available in print or not! The second I find that out, I'm at that bookstore buying them!!

Later,

Lynn
(Lynn Rettig 1:52pm July 14, 2009)
well I have to honestly say I haven't yet seen your books in a bookstore; but I'll make sure to check next time I'm there
(Diane Sadler 3:44pm July 14, 2009)
Amazing what people seriously believed
in the not so distant past. Some if it
makes you wonder. And on dark and
stormy nights, you are not so sure they
weren't right.
(Patricia Barraclough 9:43pm July 14, 2009)
One reason I read is for the interesting information that I find in a good story.
(Rosemary Krejsa 10:23pm July 14, 2009)
I read partly to learn interesting things, too. My favorite books take me someplace I know nothing about, and maybe never even thought about, eg. Barbara Hambly's Benjamin January mysteries, which are set in New Orleans in the mid-1830's. When you're reading one of those books, I swear you're really there.
(Louisa Burton 8:57am July 15, 2009)
Oh great on the new book coming Louisa! Great info on the research! I learn most I do now from the romances I read!
(Cathie Morton 10:01pm July 15, 2009)
Great covers:)
(Bridget Hopper 8:47am July 17, 2009)
I can't wait to read your new book, I've really enjoyed the others.
(Lisa Walters 5:38pm July 19, 2009)
Already own the other 3, didn't realize there was a new one out...will have to remedy that lack very soon!
(E Felder 2:27am July 27, 2009)
Registered users may leave comments.
Log in or register now!