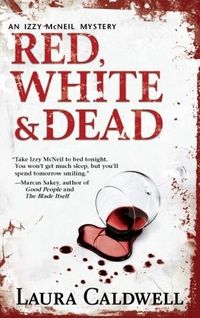 Purchase
Izzy McNeil #3
MIRA
August 2009
On Sale: August 1, 2009
420 pages
ISBN: 0778326667
EAN: 9780778326663
Mass Market Paperback
Add to Wish List

A few short months before, I'd juggled three men in my life, and then suddenly there were none. Today, one was staging a comeback, and I wasn't sure what to do about that. In the meantime I was free to date whoever I wanted. Even a ranking member of the mafia as part of a part-time job.
Izzy McNeil is hot on the trail of one of Chicago's most notorious gangsters. Not that he realizes the crimson- tressed enchantress, a self-proclaimed "lapsed lawyer," is moonlighting as a private investigator. But when an unexpected run-in trashes Izzy's cover, she's swept into an evil underworld where she is definitely not safe. That is until Izzy receives help from an unlikely source: the ultimate guardian angel. And the last person she ever dreamed she'd see again. Now Izzy is racing from Chicago to Rome, all the while battling personal demons, Mafiosi killers and Code Red emergency desires.…
Comments
13 comments posted.
Going to check them out next trip to Walden's - I mean Borders :>)
(Karin Tillotson 1:20pm July 30, 2009)
Wow. I wanna read these!! I love the fact you wrote yourself into your character, I can't wait to read 'you'!!!
(Anne Harris 2:42pm July 30, 2009)
I do like the fact that the 3 books are being released in quick sucession. It's nice to read the next book while I still remember the prior story. These books sound great and Izzy should be an interesting character. Good luck!
(Rosemary Krejsa 2:59pm July 30, 2009)
I love reading series...and back to back to back. These sound interesting and will have to check them out! Best Wishes!
(JoAnn White 3:50pm July 30, 2009)
What a great series!
(LuAnn Morgan 5:02pm July 30, 2009)
I hadn't realized that a.) there was more than one book, and b.) that the one I have is the last one in the trilogy. But somehow, that figures! I guess that means Ill have to go buy the first two before reading the one I was given. Bother!

Later,

Lynn
(Lynn Rettig 7:37pm July 30, 2009)
Mm I've seen your books at the stores but so far haven't tried any; I'll look again
(Diane Sadler 7:59pm July 30, 2009)
I like the head games with what you chose to include about yourself in your trilogy. Wow! A triple threat in a trilogy.
(Alyson Widen 8:11pm July 30, 2009)
You really had to work to get those books
out together. Why not write yourself into
a character. Who else do you know better
plus don't have to worry about
complaining?
(Patricia Barraclough 10:18pm July 30, 2009)
The series sounds great. I love that the three books are being released in such a short time span. It is so much easier to remember and follow the characters.
(Robin McKay 10:23am July 31, 2009)
Once I got into the groove of it, I thought it was easier to write about someone similar to me but who was much more fearless. I think Izzy is a blast and I liked hanging out with her. (Which is why I want to write more books with her!) Would love to know what you guys think after you finish all three. There is definitely some twists and turns at the end there and want to see what your thoughts are. Thanks!!
(Laura Caldwell 10:53am July 31, 2009)
Laura, I have started chapter 15 of Red Blooded Murder and am loving it. Will let you know after I read all three. Great so far.
(Donna Greenlee 7:07pm July 31, 2009)
I love trilogys! But, I have to read them in order. Can't wait to read yours.
(Patsy Hagen 6:07pm August 2, 2009)
Registered users may leave comments.
Log in or register now!