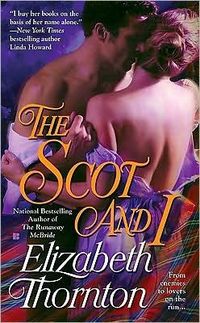 Purchase
From enemies to lovers on the run...
Seers of Grampian #2
Berkley Sensation
June 2009
On Sale: June 2, 2009
Featuring: Alex Hepburn; Mahri Scot
320 pages
ISBN: 0425228320
EAN: 9780425228326
Paperback
Add to Wish List

After a mysterious woman foils an assassination attempt on the Queen's life, Alex Hepburn, a psychic agent for Her Majesty's Secret Service, recognizes the bold beauty as a conspirator he's been hunting for years.
An agent for Her Majesty's Secret Service, Alex Hepburn is a reluctant psychic whose powers sometimes come into play during his missions - such as preventing the attempt to assassinate Queen Victoria at Balmoral Castle, by a conspirator he's been hunting forever. But it is a mysterious young woman who foils the plot, then slips away . . .
She is Mahri Scot, once a courier for the faction thatAlex has sworn to destroy. She can handle a gun or a knife as well as any man and, disguised as a boy, she becomes virtually invisible. She's never encountered a man she couldn't outsmart, outrun, or outmaneuver - until now. With Alex hot on her trail, she flees to the Scottish countryside. There she discovers that sometimes surrender can be the sweetest revenge - and the most dangerous.
Comments
42 comments posted.
Re: The Scot And I

I don't mind so much when my favourite authors switch genres or change their writing styles though I might feel a trifle sad because I'm so hooked on whatever they used to do. I tend to give the new stuff a try because I trust the authors know what they're doing. :)
(Jacqueline Lam 2:33pm June 24, 2009)
Congrats on 26 novels! That is quite an accomplishment!

I recently visited England, and I can see how a person who is susceptible to ideas could be easily inspired there. There is so much history there with all the castles, villages, churches, etc.

I wish you lots of continuing inspiration for future books!
(Cheryl Castings 12:39pm June 25, 2009)
wow they all sound great cant wait to read them.are at lest win i get back to that type of book wright now I reading about vanpires and paranormal but when i get back to that type of book its on my list to get.sasluvbooks@yahoo.com
(Stacey Smith 3:52am June 25, 2009)
I must find a copy of Scarlet Angel! Looks great!
(Cindy Madson 5:25am June 25, 2009)
This new series sounds wonderful! I will have to check it out.
(Margay Roberge 6:17am June 25, 2009)
Hi Elizabeth,
I love how your travels have influenced your book. I have found that it makes a story more authentic.
I actually like it when an author writes in different genres, that way not matter what type of mood I am in I will find a good book to read.
Changing her writing style is a different thing all together, sometimes it works, other times it does not (at least for me).
The Scot and I looks great, and will definitely be one I check out as I am a highland romance junkie (love them!).
(Carrie Divine 7:28am June 25, 2009)
I am one of those people who looks at a cover first before reading the blurb and I have to say I love your covers. The dusty almost painted look they have is amazing. That being said I also enjoy the way you write your books you may look for inspiration in your travels but I have to admit to me you are an inspiration of your own.
(Tabatha Basham 8:49am June 25, 2009)
Jacqueline: I'm an avid reader as well as an author and I suffer withdrawal symptoms when my favorite authors change genres or change their voice. I loved Georgette Heyer's humorous , light-hearted regencies, but when she wrote "serious" books, she lost me as a reader.

Cheryl: America has its own fascinating history and historic sites. I loved New Orleans (pre Katrina), and hoped to set a story there (and Nachez, too). What stopped me wsa ignorance of customs and character. I couldn't even identify the flora and fauna.

Also loved Atlanta and the Margaret Mitchell museum. One day, I hope to visit Charleston.
(Elizabeth Thornton 10:39am June 25, 2009)
Vampires? I never thought I'd enjoy a vampire story until my granddauther got me started on the Twilight series. I was blown away. The same granddaughter put me onto the Harry Potter series. Same thing. I did, however, get her started on Tolkien's Lord of the Rings. Yes, we're a reading family. Three of us are published writers.

In Canada, my research trips are tax-deductable. Once, I had Canada Revenue come after me. They wanted to know the titles of the books where these research trips showed up. I had it all documented. They have never bothered me again.

I love my Berkley covers too! I'll pass that comment on to my editor. Thanks, Tabatha! I always say that I do write inspirational stories when I'm asked how I, as a former lay minister in the Presbyterian Church, can write these sexy books!
(Elizabeth Thornton 10:44am June 25, 2009)
Congrats on all of your books! Am looking forward to reading "The Scot and I".

Thanks for having contests to win your books!
(Katherine Reese 11:14am June 25, 2009)
I don't mind when authors switch genres at all. I think that it gives me another side of a great thing. I just hope and pray before reading that I love that side of them as much as the other side. :)
(Tami Winbush 12:58pm June 25, 2009)
I like the lower the damsel in distress from the ramparts of a castle. I do hope she can cross the moat before the guards are called. Mixing up genres is what keeps authors fresh.
(Alyson Widen 1:07pm June 25, 2009)
When I am looking for a book to read the first thing I look for is the author's name then the blurb in the back.
(Judy Anderson 1:13pm June 25, 2009)
I love historicals and am so happy there are still authors out there wanting to write them. The new book sounds great!
(Jody Faltys 1:36pm June 25, 2009)
I love it when authors switch genres. I
love to see all they write and if I find an
author I love, I feel like I am growing with
them when they branch out.
(Val Pearson 1:44pm June 25, 2009)
I love when my favorite authors switch genres. It forces me as a loyal fan to try something new and different and usually I become hooked. congrates on the 26 novels.
(Annetta Stolpmann 1:56pm June 25, 2009)
I have stayed at Queen Victoria's summer 'cottage' on the Isle of White. I couldn't understand why King Charles didn't just swim away when he was held on the Isle.

I also like authors writing different genres - if it is clear that it is different. It's those blasted covers again! If it looks like a horror cover I expect a horror story not a cute romance and vice versa.
(Karin Tillotson 2:09pm June 25, 2009)
Kudos on learning and writing multiple genres. Certainly, readers should be relatively flexible about their authors; although I agree wholeheartedly about Georgette Heyer's writings. One size fits all is probably the #1 lie ever told; so why do we expect that all one authors writings will "fit"? Just keep reading.....
(Susan Driskill 2:33pm June 25, 2009)
I love the description of the scene from Scarlet Angel. It really makes me want to find a copy now!
(G S Moch 2:35pm June 25, 2009)
I love it when an author decides to stretch their wings a tries a different genre. It just shows me the depth of the writer and what they have to offer. I just recently started reading more historicals. I forgot how I loose myself in the time period and the language. It is beautiful. Have a great day.
(Roberta Harwell 2:40pm June 25, 2009)
Congrats on 26 Books! The look like very good reads. Thank you and Best Wishes!!
(JoAnn White 3:05pm June 25, 2009)
I have never read a book of yours that was not wonderful.The characters are full blown and the plots are the fine examples of great writing. The scene I remember
most was the one where a herolike man told his friends that he had wanted,since childhood, become a priest or monk. He did and you put him in a later book. I look forward to your next book.
(Nancy Schwindinger 4:06pm June 25, 2009)
I generally don't mind when a favorite changes - it's still their writing! One changed for a brief series and wrote in the 1st person - it was so different for her, but still very good!
(Kelli Jo Calvert 4:07pm June 25, 2009)
I like a change of pase every now and then. I switch around with my reading. It sounds like what you done work for you.
(Gail Hurt 4:07pm June 25, 2009)
Historical fiction is a wonderful genre!
(LuAnn Morgan 4:24pm June 25, 2009)
I love historical books. It's great that you have first hand knowledge of many of the places you include in your books.
(Robin McKay 4:33pm June 25, 2009)
How come I never had the tourists vanish on any of my visits to historical venue? I would have loved to see into the past. But then, I'm not a writer and never could have been. So I'm glad, and thankful, that you have all these "visions" and are so gifted in transforming them into a wonderful story.
(Sigrun Schulz 5:45pm June 25, 2009)
your books are always in demand so keep them coming
(Diane Sadler 7:23pm June 25, 2009)
You're writing is completely addictive. Every book I've read of yours has been a page turner. I recommend your books to anyone who loves a fantastic story with excellent writing.
(Tricia Schneider 7:45pm June 25, 2009)
Just to keep things right: I haven't switched genres. What I have done is put suspense in my stories. One reviewer calls by books "crossover books" and she has been very kind and supportive.

I love first person stories, too. Mary Stewart did most of her romantic suspense books in the first person. However, editors are wary of taking a chance on anything that is different.

What genre? My books are marketed under "historical romance" but when I entered them in RWA's Rita contest, in the romantic Suspense category, I reached the final seven times!
(Elizabeth Thornton 8:46pm June 25, 2009)
An other good author to be read. I cant wait.
(Sarah Ulfers 9:25pm June 25, 2009)
Your changing genres gradually
probably was the best way to do it.
Most fans can handle gradual change,
but a big shift may be a bit more than
they can take. If you wanted to, you
could do what many authors have
done and write in several genres
(either under one name or several). I
enjoy historicals with suspense and
adding a touch of the paranormal is
great. I will be looking for your books.
(Patricia Barraclough 9:28pm June 25, 2009)
Another historical site that mesmerized me: The Concièrgerie (prison) in Paris, now a museum. It shows up in two of my Zebra books.

Then there was Brussels and the battleground at Waterloo. Again, I was totally carried away by the drama there. So, of course, Waterloo shows up in some of my books.

It has been great sharing this day with you, and thank you for the kind words and also for allowing me to see what readers want in their historicals.

This leads me to another post. What are the three best books you have read – excluding mine – in the last twelve months or so?

My list is simple.
#1 TWILIGHT by Stephanie Meyers. Yeah, a vampire book. I was electrified because I saw Edward and Bella as a reincarnation of my own love story with my husband. No. My husband isn't a vampire! But when we met and fell in love, he was 17 and I was 16. He is now 70. I won't tell you how old I am.

#2 SPYMASTER'S LADY by Johanna Bourne. The setting is France. Her characters are divine. Need I say more?

#3 NOT QUITE A HUSBAND by Sherry Thomas. Lots of hot sex which, for the most part, I skimmed. Yeah, I must be getting old. But the lead characters and their story is exceptional. I was completely hooked.

I must sign off now. Tomorrow my husband and I fly to Toronto to be with our youngest son and his family to help celebrate our youngest granddaughter's birthday. We feel so blessed. But it's early to bed for us. We fly out at 7:30 AM.

Thank you for allowing me to share with you.
Warmest regards,
Elizabeth Thornton
(Elizabeth Thornton 11:13pm June 25, 2009)
The Scot and I sounds good. I can't wait to read it
(Marjana Kaly 11:34pm June 25, 2009)
It doesn't bother me a bit when a favorite author changes genres - I simply follow them!!
(Martha Lawson 12:37pm June 26, 2009)
I've really enjoyed your previous books and can't wait for "The Scot and I".
(Elizabeth Parzino 11:57am June 26, 2009)
Sounds like a great book! I can't wait to read it.
(Vicky Burkholder 6:14pm June 26, 2009)
As long as the quality of the writing
remains excellent, any genre is fine.
(Mary McCoy 7:31pm June 26, 2009)
Congratulations! I can't wait to read this, sounds so good, thanks for the interview
Penney
(Penney Wilfort 12:39pm June 27, 2009)
Beautiful covers... A switch in genres does not bother me as long as the books still grab my attention! :)
(Colleen Conklin 2:15pm June 27, 2009)
I don't mind my favourite authors switching genres at all. It gives me more to read! Although I kind of disagree with your comment re Georgette Heyers. I've found that even in her "humorous, light-hearted regencies", there always was a serious undertone. It may not be easy to find, but it's there. Her own brand of morality. Just out of curiousity, which books of hers do you mean when you say her "serious" books?

Later,

Lynn
(Lynn Rettig 2:55pm June 28, 2009)
I cant believe this I just picked this up at Chapters along with a couple of other books Have not read Elizabeth Thornton before but I loved the wee read I got to do while I was shopping today....
still would love to win and have it signed.... I am truly gobsmacked.
(Ann w 9:55pm July 31, 2009)
Registered users may leave comments.
Log in or register now!