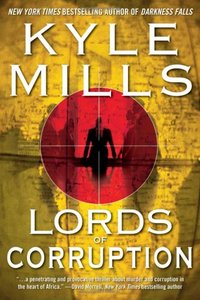 Purchase
Vanguard Press
April 2009
On Sale: March 24, 2009
Featuring: Annika Gritdal; Josh Hagarty
320 pages
ISBN: 1593154992
EAN: 9781593154998
Hardcover
Add to Wish List

When Josh Hagarty is recruited by the charitable organization NewAfrica to manage a farming project in an underdeveloped African country, he signs on, figuring that he can put his newly acquired graduate degree in engineering to good use. However, when Josh gets situated in Africa, he finds that NewAfrica may not be the philanthropic charity it purports itself to be.
As Josh delves deeper into his work, secrets begin to unravel, throwing him into a world of violence, turmoil, and political corruption. He soon learns that Gideon, the man responsible for heading the local organization, is not only a relative of the African country's president, but also a strong-arm thug with a tendency towards aggression and dishonesty. In his hunt for both truth and justice, Josh also discovers that his predecessor may have been murdered to cover up something he had discovered about the project, something that should have remained buried. And why has Gideon uprooted the very people that Josh thought he was supposed to be helping? Is NewAfrica merely a scam?
With the help of Annika Gritdal, a beautiful Scandinavian aid worker, and journalist J.B. Flannary, Josh must fight to uncover the truth behind NewAfrica. In doing so, the trio must struggle to survive by evading those who are trying to prevent them from uncovering a dangerous secret—a secret that might just get them killed.
Comments
4 comments posted.
I've just added both of your books to my TBR list. I have no intentions of ever going to South Africa but enjoy lving your adventures vicariously.
(Karen Barnett 2:06pm March 26, 2009)
The Internet is a boom in more ways than one. I remember when it first became popular. My daughter did a report on James Dean and she had all kinds of information she wouldn't have had otherwise.
(LuAnn Morgan 2:52pm March 26, 2009)
I'm never amazed at the brazen tales others tell, just the guts to look you in the eye as they say their piece. Then you may find out later, it was to pump you for information that they can tie into the story to make it more credible. I hate when that happens. You're accurate with the info you've researched, but another expert may be quick to disagree and thoroughly enjoy the prospect of the ensuing lively debate.
(Alyson Widen 2:56pm March 26, 2009)
Too true. What little traveling I was able to do on my way home from the Peace Corps in 1971 proved things were much the same as your experiences. You really can't make up some of the things that happen. I had three months planned, but got word my mother was dying and headed home after just two weeks (Sinapore, Indonesia,Bali). I can only imagine the wonderful and wierd experiences that awaited me in Southeast Asia, the Indian sub-continent, and the Middle East. I'd love to complete the trip someday, but I'm not 24 anymore and the world is a very different place.
(Patricia Barraclough 12:07pm March 27, 2009)
Registered users may leave comments.
Log in or register now!