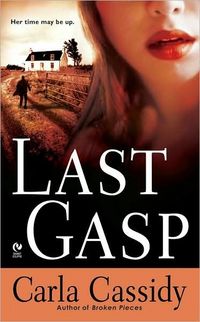 Purchase
Her time may be up.
Signet Eclipse
April 2009
On Sale: April 7, 2009
Featuring: Allison Clemmins; Seth Walker
336 pages
ISBN: 0451226607
EAN: 9780451226600
Paperback
Add to Wish List

Ever since she found her mother and siblings murdered, Allison Clemmins has hated her father, Hank, who is imprisoned for the crimes. Then Seth Walker arrives in town, a lawyer determined to exonerate Hank, to unearth the secrets that should have been revealed long ago. He also offers Allison the one thing missing from her life—the ability to trust a man.

But as fate finds them in each other's arms, a psychotic killer— either the original or a copycat—makes himself known...
Comments
23 comments posted.
Re: Last Gasp

Heh heh, that reminds me of the time I stayed the night at a relative's farm when I was a kid. I was into mystery novels and tv police procedurals and being the city girl that I am, I was worried that I'd be totally creeped out that we were in the middle of nowhere and it'd be totally quiet and we could all be murdered in our beds and no one would hear our screams(I was a bit dramatic). We were in the middle of nowhere, alright, but no psycho killer showed up and it wasn't quiet at all...the crickets kept me up for most of the night. :D
(Jacqueline Lam 5:00pm April 7, 2009)
I remember reading some of those magazines. Know what you mean by not being able to put them down, congrats on your release!
(Teresa Warner 9:37am April 9, 2009)
Too funny - I think I've learned I can't do true crime. In Cold Blood really messed me up, but give me good romantic suspense, or plain suspense any day - as long as it's fiction because no matter how real it seems I can tell myself that it is made up :)
(Crystal Fulcher 12:41pm April 9, 2009)
I read some of those years ago, too. Love the cookbook comment.
(Karen Barnett 1:20pm April 9, 2009)
I also love a safe scare. It reminds me
of watching Alfred Hitchcock Movies at
my cousin's farmhouse and then the
very fast trip to the outhouse before
bed screaming our heads off. Thank
goodness there were no close
neighbors to hear us.
(Dianne G 3:09pm April 9, 2009)
I love Romantic Suspense! I'd rather read that than anything else!
(Kelli Jo Calvert 4:09pm April 9, 2009)
Sorry, there is no such thing as a safe scare to me. Even though I know a spook is just around the corner I still jump a mile in the haunted houses at Halloween!
(Karin Tillotson 4:37pm April 9, 2009)
I'm a little jealous of Jacqueline Kam - my weekends were with my grandparents and the attic/crawlspace was full of many years of Readers Digest -- no titillation.
(Mary Lou Loyanich 4:49pm April 9, 2009)
I was raised on a farm in Pennsylvania Dutch country. I had a cousin who would tell ghost stories while I gave her back rubs!! I like safe scares... love romantic suspense!
Where I live now there are several prisons and last year there was an escapee in the wooded acres behind our house. That was pretty distressing! Our place is secluded on a dirt road - 17 properties all 5 to 10 acres each. Sometimes when I walk the dogs late at night I think about stories with thieves and killers who might sneak around that sort of area at night! Then I hurry inside! :)
(Martha Eskuchen 6:01pm April 9, 2009)
Suspense if fine, but true crimes can give one goosebumps and cause one to lose sleep. It is funny that many are more afraid when in the country, since most crimes occur in the cities.
(Gladys Paradowski 6:03pm April 9, 2009)
Those old true crime magazines were really something! I especially remember the photos, which were often pretty gruesome.
(LuAnn Morgan 6:33pm April 9, 2009)
Suspense just draws you in and won't let go. The more I have of them, the more I want. Can't seem to get enough suspense in my life. LOL Have a great day.
(Roberta Harwell 9:24pm April 9, 2009)
I love suspense novels with a bit of
romance thrown in. I remember when
In Cold Blood came out. I lived in
rural upstate N. Y. and couldn't sleep
for days after reading it. I'm not so
skittish now, but a really good thriller
can still freak me out. Look forward
to reading your book.
(Patricia Barraclough 10:13pm April 9, 2009)
I haven't read Gasp yet but I have read some of your other books and I must say keep up the great work...Job well done
(Marion Tito 10:28pm April 9, 2009)
Carla, I have enjoyed your books for a long time now! I can't wait to get my hands on Last Gasp. Your books are SO hard to put down, just want to read them straight through!! Happy Easter
(Martha Lawson 10:49pm April 9, 2009)
I also spent time at Grandma's farm reading mysteries and telling ghost stories with cousins. It brings back fond memories. I have also read all of your books and can't wait to read Last Gasp
(Lori Duhoski 11:01pm April 9, 2009)
Carla, I so love romance suspense too! I loved hearing at how those memories from the past so trigger a story for you! I haven't had the joy to read you yet and would love to!
(Cathie Morton 1:00am April 10, 2009)
I also love Romantic Suspense! This book sounds perfect! Thanks for the opportunity to win a copy!
(Tina Werner 8:21am April 10, 2009)
Its interesting how much we are influenced by the reading we pick up from other people (especially at our grandparents houses).
(Shannon Scott 9:53am April 10, 2009)
Gosh, how nice it was to get up this morning and see all these comments! I guess being a scared little kid in an old farm house sneaking peeks at magazines not meant for kids is more common than I thought! What amazed me was that it was the age of open doors and just before I'd go to bed I'd sneak into the living room and make sure the door was locked!!!
(Carla Cassidy 9:54am April 10, 2009)
I totally agree!!
(Bridget Hopper 6:21pm April 10, 2009)
Dear Carla,
I just love your books and after reading the excerpt to this one, I sure would love to win a signed copy of it. Please keep writing and I'll be sure to keep reading. Thanks.
Lorraine
MOML1@COX.NET
(Lorraine Larose 7:11pm April 11, 2009)
Carla,
I have been a fan of yours for some time and enjoy all your books. I read "Without A Sound" last year and couldn't put it down until I was done. I have another one "The Perfect Family" in my "to read soon" stack which I'm dying to start. Will be doing a cross country trip from Seattle to NYC in July and will be packing several of your books to read along the way. This one looks interesting. May have to pick it up. Keep up the great writing.
(Rosie Stroy 9:20pm April 22, 2009)
Registered users may leave comments.
Log in or register now!