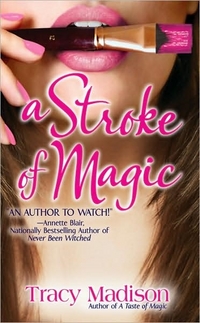 Purchase
Magic #2
Dorchester Love Spell
July 2009
On Sale: July 1, 2009
Featuring: Ethan Gallagher; Alice Raymond
304 pages
ISBN: 0505528118
EAN: 9780505528117
Paperback
Add to Wish List

You know how freaky it is, to expect one taste and get another? Imagine picking up a can of tepid ginger ale and taking a swig of delicious, icy cold peppermint tea. Alice Raymond did just that. And though the tea is exactly what she wants, she bought herself a soda.
No, Alice's life isn't exactly paint-by-numbers. After breaking things off with her lying, stealing, bum of an ex, she discovered she's pregnant. Motherhood was definitely on her "someday" wish list, but a baby means less time for her art and no time for recent hallucinations that include this switcharoo with the tea. She has to impress her new boss, the ridiculously long-lashed, smoky-eyed Ethan Gallagher, and she has to deal with her family, who have started rambling about gypsy curses. Only a soul-deep bond with the right man can save her and her child? As if being single wasn't pressure enough!
Videos
Comments
23 comments posted.
Hi Tracy! I've seen your books but haven't had the opportunity to read them yet! One of my favorite characters that has a "quirk" is Angus from the Kerrelyn Sparks series. He's a vampire and whenever he travels via fading in and out, he checks under his kilt to make sure all his "bits and parts" are still there! You gotta laugh at that! I have too many quirks to list:)
(Susan Galley 9:55am July 1, 2009)
Sounds like a great book thanks for being here today, I'm going in to order your 1st one in this series. Thanks
Penney
(Penney Wilfort 11:06am July 1, 2009)
Hi, Susan: Thanks for commenting and I agree with you about Angus! But really, too many quirks? I'm not sure if that's possible!

Hi, Penney: Thank you for stopping in! And I hope you enjoy A TASTE OF MAGIC!
(Tracy Madison 1:50pm July 1, 2009)
I think quirks are amusing as long as they are not gross. My nephew who will be one this weekend has developed a few quirks already... I on the other hand, have too many to list.
(Colleen Conklin 1:55pm July 1, 2009)
I try not to have too many quirks (which is a quirk in itself) because people notice you when you have guirks and I like to blend in to the wallpaper (which is another quirk???)!
(Karin Tillotson 2:04pm July 1, 2009)
I love characters to have little quirks! makes the storyline a little more interesting!!If they are funny quirks, that's even better!!
(JoAnn White 2:38pm July 1, 2009)
Hi Tracy
I haven't found your books yet in our bookstores in Canada but have seen them online; sooner or later I'll get a chance to pick one up. Quirky: Grandma Mazur in Janet Evanovich's Plum series which I love
(Diane Sadler 4:58pm July 1, 2009)
I have to agree with you about Eve Dallas. She would not be nearly as interesting without her quirks. They are what makes her human. I especially like how she reacts to Peabody's romance.
(Anne Jones 5:16pm July 1, 2009)
Hi, Colleen: There are absolutely some quirks that do not fall within the pleasant or humorous range!

Hi, Karin: I think everyone has at least one quirk, but yeah--some are easier to hide than others. :)

Hi, Jo: I completely agree with you! I'm a huge fan of quirky characters, and many of my favorite books are those with a high quirk-quotient!
(Tracy Madison 9:11pm July 1, 2009)
Hi, Diane: Grandma Mazur is a hoot!

Hi, Anne: Eve is easily one of my favorite recurring characters, and I read a lot of series. Part of why I love her is because of her quirks, but I also love her strength, courage, and man--is that woman smart or what?
(Tracy Madison 9:13pm July 1, 2009)
Quirks give a person the personality
and character. Some can be annoying
- no matter what topic comes up, my
son-in-law know all about it (usually
not). some are endearing - one of my
co-workers likes to buy little gifts for
no reason.
(Patricia Barraclough 9:31pm July 1, 2009)
I haven't had a chance to read your books yet, but I will make it a point to pick them up! I'd say on the quirky scale, I'm probably a 4!!
(Martha Lawson 10:25pm July 1, 2009)
It's true that a person's quirks draw us to them or make us run the other direction, but we may never be aware of what makes up our own character traits. This applies in real life or in fiction.
(Rosemary Krejsa 10:55pm July 1, 2009)
I've never paid much attention to
characters having quirks, but after this
post I'll be seriously looking for them.
(Sue Ahn 11:15pm July 1, 2009)
I would say that the majority of people fall between 4 - 6 on your "Quirk-O-Meter", going by my experiences. I know that's pretty much where I fall. Yeah, Eve Dallas and Peabody! Those two together can really rock the book when they get going on stuff. Grandma Mazur, OMG. And what about Ranger? His quirks are almost as wacky as Grandma's! What I have found interesting as I've thought about this for a few minutes is that in about half of my reading choices (specifically the historicals), there either aren't as many quirks, or they are simply unnoticeable. Whereas the contemporaries and suspenses (is that a word? If not, it should be!) seem to be loaded with them! Any explanation for that?

Later,

Lynn
(Lynn Rettig 11:24pm July 1, 2009)
Hi, Patricia: Absolutely!

Hi, Martha: Four's a good number!

Hi, Rosemary: Great point. While I think most of us are aware of at least some of our quirks, I'm sure there are others we don't see...or perhaps, it's more along the lines of "don't want to see so we ignore"?
(Tracy Madison 9:07am July 2, 2009)
Hi, Lynn: Oh wow, I don't have an explanation...and I can't even offer my own opinino, because I haven't read that many historicals. Though, I do have several on my bookshelf I've been meaning to get to...

LOL, Sara!
(Tracy Madison 9:10am July 2, 2009)
Hi Tracy,
I love quirky characters, it makes the person seem more realistic. We all have quirks [although it might take a friend to point them out to us].
(Robin McKay 9:58am July 2, 2009)
Tina Leonard and Fresh Fiction I want to add my comment to be entered in your contest. I am so glad to have been able to locate your site and boy can I ever expand my reading interest now. thank you both
(Susan Leech 3:06pm July 2, 2009)
Love the cover on Stacey Kayne Mountain Wild book wow!!
(Susan Leech 3:08pm July 2, 2009)
Hi, Robin: I'd rather have a friend point out my quirks than an enemy! And yep, I totally agree. :)
(Tracy Madison 4:59pm July 2, 2009)
My quirk quotient is probably close to yours in the range of 3 to 4. I'm not really a quirky person, but there are some things I am quirky about!
(Cheryl Snyder 3:54pm July 3, 2009)
A quirky character? Hercule Poirot. My own quirks fluctuate depending on the situation and the observer.
(Lorna Thomas 2:23am July 8, 2009)
Registered users may leave comments.
Log in or register now!