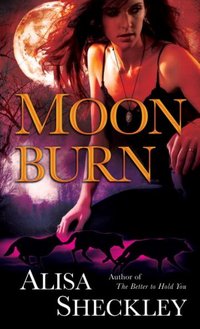 Purchase
Some instincts are too powerful to deny. Except when the moon is full...
Abra Barrow #2
Del Rey
June 2009
On Sale: May 19, 2009
Featuring: Red Mallin; Abra Barrow
368 pages
ISBN: 0345505883
EAN: 9780345505880
Mass Market Paperback
Add to Wish List

Some instincts are too powerful to deny.

In the past year, veterinarian Abra Barrow has gone through some major changes: She's left Manhattan for the deceptively quiet small town of Northside, ditched her cheating husband, and discovered that he has infected her with the rare werewolf virus. Now Abra is finally beginning to feel as if she has her life under control–except when the moon is full.

But then, all of a sudden, Abra starts losing her temper–and her inhibitions–even when the sun is shining. Her new man, shape-shifting wildlife expert Red Mallin, seems to know more about her condition than he's letting on, but he's a little preoccupied with strange creatures that have been crossing the dimensional border.

With her hormones in overdrive, Abra finds herself releasing the beast in all the men around her. As life in Northside becomes increasingly more peculiar–and more perilous–she must decide whom she can trust . . . when she's not even sure she can trust herself.
Comments
13 comments posted.
Re: Moonburn

I'm not much of a PR or UF reader (other than Julie Kenner's soccer mom books). I just have a hard time thinking of have intimate relations with something from the canine species, or bats. Old dogs can't be taught new tricks or reading habits. So guess I can't answer the "question of the day"...

However, I do enjoy good writing no matter the genre, and if push came to shove, I would read PR's and UF's. Your comments on plots, etc. indicate you must be a very good storyteller.
(Betty Cox 12:39pm May 19, 2009)
I think it's on the border between the two. Sounds like a great read!
(JoAnn White 12:40pm May 19, 2009)
I feel the same way about going for
writing rather than genre, Betty.
Incidentally, Julie was kind enough to
give Moonburn a quote! I should add
that there's definitely humor in my
books, though some of it is dark.
(Alisa Kwitney 1:04pm May 19, 2009)
And just in case this is confusing anyone,
my legal name is Alisa Kwitney, but I also
write as Alisa Sheckley...which was the
name I was born with.
(Alisa Kwitney 1:06pm May 19, 2009)
I'm still new to both genres and so have yet to fully understand the difference between the two. I've done a little research on the topic and it seems PR usually focus on the relationship and UF is usually about a struggle.

I also have to admit that I'm not familiar with this series, but after reading the description of Moonburn I'd have to say that it looks as if it falls in a hazy grey area. Either way I think it sounds like it's a good one. I'm adding the series to my TBR pile!
(Jennifer DeFoy 1:16pm May 19, 2009)
i would love to win this. thanks
(Vikki Parman 1:36pm May 19, 2009)
This does sound like a good book!
(LuAnn Morgan 2:25pm May 19, 2009)
The border sounds like fun. I agree that many times I want a sequel just to see how they survived.
(Karin Tillotson 2:37pm May 19, 2009)
Sounds like an interesting read no matter which category it falls under! And I don't think there's anything wrong with falling in more than one category!!
(Kelli Jo Calvert 3:24pm May 19, 2009)
I hope most readers are as open minded
as you guys. I think most of my women's
fic/chick lit slopped over the neat genre
borders, too...must be my borderline
personality. (Joking, really!)
(Alisa Kwitney 4:22pm May 19, 2009)
It sounds to me like it is on the
border. I am glad you wrote a follow
up. It is nice to end on a happily ever
after note, but especially with the
characters you are dealing with , that
is not likely to be the case. If you like
a character, you like to revisit them to
see how they are doing.
(Patricia Barraclough 11:30pm May 19, 2009)
Sounds like my kind of read:)
(Bridget Hopper 1:45pm May 20, 2009)
This really sounds like a great read. I'm going to have to add both to my list.
(Jo Ann Jansing 2:13pm May 20, 2009)
Registered users may leave comments.
Log in or register now!