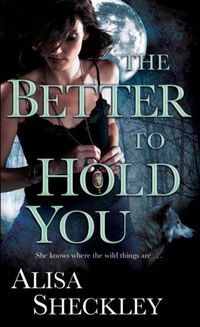 Purchase
Being Married to a Werewolf Gives New Meaning to the Words "High Risk Relationship."
Abra Barrow #1
Del Rey
March 2009
On Sale: February 24, 2009
Featuring: Abra Barrow; Red Mallin
336 pages
ISBN: 0345505875
EAN: 9780345505873
Mass Market Paperback
Add to Wish List

SHE KNOWS WHERE THE WILD THINGS ARE.
Manhattan veterinarian Abra Barrow has more sense about animals than she has about men. So when her adored journalist husband returns from a research trip to Romania and starts pacing their apartment like a caged wolf, Abra agrees to move with him to a rural mansion upstate in order to save her marriage.
But while there are perks to her new life, particularly in the bedroom, Abra soon discovers that nothing in the bucolic town of Northside is what it seems. The local tavern serves a dangerous, predatory underworld. Her husband has developed feral new appetites and a roving eye, and his lack of humanity isn't entirely emotional. As the moon waxes full, Abra must choose between trusting the man she married, taking a chance on a seductive stranger, or following her own animal instincts.
Comments
10 comments posted.
Most certainly! Especially now that we are getting a generation past those men who were raised by fathers that raised their sons to not show emotion. Men have finally figured out that women think more of the men that can show their emotions, and dare I say it, cry!
(Kelli Jo Calvert 11:11am March 3, 2009)
My husband tends to read "traditional" westerns, but I have convinced him to read a few others, such as Fannie Flagg's books and Nicholas Evans. Romance? Not likely, but at least he does branch out occasionally!
(LuAnn Morgan 11:13am March 3, 2009)
I can't get my hubby to read anything but Dean Koontz, Stephen King, and every now and then John Grisham. I'll always keep trying though.
(Roberta Harwell 11:20am March 3, 2009)
I know that there are a lot of comic
book readers who would enjoy
romance hybrids...romantic suspense
and paranormal romance in particular.
I think part of the problem is the old
stigma against men trying something
that has too much of a "feminine"
association.
(Alisa Kwitney 11:21am March 3, 2009)
I actually first got the idea for TBTHY
after staying a hotel that reminded me of
The Shining.
(Alisa Kwitney 11:22am March 3, 2009)
My son who is now 18 loves to read Sci-Fi, but he has gotten into reading a lot of the things that I read, including paranormal romance. We are trading books alot now!
(Faith Hayes 12:42pm March 3, 2009)
My son's 13 and a half, and we've
started to share...though he loves
Tolkein, and I...blasphemy! Do not. I
think Tolkein is a boy's only writer, at
heart.
(Alisa Kwitney 1:05pm March 3, 2009)
This sounds fascinating; I had never linked romance and graphic novels,sounds like a new exciting genre for both 'sci-fi and romantics' alike.
(Dawn Raymer 1:18pm March 3, 2009)
I've been sharing books on tape/CD
with my husband. Good writers are
good writers no matter what the
genre. Some are suspense novels,
some "kids" books, some nonfiction,
and of course romance. Except for
almost driving off the road during a
rather unexpected and detailed sex
scene (guess I should have warned
him), he has for the most part enjoyed
all I've thrown his way. On one trip, I
read four books in a series to him
while we were driving (Janet
Chapman). We happened to be visiting
the area the stories took place. He
finally caught on that I was skipping
sections (too embarrassed to read
them out loud). Sorry, if he wants the
juicy parts, he'll have to read them
himself.
(Patricia Barraclough 9:38pm March 3, 2009)
They say that men think about sex more
than women, but when it comes to books,
ours certainly tend to have more sizzle.
Go figure!
(Alisa Kwitney 1:22pm March 4, 2009)
Registered users may leave comments.
Log in or register now!