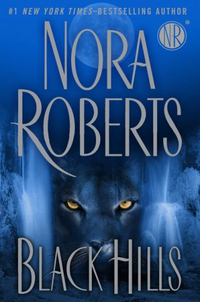 Purchase
Putnam
July 2009
On Sale: July 7, 2009
Featuring: Cooper Sullivan; Lil Chance
480 pages
ISBN: 0399155813
EAN: 9780399155819
Hardcover
Add to Wish List

Set in South Dakota, BLACK HILLS is the story of Cooper Sullivan and Lil Chance. They first meet as children when Coop spends the summer at his grandparents' ranch, but over the years their relationship develops from child's play into an adult romance. The two share their dreams and their passions each summer, but its one horrible event that will haunt them forever--the terrible discovery of a hiker's body.
Twelve years later, Coop is living in New York and Lil is pursuing her career with wildlife rescue, but news of recent crimes and the memory of that unsolved dath draw them back tot he hills of their childhood. Somehow they know the crimes are linked, and together they hope to put a stop it it...if they can keep from becoming victims themselves.

Media Buzz
Good Morning America - June 29, 2009

Comments
12 comments posted.
Re: Black Hills

Love the pics - Peaches is the cutest, sorry folks lol x
(Sarah Keery 2:22pm July 18, 2009)
Next year can I be the mascot instead of Peaches?
(Sandi Shilhanek 4:33pm July 18, 2009)
Looks like everyone is having a blast, and what a rush to get to meet so many favorite authors!
(Kara Conrad 5:11pm July 18, 2009)
I know I'd love to meet the authors I grew up on just a little less than half a century ago
(Diane Sadler 9:44pm July 18, 2009)
Ooo I have to check out the pictures - it sounded like everyone was having a fabulous time! And I haven't met any authors yet, and I'm so shy - I'd have no idea what to say! :X
(Elle C 10:20pm July 18, 2009)
It is so nice to put a face to the authors. Thanks. Hi Peaches!
(Karin Tillotson 6:01am July 19, 2009)
I have loved seeing the pictures!
(Cheryl Castings 12:57pm July 19, 2009)
How fun! And lucky Peaches to get a chance to meet all those wonderful authors!
(LuAnn Morgan 1:20pm July 19, 2009)
Sandi and I were hoping to port ourselves to DC in place of Peaches darn it all.
(Summer Sharp 2:10pm July 19, 2009)
I would love to meet some of my fav authors - but I'd probably be so tongue-tied I couldn't get a word out!!
(Martha Lawson 7:21pm July 19, 2009)
You gals are having way too much fun. I
so wish I was there. I want a Peaches
too. She is so cute.
(Patricia Barraclough 9:45pm July 19, 2009)
I like to escape reality with books and would like to know how authors escape reality. Do they get the same enjoyment from books that I do?
(Vale Black 11:16pm July 19, 2009)
Registered users may leave comments.
Log in or register now!