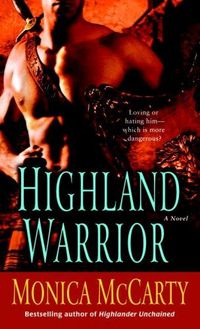 Purchase
Clan Campbell #1
Ballantine
February 2009
On Sale: January 27, 2009
Featuring: Jamie Campbell; Caitrina Lamont
384 pages
ISBN: 0345503384
EAN: 9780345503381
Mass Market Paperback
Add to Wish List

The ruthless enforcer of Scotland's most powerful clan, Jamie Campbell will use any means necessary to vanquish lawlessness and unrest among the feuding Highland clans. Seduction is a game as easily played as subterfuge, but when Jamie poses a as suitor to a rival clan's daughter in order to expose treason, the line between duty and pleasure is suddenly blurred. Ebony-haired, ruby-lipped Caitrina Lamont defies him, denies him, and arouses him like no other woman.

Caitrina has no intention of forsaking her beloved father and doting brothers for a husband– especially a hated Campbell. But Jamie's raw, sensual strength and searing kiss melt her resistance. When her idyllic world is shattered, Caitrina's only hope to save her clan lies in the arms of Jamie Campbell, the enemy she holds accountable for its ruin. Can their tenuous truce, born in the velvet darkness of passionate nights, forge a love as strong as the sword that rules the Highlands?
Comments
9 comments posted.
Re: Highland Warrior

Hi Monica,

Highland Warrior was an absolutely wonderful book! I am so excited for the releases of Highland Outlaw and Highland Scoundrel.

My favorite features on author websites are excerpts and behind the scenes features about the books like deleted scenes. I like to know what things inspire authors to write the stories that they do.
(Lori Patterson 11:46am February 16, 2009)
The features I like best on my favorite author's websites are the excerpts and information about WIP. I also like to read tidbits about what is happening in their lives.
(Karen Haas 12:17pm February 16, 2009)
Hi Monica, just waiting for the new book to arrive in my mailbox, can't wait to read it.

I do like those behind the scenes or deleted parts, reading them right after finishing a book just gives you that bit more insight at times.
(Pamela Pellini 4:07pm February 16, 2009)
Hi Monica, I love to read Highlander book, but have never read one of your. I have heard a lot about your books and have put these on my to buy list.
(Gail Hurt 4:47pm February 16, 2009)
Highland Warrior sounds great!
(Amy Smith 10:10pm February 16, 2009)
Hi everyone, first of all I apologize for
not replying sooner. I kept checking
yesterday on the main blog page and it
said zero comments. I thought
everyone was away for the holiday! I
only clicked through to the blog this
morning by accident. Replies to
follow...
(Monica McCarty 11:00am February 17, 2009)
Hi Lori,
I'm SO glad you enjoyed Warrior! Not
long to wait for the other two, I can't
believe Outlaw comes out next week! I
love behind the scenes features as
well. I know I'm in the extreme
minority, but I don't read excerpts on
the computer--they never seem to
read as well. But excerpts are
definitely one of the most popular
pages on my website in terms of
visitors.
Hi Karen,
I like those little tidbit about what's
going on in lives, too. I use my
personal blog to share a little bit of
this. But blogs are hard to keep up.
Hi Pamela,
Thank you! Not much longer to wait.
:) I love deleted scenes, too. I haven't
had as many lately, but I try to put
them up when I do.
Hi Gail,
Thanks for checking them out! Hope
you enjoy them.
Hi Amy,
Thank you! Hope you get a chance to
check it out.
(Monica McCarty 11:06am February 17, 2009)
I love highlander stories and will have to check yours out! The idea of pics sounds great!
(Martha Eskuchen 9:31pm February 17, 2009)
I like short stories that were not
published in books.
(Bridget Hopper 2:26pm February 18, 2009)
Registered users may leave comments.
Log in or register now!