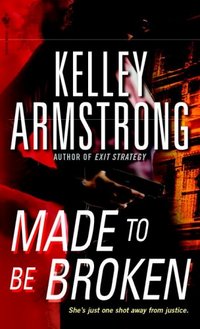 Purchase
Nadia Stafford #2
Bantam Spectra
March 2009
On Sale: February 24, 2009
Featuring: Nadia Stafford
416 pages
ISBN: 0553588389
EAN: 9780553588385
Kindle: B001NLKSKW
Mass Market Paperback / e-Book
Add to Wish List

Romance Suspense | Fantasy Urban
The author of the acclaimed Women of the Otherworld series returns with her latest novel featuring an exciting heroine with a lethal hidden talent. This time she's hot on the trail of a young woman no one else cares about—and a killer who's bound to strike again.

Nadia Stafford isn't your typical nature lodge owner. An ex-cop with a legal code all her own, she's known only as "Dee" to her current employer: a New York crime family that pays her handsomely to bump off traitors. But when Nadia discovers that a troubled teenage employee and her baby have vanished in the Canadian woods, the memory of a past loss comes back with a vengeance and her old instincts go into overdrive.

With her enigmatic mentor, Jack, covering her back, Nadia unearths sinister clues that point to an increasingly darker and deadlier mystery. Now, with her obsession over the case deepening, the only way Nadia can right the wrongs of the present is to face her own painful ghosts—and either bury them for good, or die trying. Because in her book everyone deserves a chance. And everyone deserves justice.
Nadia Stafford

Exit Strategy
#1.0
Amazon.com | BN.com | | |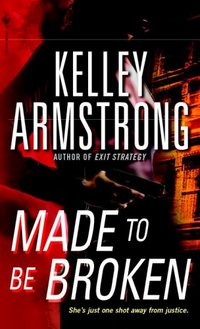 Made To Be Broken
#2.0
Amazon.com | BN.com | | |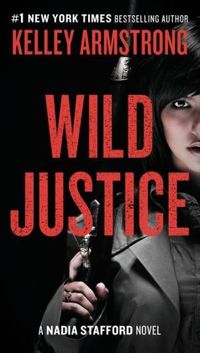 Wild Justice
#3.0
Amazon.com | BN.com | | |
Comments
12 comments posted.
Wow Sara -- you've been busy. Take the book back to Cosco and ask for a replacement -- or a refund because the book is falling apart.

I've just finished Breakneck by Erica Spindler -- excellent as usual. Kill for Me by Karen Rose -- excellent and dark and scarey! Night of the Loving Dead by Casey Daniels is a new to me series and author -- witty paranormal.

The best book I've read in ages is an April Mira by Marcia Preston -- When the Wind Comes Sweeping. It literally took my breath away.

Finished off the week with the first two in the new Balogh series, and Debbie Macomber's May Blossom Street.

My house is a mess, my cupboard is bare, and I'm about cross-eyed -- but I'm a happy camper! Got lots more good stuff to read next week. And just maybe, I'll find the time to write up some reviews ---
(Betty Cox 1:09pm February 7, 2009)
I finished Inkheart this week (I'm a
children's librarian). I was impressed
how rich the language is. Look
forward to reading the other two. I
just started Kim Lenox's "Night Falls
Darkly." First of hers I've read and am
finding it interesting. Have a long list
of must reads. Robyn Carr and Carla
Neggers have been on it for a while.
Have a feeling they will be someone I'll
have to tell my boss to put on the
shelves. I love introducing our patrons
to new authors. It is a small county
library and there are a lot of authors
for me to add. We have a lot of
suspense and romance lovers.
(Patricia Barraclough 1:09pm February 7, 2009)
My bookmark is so jealous that you read the next Carr books. Good thing I didn't know that this afternoon when I was visiting with
you! My bookmark is in The Private Concierge by Suzanne Forster, and it's really getting good!
(Sandi Shilhanek 8:03pm February 7, 2009)
Thanks to Betty Cox for that lovely remark about The Wind Comes Sweeping! (I'm the author.) My bookmark just emerged from Carolyn Wall's wonderful debut novel, Sweeping Up Glass. Beautifully written, with compelling characters and an important theme.
(Marcia Preston 7:29am February 8, 2009)
In case Marcia is still lurking around...loved The Butterfly House! I did it in audio and found myself sitting in my car after I arrived at my destinations.

Sara, The Forster book is out, and I'm going to try to make myself ignore the distractions of life and get it finished today. I just know I'm at a great part!
(Sandi Shilhanek 12:26pm February 8, 2009)
my bookmark is in Jordan Dane's NO ONE HEARD HER SCREAM and listening to Lisa Jackson's LOST SOULS. I listened to SCARPETTA earlier this week and found it to be pretty good--much better than the last 6 or 8 LOL not sure what's next
(Barbs Ferris 12:39pm February 8, 2009)
I devoured the Virgin Books too - I read the first 3 as I knew the Christmas one was coming out soon and I was not disappointed - am so glad there will be several more. Have to get my hands on the lastest.

I am starting the lastest Catherine Anderson book, just finished The Girl Most likely by Susan Donovan - enjoyed it also.
(Pat Lieberman 12:54pm February 8, 2009)
I read a Virgin River Christmas yesterday and loved it. I could just hear Ian singing O Holy Night. Today my bookmark is going into Susan Crandall's new book Seeing Red. I have been waiting so long for this book.
(Judy Anderson 1:41pm February 8, 2009)
My bookmark is Talk of the Town by Karen Hawkins - I just started it and heard it is really good. And May I add that the Robyn Carr series that everyone is talking about is wonderful.
(Helen Livermore 2:16pm February 8, 2009)
Sara - You read some of my favorite authors this week! I read Trick my Truck by LuAnn McLane - very easy, fun, simple small town romance; Suspect by Jasmine Cresswell - good romantic suspense with a lead hero that is easy to dislike at first but he comes around; and Surrender a Dream by Jill Barnett - an historical romance set in late 1894 California with a wonderful battle between a small, fiesty stubborn heroine and a very tall, stubborn, "hurt in childhood" hero. Now beginning Jerusalem Vigil by Brodie & Brock Thoene - a novel about the drama that unfolds during the early days of the rebirth of Jerusalem in 1948. I am also listening to Dead Witch Walking by Kim Harrison - a paranormal/magic story and the first time I have read/listened to this author. About one fourth into this I am enjoying the story, the characters and the audible (narrator).
(Martha Eskuchen 5:48pm February 8, 2009)
First of all, you must have a faulty book of Dark of Night, because my book didn't do any of the falling apart. Of course, I got mine from Suzanne's virtual signing. And did you read the same book I did? It doesn't say anything about Nash going on "covert missions" for money - it was because the Agency or someone pretending to be the Agency was blackmailing him. Did you read Into The Fire? Between the two books, you get that he knew they were trying to kill him and he was afraid they would go thru those closest to him to get to him.
(Kelli Jo Calvert 1:33pm February 9, 2009)
Please enter me in the contest.

Thanks.
Lorraine
[email protected]
(Lorraine Larose 11:23am March 14, 2009)
Registered users may leave comments.
Log in or register now!