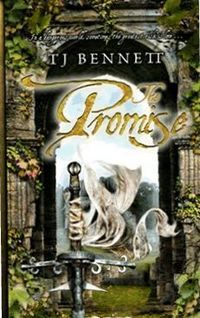 Purchase
In a dangerous world, sometimes the greatest risk is love...
Medallion Press
May 2009
On Sale: May 1, 2009
Featuring: Alonsa Garc√≠a de Aranju√©z; G√ľnter Behaim
375 pages
ISBN: 1933836962
EAN: 9781933836966
Paperback
Add to Wish List

In 1525, G√ľnter Behaim is a Landsknecht (a professional soldier in the service of Emperor Charles V). G√ľnter has been betrayed by love and promises not kept. As a result, he has sworn to make few promises of his own and keep those unto death. However, when his friend is mortally wounded while saving G√ľnter'Äôs life, he gives a pledge to marry his betrothed. To keep his promise, G√ľnter must use every weapon in his romantic arsenal to convince the reluctant woman to marry him. As his passion for her grows, he realizes he is falling in love. Is he prepared to risk his worst fear: having his heart rejected once more?
The Spanish beauty Alonsa Garc√≠a de Aranju√©z is determined to withstand G√ľnter'Äôs relentless pursuit. Haunted by a gypsy'Äôs curse on any man who loves her, Alonsa yearns for G√ľnter, but fear for his safety forces her to rebuff him. As she struggles to deny the growing attraction between them, she begins to realize that fate may have other plans. With danger surrounding them, will Alonsa bite from the forbidden fruit? Or will G√ľnter be bitten instead by the mysterious misfortune that seems to plague any with the courage to become ... Alonsa'Äôs love?
Comments
12 comments posted.
Re: The Promise

Congrats on The Promise, TJ! I remember when The Legacy first debuted and hearing about that! Do you have another related book planned? (I thought I recalled a trilogy?)
(Fedora Chen 1:50am June 5, 2009)
Congratulations on your success! Your books sound fascinating.
(Betty Cox 12:25pm June 5, 2009)
Isn't it interesting how some characters push themselves on you when you are trying to write about someone else!
(Karin Tillotson 12:27pm June 5, 2009)
These books sound great! I'll have to check them out (& I usually don't read historicals!)!
(Kelli Jo Calvert 12:50pm June 5, 2009)
Congrats TJ!
(Gail Hurt 3:36pm June 5, 2009)
The story and setting of 'The Promise' are unique and interesting. I will definitely will make this book a summer read.
(Rosemary Krejsa 7:11pm June 5, 2009)
Hi, folks! Sorry I didn't respond earlier. Been traveling today unexpectedly and just got back. Thanks for the interest in my book, THE PROMISE. And to answer Fedora's question, while I do have the third brother, Peter's story, in the back of my mind, at this time I have no plans for a trilogy. Never say never, though. I'm working on anther historical manuscript, something I'm calling a "grown up gothic fairy tale," which I'm hoping everyone will be able to enjoy soon.

Thanks for asking!

TJB
(Tj Bennett 11:24pm June 5, 2009)
Have been signed up for IMHO for a
month or so now. Also on your
website. Love historicals and yours are
a nice change of pace . You can't let
Peter languish in no man's land. I'm
looking forward to your "fairy tale."
(Patricia Barraclough 11:42pm June 5, 2009)
Hi, I have read many wonderful reviews of your new book.
(Mari M. 3:02pm June 6, 2009)
Hi TJ! Just signed up for the newsletter and checked out the blog - it's great! Haven't read any of your books yet - but will keep my eye out for them!
(Martha Lawson 10:24pm June 6, 2009)
Congrats!
(Bridget Hopper 12:41pm June 7, 2009)
TJ,
I'm just adding my congratulations on the great review! My novel Fire at Midnight was reviewed here to day, too, and FF was very good to me, too!
(Lisa Marie Wilkinson 3:24pm June 23, 2009)
Registered users may leave comments.
Log in or register now!