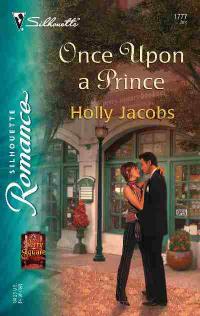 Purchase
Silhouette Romance #1777
Silhouette Romance
July 2005
Featuring: Tanner Ericson; Shey Carlson
192 pages
ISBN: 0373197772
EAN: 9780373197774
Paperback
Add to Wish List

Romance | Romance Contemporary
Shey Carlson is a rebel...with a cause. She grew up on the wrong side of the tracks. But she worked her way to a better future. She got a scholarship to college where she met Parker and Cara. How a princess like Parker, and a quiet, gentle soul like Cara became her best friends she's not sure, but she values their friendship and was eager to share a partnership in Monarch's Coffeehouse and Titles Bookstore with them. Shey runs the coffeehouse and is generous with the leftover food, feeding those who might otherwise go hungry. She also volunteers in a literacy program, teaching reading. Her life is full and she doesn't want anything to change. So when Parker's father sends her an unwanted royal fiancé, Shey runs interference. She'll keep the prince away from her friend until he finally decides there's nothing for him on Perry Square and leaves.
Tanner Ericson, aka Prince Eduardo Matthewl Tanner Ericson of Amar, a small neighboring country of Parker's Eliason, came to Erie, PA to collect his errant fiancée. He's decided no woman will ever truly love him. They've all been after his money or his title. That's why Parker will be perfect. She's a princess and has her own money. They were friends when they were younger, and marrying her will be good for both his country and hers. He didn't expect to be whisked away by a Harley riding redhead. Shey seems bound and determined to keep him away from Parker. He should be put-out, instead, he finds he enjoys spending time with Shey. They snipe, the bicker...and they kiss. Wow, do they kiss. Shey has stirred unexpected feelings in him. He sees beyond her tough girl exterior and finds the warm and generous heart underneath. She feeds those who are hungry, teaches literacy and is a loyal friend.
Tanner discovers he doesn't want a princess. He wants Shey, a woman who is regal and generous...the woman he loves. Problem is she's just a bit stubborn. Tanner's going to have to work hard to convince her that their love can not only work, but flourish!
Comments
No comments posted.

Registered users may leave comments.
Log in or register now!