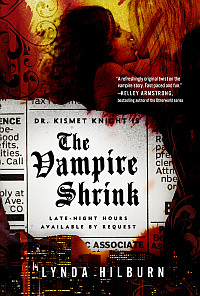 Purchase
Denver Psychologist Kismet Knight didn't believe in vampires. Until now...
Kismet Knight, Vampire Psychologist #1
Silver Oak
April 2012
On Sale: April 3, 2012
Featuring: Kismet Knight; Devereux; Alan Stevens
392 pages
ISBN: 1402792786
EAN: 9781402792786
Kindle: B005IHBWDE
Trade Size / e-Book
Add to Wish List

Other Editions
e-Book (September 2011), Paperback (October 2007)
Denver Psychologist Kismet Knight, Ph.D., doesn't believe in the paranormal. She especially doesn't believe in vampires. So what happens when she finds herself neck-deep in the vampire underworld?
Kismet is smart, witty and attractive. She's respected in her field, successful and prosperous. She's followed all the rules -- done everything right. So, what's the problem? Her life is empty. There's no passion. No vitality. No excitement.
That is, until a new client introduces Kismet to the vampire underworld, and a drop-dead gorgeous, 800-year-old vampire named Devereux. Kismet isn't buying the vampire story, but can't explain why she has such odd reactions and feelings whenever Devereux is near. Kismet is soon forced to open her mind to other possibilities when she is visited in her office by two angry bloodsuckers, who would like nothing better than to challenge Devereux by hurting Kismet.
As Kismet gets pulled deeper and deeper into the vampire subculture, she struggles to hold onto her professional ideas about what is and isn't "real." The more she finds herself attracted to the charismatic, handsome Devereux, the more out of control her life becomes.
When one of her clients shows up in her office almost completely drained of blood, Kismet finds herself immersed in an ongoing murder investigation. Kismet is questioned by irreverent, handsome FBI profiler Alan Stevens, who warns her that vampires are very real. And one is a murderer. A murder who is after her.
In the midst of all this, Kismet realizes she has feelings for both the vampire and the profiler, but even though she cares for each of the men, facing the reality that vampires exist – along with all the other supernatural insanity she discovers – is enough of a challenge. For now.
Videos
Kismet Knight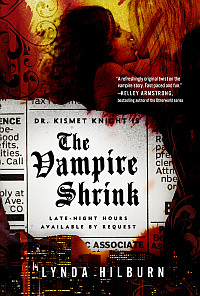 The Vampire Shrink
#1.0
Amazon.com | BN.com | | |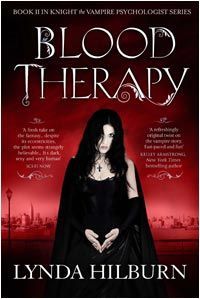 Blood Therapy
#2.0
Amazon.com | BN.com | | |
Comments
43 comments posted.
I would LOVE to win this book!!! I just recently added it to me "to read list." Keeping my fingers crossed
(Britney Barlow 5:00pm April 26, 2012)
I Lived with a Few Ghost.in infested Houses but no ghost ever
tried to hurt any one just move things around and messed with
the lights and stuff.
(Stacey Smith 12:28pm April 27, 2012)
I am one of those people who don't see spirits. How lucky you are!!
(Kathleen Yohanna 12:56pm April 27, 2012)
This sounds like a book I'd love to read. Thanks for the chance to win it!!
(Bonnie Capuano 7:07am April 27, 2012)
After watching ghost whisperer my daughter and I decided that if we came back we would very clearly say why!lol!
(Barbara Hanson 8:24am April 27, 2012)
i love books or shows that have vampires like moonlight ,trueblood so this is my type of book
(Denise Smith 10:26am April 27, 2012)
This sounds like a very exciting book, I just love a good book
that keeps you on the edge of your seat. :)
(Lynn Paterson 12:08pm April 27, 2012)
No ghostly encounters for me, however, I do think that you can feel the presence of loved ones that have already died.
(Susie Kerner 12:29pm April 27, 2012)
#willsellsoulforbooks
(Fiona Marsden 12:53pm April 27, 2012)
Well, when one of my cats died after 18 years, I could swear at night I heard her meow in the livingroom and jump on the bed. (I had no other cats at the time.)

That's about it for ghostly experiences.
(Anne Muller 12:58pm April 27, 2012)
Unfortunately, I have not had any ghostly encounters.
(Robin McKay 1:44pm April 27, 2012)
I have never met any of the supernatural before, and I do count myself lucky. :P Haha. I love to read about them, but I'm too much the coward to read it!>
(Chia Yet Peng 1:47pm April 27, 2012)
Sounds like an awesome read!!! Going on my TBR list!!!
(Deana Potter 1:49pm April 27, 2012)
I've actually had a number of "ghostly encounters". When I was 6 years old, my favorite person died...my grandfather. He visited me nightly in "dreams" as long as I needed him. He explained death and helped me understand his own. It was a very "real" experience, and I have no doubt he actually did communicate with me after death.
(Sandy Fielder 2:00pm April 27, 2012)
My sister has a spirit that she has seen for years... I have not personally seen one, but have had some interesting things happen around the house... last Summer our ghost would play with my nephew's singing training potty... he would make it play at night until you told him to stop... it was interesting...
(Colleen Conklin 2:30pm April 27, 2012)
My husband and I were up at the Tetons, and we each saw a different ghost in the middle of the night. Mine was a malevolent male, who wished me harm. It seriously freaked me out. We left as soon as it got light out.
(Kathleen Conner 2:37pm April 27, 2012)
My parents had a pub that was inhabited by a ghost who
constantly helped himself to beer, though he would pay for it
by placing pfennigs in a circle on the counter top. He also played the jukebox when it was unplugged and generally made
himself known in numerous ways to prove his existence.
(Ilona Fenton 2:51pm April 27, 2012)
I had a mysterious experience where one of my bath fizzies jumped out of the cylinder it was in (but the container did not fall over) and landed on the floor. I opened the door and was a room away when I saw that. The only rational explanation that I could come up with was that maybe a mouse was in the container and pushed the fizzy out, but then the whole container probably would've fallen over.
(Michelle Fidler 3:09pm April 27, 2012)
I haven't had any encounters with ghosts during my waking hours. But I have dreams that are so vivid of loved ones that have passed that I call them visits.
(Cynthia Netherton 3:09pm April 27, 2012)
When my son was about 3, he was upstairs playing and screamed that he seen a 'scary'. So we ran up there and things were falling off the walls, even when we got downstairs things fell there too. My friend that was over grabbed a cross and started screaming 'satan I rebuke you in the name of Jesus!' lol she's a big time christian :) Any who, we moved from that apartment and the next people that moved there, the place caught on fire. No one was hurt and they never figured out how the fire started. I've had a few experiences but that was the worst.
(MaDonna Lemmen 4:31pm April 27, 2012)
I remember my brother telling me of episodes with a ghost in his home. TV unplugged turning on. TV when plugged in, coming on by itself, he turned it off, then it would come on again. While he's washing dishes, cupboard doors opening on their own all the way, then slamming closed. A figure of a woman in a white long gown being seen and disappearing,
and a ghost coming up behind him and placing his large hands onto his shoulders and completely turning him around, and nothing visible. He said most everything happened at night when the house was quiet. He looked into the background of his home, and found out that it was once used as offices for a lumberyard, which still didn't tell him why strange things happen in his house.
I enjoy a good ghost story and all the ghost hunters stuff on tv. I don't think I'd want to encounter any in real life, but I sure love reading about them and would love your book.
(Linda Luinstra 5:06pm April 27, 2012)
I haven't had any encounters with ghosts that I know of. Thanks for the chance to win!
(Natasha Donohoo 5:35pm April 27, 2012)
I wouldn't say it was ghostly exactly but there were times growing up when I would feel like someone had thier hand on my back like they were giving me support. I would usually smell my Aunt Jean's (deceased) perfume too. I always felt comforted. But I also never told anyone because I thought they would think I was crazy.
(Patti Paonessa 6:38pm April 27, 2012)
I have heard strange noises in the house occasionally but I don't think I have ever encountered a ghost.
(Maureen Emmons 6:41pm April 27, 2012)
Spooky! I have only had minor ghost run ins, the feeling of being watched or shadows moving out of the corner of my eye.
(Teresa Miller 6:49pm April 27, 2012)
HOT DOG! I'D SOOOOOOOOOO LOVE TO WIN THIS ONE! I MADE NEED
A SHRINK MYSELF!! LOL
(Linda Bass 6:54pm April 27, 2012)
My Mother passed away from Alzheimer's disease a few years ago. I helped my Dad take care of her until her passing, and had that nagging feeling inside of me, wondering if she was ok. She drops by for occasional visits to let us know she still cares. Her first visit took us by surprise. My husband was all alone at the computer, when his shoulder was playfully pushed. The next time his leg was yanked while he was taking an afternoon nap. I can always sense her presence around me as well, although she doesn't play practical jokes on me. Her favorite bird was the Cardinal, and one always appears on the lawn, when I look out the window!! I would just love to read your book, and coming from the Detroit area, actually living there most of my life, would be an added plus!! Thank you for a most entertaining posting today!!
(Peggy Roberson 7:18pm April 27, 2012)
Nope, haven't had any. Although my mom is extremely superstitious about ghosts and really believes in it.
(May Pau 8:56pm April 27, 2012)
I haven't had any such experiences but have heard and read so many it would be difficult not to keep a very open mind.
(G. Bisbjerg 11:30pm April 27, 2012)
I haven't personally had any encounters, but my co worker Jill's house is haunted. It used to be a foster home and you can hear babies crying, kids running in the hallways, and little girls giggling in the stair wells. Jill is single and there isn't any children living there! And, whats even freaker is that they respond to her. She says "That's enough, it's time for bed." and everything stops...
(Joelle Beebe 11:48pm April 27, 2012)
i asked my father to forgive me because i thought it was my fault he died. i also told him i love him and i hoped he forgives me> well i look at the door and i see a outline of someone standing there really talland with a cowboy hat on. well i know it waas my father and i felt at peace.
(Jennifer Beck 12:00pm April 28, 2012)

(Mary Guida 8:17am April 28, 2012)
Hi Lynda, How interesting! Non-believers! I bet your ex's parents are frustrated they would not believe. Great article.
(Mary Guida 8:18am April 28, 2012)
My grandma, not long after she died.
(Roxana Perez 9:53am April 28, 2012)
Great stories! I can't wait to read this book! Have you considered writing a nonfiction book about your experiences with the other side?
(Sally Berneathy 9:53am April 28, 2012)
When I was little, I had an immaginary friend, but I don't know if the latest qualifies or not: Last year, I kept getting dreams and couldn't sleep, so I got up and started writing about the dreams, this resulted in my Paranormal Book, "Immortal Relations" which has some of what my own father did right after WW-II when stationed in Europe. The vampire story of good vamps vs. evil vamps, takes off from there!
(Guy Ogan 9:57am April 28, 2012)
I have not had any ghostly encounters. I think I would freak out if I did.
(Mary Preston 10:03am April 28, 2012)
I have often wondered if kids' imaginary friends aren't spirits. I haven't had experiences like that, but have experienced other odd psychic experiences.
(Thea Hutcheson 10:54am April 28, 2012)
I lived in a badly haunted apartment. There would be noises at night with no explanation of them. (It was on the end, so I only had another apartment on the other side). I had an elderly neighbor, she was the one that suggested it was haunted. The noises scared her so bad, she had to have her son come and stay with her. (He was a recently released convicted felon, really tough looking, and about 6'3" and 280 pounds of muscle). One morning he knocked on my door to see if I was okay. It had been a bad night with the noises, etc. He was white as a sheet, quite shaken, and told me he was moving his mom out for her safety. He did within a couple of weeks.
I started to make my very young son, sleep in my room, because he was having night terrors in his. I never felt comfortable there. My cats would randomly hiss when there was nothing there.
I bought a house, and never had any problems since.
(Debbie Penny 7:30am April 29, 2012)
My best friends house is haunted. Trash can liners get stood up, doors
open by themselves, there are always knocks and bangs. The oddest
thing is he has an antique phone that is not hooked up, just on display
and it will ring from time to time. It's never anything malicious or
harmful. He even talks to it. Lol. There is never a dull moment there
that's for sure!
(Wendy Hoffman 4:44pm April 29, 2012)
Well, I haven't had so much of a ghostly experience, but can occasionally read people especially for their health situations. I think if you listen hard enough, there's plenty of extrasensory intuition to go around.
(Alyson Widen 9:24pm April 29, 2012)
I love all the ghost stories. I'm more of a believer in ESP. Just this Sat., a boy I lived next door to contacted me on FB. I hadn't lived in the same town with him since we were 10 and never thought of him. At lunch, the same day, my father brought him up. We were talking about professional baseball and he said, "You know so-and-so was drafted by by the majors."(many years ago) It was so weird.
(Carly Carson 10:31am April 30, 2012)
I would love to win that book! I have lived in "what you might say" two haunted houses where the front door would open by itself even after locking it, and where things would go bump in the night. There were also loud Footsteps, or doors that would squeak shut, or slam together with a loud bang.
(Wanda Maynard 1:24pm June 18, 2012)
Registered users may leave comments.
Log in or register now!