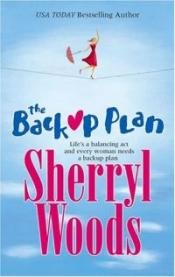 Purchase
Life's a balancing act and every woman needs a backup plan
Low Country Trilogy #1
MIRA
March 2005
Featuring: Cordell Beaufort; Dinah Davis
400 pages
ISBN: 0778321495
Paperback
Add to Wish List

When Dinah Davis witnesses a devastating incident, her ability to do her job is shaken. Though she tries to stick it our as a war correspondent, her professionalism suffers and after being called on the carpet by her boss, she's forced to admit some time off might help.
Having started to face her demons, Dinah decides to go one step further. She quits her job and returns to her home town to launch the backup plan she'd hatched years before with Bobby Beaufort, the man she left behind.
But she hasn't taken into consideration Bobby's brother, Cordell, and his objections to her plan. He has ideas of his own, not only is he sure that Bobby's not the right man for Dinah--Cord is equally certain that he is.
As their passion draws the two together, a new dilema looms; once Dinah's emotional scars have healed, will she be drawn back into her exciting and dangerous profession? Or will Cord's love be enough to fill her life?
Comments
No comments posted.

Registered users may leave comments.
Log in or register now!