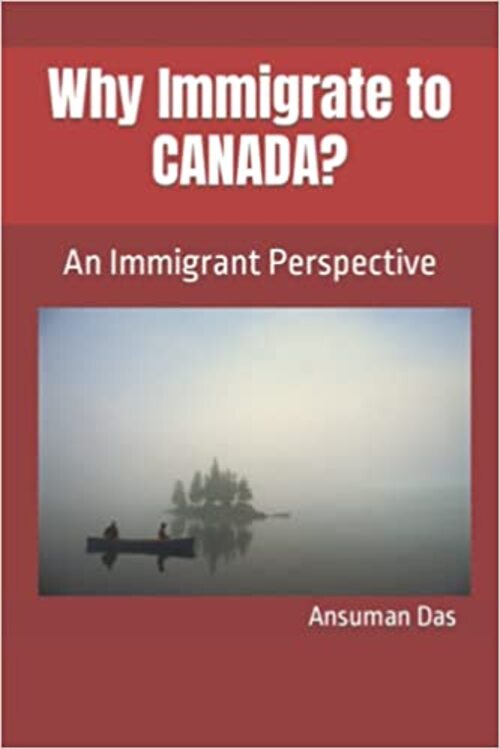 Purchase
Why Immigrate to CANADA?: An Immigrant Perspective
Ansuman Das
Author Self-Published
January 2022
On Sale: December 16, 2021
255 pages
ISBN:
Kindle: B09NGRHBFH
e-Book
Add to Wish List

World is shrinking day by day with millions traveling and moving across places. Countries are realizing that they need to open up themselves more if they have to grow, for they cannot remain isolated and aloof from others. Prospective Immigrants apply to many countries including UK, USA, Australia, New Zealand, Canada and others for Permanent Residency..
However, Why Canada? What is it in Canada that no other country has? Why Canada stands out, Why is it a country of dreams? What can one expect from calling Canada home? How are Canadians? What are their traits? What is Canada's future? How can one apply to immigrate, what is the process, what challenges may come, what one should do at different stages in the process? Whether one should apply to Express entry or PNP? How is PNP different from Express entry and FSWP? There is so much more that often clouds a prospective immigrants mind. What is there for an international student? Can an international student get job and settle in Canada thereafter? What is in it for parents? What are different checklists? How is a typical day in a student's life and a Canadian's life?
Book explores all these and more. This book gives you TIPs at every stage to make your process and settling in easy. Those who are already here can relate to what I am saying and for those who are deciding on what to do, where to immigrate, this will help you plan and decide. Immigration process, references and Immigration FAQs help clear some of your queries which may seem complex and overwhelming at times.
This book orients you to deal with Culture Shock so that you are prepared ahead before landing.
Remember, planning is the most important step in this process. Getting yourself acquainted ahead of time helps.
Among other aspects, whether it is your approach to the immigration process, making a Canadian style resume, job search tips, cover letters or how to approach interviews and reference check process, this book provides you with ideas and tips from the lens of an immigrant, a recruiter, counsellor and employers' who have been involved in hiring Canadians and internationally educated professionals over the years.
What Canadian employers look for; how to find a job; what steps one should take to be successful, book has many such vital piece of information. You shall explore and reflect with practical insights.
This book has tips and messages from such prospective immigrants like you who successfully immigrated. The book also features a section with advice from experts from various fields including recruiters, HR and other industry leaders.
All in all, it has everything you need to know in your quest as a prospective immigrant.
Comments
No comments posted.

Registered users may leave comments.
Log in or register now!