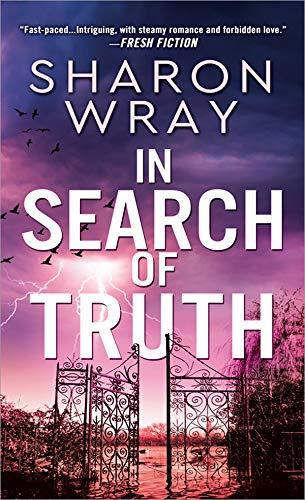 Purchase
Deadly Force #3
Sourcebooks Casablanca
March 2020
On Sale: February 25, 2020
480 pages
ISBN: 149265566X
EAN: 9781492655664
Kindle: B07Y5NJXLC
Mass Market Paperback / e-Book
Add to Wish List

Buried treasure... buried feelings...all about to surface...
Anthropologist Allison Pinckney is stunned when she inherits the key to a seventeenth century pirate cipher that makes her the target of two brutal arms dealers. Now, to save those she loves, she must solve the cipher. With this perilous mission growing ever more dangerous, she reluctantly seeks help from ex-Green Beret Zack Tremaine, the one man she's been avoiding. Because if she gives into her long-buried feelings for him, it could cost them their lives.
Zack Tremaine is haunted by regrets. Years ago, he betrayed his men and lost the only woman he ever loved. Now that his men are caught in a fierce rivalry between two deadly enemies, his only hope is to team up with Allison. She holds the secret to a pirate treasure, and he must take the chance to save his men and redeem his honor. Even if she breaks his heart...again.
Comments
23 comments posted.
What a fun question. "N" is for Natural. I like that.
Your book sounds great. Best of luck with it - and thanks
for the chance to win.
(Nancy Reynolds 11:29am February 24, 2020)
V is for Valor,,i like to think i am strong and brave when
necessary
(Vickie Couturier 12:19pm February 24, 2020)
P - Persistent - If there is something I really want, I will plan
and work for it, pretty much as long as it takes to get there.
In high school, I heard President Kennedy talk about and
establish the Peace Corps. I decided right then it was
something I was going to do. It took years - finishing high
school and then getting my degree in college, but 3 weeks
after graduation from college I left for Peace Corps training.
Those 3 years were a wonderful experience. More recently,
we had been planning to travel to Alaska, a bucket list trip.
# years ago I had started planning the trip when I developed
a detached retina. That wiped out the summer with
surgeries, etc. The following Spring I resumed planning and
was diagnosed with an autoimmune-neurological disease.
That took much to adjust to and figure out where I went
from there. This past Spring, I resumed planning our trip.
My treatments had stabilized my symptoms and before
things got worse, I decided we were going. We spent 2 1/2
months on the road and had a fantastic trip. I am now
looking at another bucket list trip next year to Ireland,
Scotland, and England if I can figure out how to get my
weekly treatments while overseas. It takes a suitcase to
carry everything for the treatments, but if I can get enough
week's worth, I can make it work. Even when I end up with a
walker or wheelchair, I will still keep going.
(Patricia Barraclough 1:58pm February 24, 2020)
I forgot to ask, is this the end of the series, or will there be
more books.
(Patricia Barraclough 1:59pm February 24, 2020)
"T" is for trustworthy.
(Tina Rucci 5:39pm February 24, 2020)
"C" Crafty.
(Cynthia St. Germain 6:31pm February 24, 2020)
"M" Meticulous.
(Martin Bodnar 7:13pm February 24, 2020)
"C" Courageous.
(Caryl Kane 7:47pm February 24, 2020)
"T" for truthful.
(Tracy Urschler 8:53pm February 24, 2020)
M. Misplaced
(Melanie Rosen 11:22pm February 24, 2020)
Thank you so much for hosting me today! I hope you all enjoy In Search of Truth as
much as I loved writing it! :)
(Sharon Wray 5:37pm February 25, 2020)
L Loving I have 4 children and 5 grandchildren. I look forward to spending tome with them. I'm and avid reader. They all love books! Giving them a smile, a hug, a kiss, a call makes my day!
(Laurie Gommermann 5:48am February 26, 2020)
H- Honest
This book sounds really great. Can't wait to read it
(Heather Amos 1:14pm February 26, 2020)
"T" Trustworthy
(Terry Kirgan 7:03am February 27, 2020)
"A" Agreeable
I wish I could use Awesome, but that's stretching the truth. Thank you for the contest.
(Anna Speed 3:24pm February 27, 2020)
J - Joyful
(Jana B 8:51pm February 27, 2020)
N - Nervous, especially in social situations with large
groups
(Nancy Krueger 10:42pm February 27, 2020)
B bashful
(Brenda Cipriano 8:43am February 28, 2020)
"K" Kind
(Kimberly Fravel 1:21pm February 28, 2020)
"C" crazy
(Carolyn Theriot 5:06pm February 28, 2020)
"T" timeworthy
(Teresa Warner 5:37pm February 28, 2020)
K for knowledgeable, totally true
(Kelly Moore 10:16pm February 28, 2020)
A-Attentive thanks for this chance
(Amber Johnson 11:29pm February 28, 2020)
Registered users may leave comments.
Log in or register now!