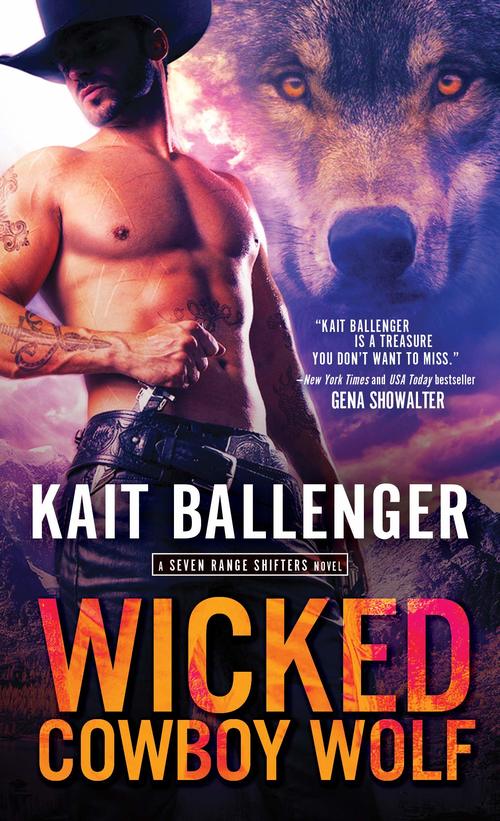 Purchase
Seven Range Shifters #3
Sourcebooks Casablanca
February 2020
On Sale: January 28, 2020
352 pages
ISBN: 1492670820
EAN: 9781492670827
Kindle: B07Y5NMP88
Mass Market Paperback / e-Book
Add to Wish List

Romance Paranormal | Romance Erotica Sensual | Romance Western
To his enemies, he's known as the Rogue. To her, he's her only chance at survival...
Years ago, Grey Wolf Jared Black was cast from the pack for a crime he didn't commit. Now, he's the mysterious criminal wolf known only as the Rogue, a name his former packmates won't soon forget. But when a vampire threat endangers the lives of their entire species, Jared must confront his former packmates again, even if that means betraying the only woman he's ever loved...
Ever since Maeve Gray escaped the pack's bloodsucking enemies, she's been determined to save her species—and fast. Each passing day risks the lives of her friends and family. But when a wicked cowboy wolf shows up on the Grey Wolf ranch, offering everything Maeve's heart desires, her eyes are opened to a whole new world beyond the packlands. For this cowgirl, sleeping with the enemy could prove as desirable as it is deadly...
Seven Range Shifters
Comments
27 comments posted.
while reading, ALL your troubles seem to fade away . . . .
... . ..
(Martin Bodnar 7:54am January 30, 2020)
The sheer imagination of it all.
(Nancy Reynolds 9:44am January 30, 2020)
I love that they have the ability to turn in to something
else and how they communicate with their other half.
(Tina Rucci 4:56pm January 30, 2020)
I LOVE shifter romances. I don't know why. I always
loved fairy tales as a child and expanded into fantasy as
an adult. If I were younger, I'd speculate that it was
because I'd read all of the Animorph books that the kids
couldn't get enough of. But, I think it's because there
are times when we all feel as if we have an animal inside
of us. It's really cool seeing a story where that comes
to life. Thank you for the opportunity! Oh, and please,
PLEASE have more of your titles recorded on Audible.
(Marcia Berbeza 6:30pm January 30, 2020)
sounds like a very good read
(Vickie Couturier 6:32pm January 30, 2020)
I like anticipating their transformations throughout the story!
(Tracy Urschler 8:20pm January 30, 2020)
The hero or heroine being able to shift and have special
abilities to help people.
(Melanie Rosen 10:28pm January 30, 2020)
I love the protective heroes.
(Janie McGaugh 4:53pm January 31, 2020)
When I get to see them navigate between their two worlds is what I like most.
(Leni Kaye 5:46pm January 31, 2020)
I'm really not sure. I just know I love to read them. Never thought about why.
(Blanche Nixon 6:25pm January 31, 2020)
I like the cowboy part the most.
(Alyson Widen 11:52pm January 31, 2020)
The concept of being two beings in one body while also being strong.
(Sharon Good 2:42pm February 1, 2020)
I like the bond between the main characters.
(Jana B 7:27pm February 1, 2020)
Shifters are my favorites in the paranormal world. I am not really sure why. Having the ability to call on a hidden part of yourself to help in a situation may be a part of it. A hidden strength and alter ego to deal with difficult situations is something we could all use.
(Patricia Barraclough 5:46am February 2, 2020)
Hot alpha men!!
(Jennifer Beck 5:29am February 3, 2020)
I like the alpha males!
(Sherry Haut 3:15pm February 4, 2020)
Shifter males are so alpha and so hot. They are loyal and
possessive of their mate. I love their strength and control.
(Lynne Brigman 9:20pm February 4, 2020)
Using your imagination.
(Kim Hansen 4:55pm February 5, 2020)
I love shifter romances. I think shifting would be cool. The
make shifters are usually loyal and protective of their mate
and family. The females are strong and work right along with
the males (who recognize their strength). Unless you get the
complete alpha-holes. You can keep those. LOL
(Ann Ivey 5:36pm February 5, 2020)
I'm actually fairly new to shifter romances about a a
year to a year and half and so far I like them.
What do I love about Shifter romances. OH I find these
type of books really interesting and how they shift. I
also like how the shifters stay in their packs but what I
really like and I mean really like is seeing how a human
reacts when she falls in love with a shifter and/or a
shifter reacts when he falls for a human or a part
human/part shifter. Another thing I really like about a
shifter romance is what can do a shifter in and how a
shifter can protect themselves.
Shifter romances are so cool, interesting and even
intriguing and yes romantic too. A shifter's strength and
ingenuity is out of this world. I love it.
I look forward to reading the paperback version of this
book.
(Crystal Stewart 6:04pm February 5, 2020)
I love shifter romances. I like how often the person and the
animal share characteristics and traits. I love to think
that we all have a bit of an animal inside us.
(Tamara Kasyan 9:35pm February 5, 2020)
I like animals so a human that can become an animal seems
wonderful.
(Rosie Hoskins 8:43pm February 6, 2020)
I think I just like the fantasy aspect of it. I like to think that fantastical things can happen.
(Jennifer Cecil 10:30am February 8, 2020)
Because essentially shifter romance novels are a type of porn for women.
Shifter romance mainly features non-human characters which are written
to be more "primal" than human society allows humans to be. All of the
males have to find a mate and once they find her they essentially go into
a type of heat where they are driven to ravish the female character
(Sandy Klocinski 5:19pm February 8, 2020)
I love shifter books because they take me away to another world. They are so interesting.
(Victoria Kondovski 7:46pm February 8, 2020)
I love shifter books. Especially wolves
(Lori Byrd 5:23pm February 9, 2020)
Ooh love the mystique... Their ability to change shape...
(Colleen Conklin 8:37pm February 10, 2020)
Registered users may leave comments.
Log in or register now!