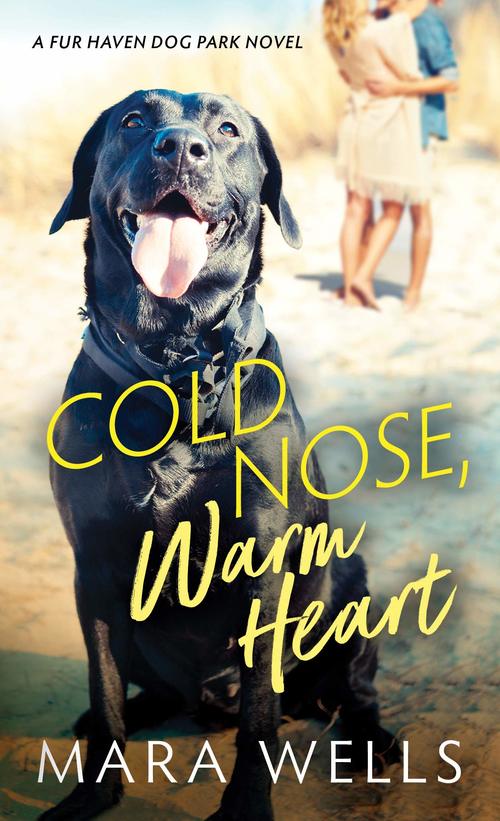 Purchase
Cold Nose, Warm Heart
Mara Wells
Fur Haven Dog Park #1
Sourcebooks Casablanca
February 2020
On Sale: January 28, 2020
384 pages
ISBN: 149269858X
EAN: 9781492698586
Kindle: B07Y5QTCF7
Mass Market Paperback / e-Book
Add to Wish List

A poodle, a black lab and a Chihuahua walk into a dog park...
All Caleb Donovan has to do to redeem his family name is take a rundown Miami Beach apartment building and turn it into luxury condos. Easy, right?
Unfortunately, that would also turn the local dog park into a parking lot and the neighbors aren't having it. Caleb is faced with outright revolt, led by smart, beautiful building manager Riley Carson and her poodle, LouLou.
For Caleb, this project should have been a slam dunk. But even more challenging than the neighborhood resistance is the mutual attraction between him and Riley. It would be so much easier just to stay enemies.
Can Riley and her canine sidekick convince Caleb that what's best for business isn't always best for the heart?
Fur Haven Dog Park
Comments
31 comments posted.
I have 2 dogs and 3 cats at the moment - and I love them
each so much. Any pet is a great pet.
(Nancy Reynolds 9:30am January 28)
Dogs rule. Ny dog rules my heart!
(Anna Budziak 1:39pm January 28)
love dogs
(Margo Beredjiklian 1:48pm January 28)
I know i love my little dog,he has been my best friend this
past year through some rough stuff
(Vickie Couturier 6:03pm January 28)
We have 2 cats and have had dogs in the past but not right, but I do enjoy visiting my friends dogs.
(Cynthia St. Germain 9:05pm January 28)
Dogs!
(Melanie Rosen 1:54am January 29)
Love cats and dogs. Both are great in different way's.
(Blanche Nixon 10:12am January 29)
I prefer dogs.
(Tina Rucci 3:20pm January 29)
Dogs
(Jean Patton 7:51pm January 29)
Our first dog was a bluetick hound who liked to go
hunting although, he mainly chased rabbits instead of
helping retrieve birds from the hut. The next dog was a
border collie who herded us and the cat. The cat was a
regal Maine Coon who we outfitted with a small dress and
bonnet and wheeled him around the yard in a wheelbarrow.
(Alyson Widen 12:58pm January 30)
My favorite pet is definitely dogs! We currently have 2 rescues :-)
(Tracy Urschler 8:10pm January 30)
We have had LOTS of pets of all sorts: dogs, cats, ferrets, rabbits, snakes, rodents of various types, chickens, etc. By far, dogs are our favorites. We have had about a dozen and fostered many litters for the local animal shelter. Of all the dogs we have had, our favorite was our black lab mix and next would be our beagle mix. If we were to get another, it would be a lab, likely with a beagle playmate. But that will be after our current dog is no longer with us.
(Patricia Barraclough 4:41am January 31)
dogs but I have had 7 turtles, I rabbit that lived 16yrs, hamsters, birds and even cats at one time . can't wait to read.
(Jennifer Beck 8:00pm January 31)
Who wouldn't love to read a book about romance and dogs?
(Jamie Rincker 11:53pm January 31)
My dog Daisey is my faithful best friend. This sounds like a great book!
(Amanda Wimer 8:17am February 1)
Dogs are fun to have, but I prefer my cuddly cats.
(Anna Speed 1:43pm February 1)
I prefer not to have pets.
(Sharon Good 2:37pm February 1)
I love my kitty.
(Jana B 7:19pm February 1)
a warm, fuzzy dog . ...
(Martin Bodnar 7:58am February 3)
I love my dogs!
(Sherry Haut 10:35pm February 3)
Cats are my favourite.
(Lindsey Andronak 5:58pm February 5)
Love books like this. The book cover and book
excerpt/blurb look fantastic.
I've owned dogs in the past from a an Eskimo Spitz to a
full blooded Female Alaskan Malamute. Also owned cats.
Right now I own 1 cat. The cat I own now is a
rescue/adopted cat and is strictly an indoor cat. However
Seeing her Mom who brought her to us, I would say she's
probably a Tuxedo cat.
I LOVE MY CATS!!
CATS RULE AND LEAVE PAW PRINTS ON YOUR HEART.
Sure hope I win.
Crystal
(Crystal Stewart 7:07pm February 5)
I've many from fish-yes, they are very responsive, lizards,
dogs, cats, horses, cows, ducks and chickens! Loved them
all and currently have a rescued Toy Fix Terrier, seniors,
both of us.
(Kathleen Bylsma 7:16pm February 5)
Doggies!! At the moment I have a (almost) 15 year old
Yorkie/Pom. He is my shadow and my baby!!
(Jamie Gillespie 8:30pm February 5)
I love dogs so this should be an awesome read.
(Thomas Gibson 1:41am February 7)
My favorite kind of pet are German Shepherds.
(Susan Clickner 12:29pm February 7)
I honestly don't think I could choose just one pet. I love my dog. He
provides warmth. He hangs out with me. And last but not least and my
favorite thing is that he gives me unconditional love. I don't have any
cats but I love them. They provide endless fun. And they are great
napping buddies. My favorite thing about them is that they are
independent. They are all my favorites.
(Sandy Klocinski 6:04pm February 8)
Dogs :)
(Beth Shepherd 7:40pm February 8)
I love dogs but sadly I recently lost my dog and I miss her so much.
(Victoria Kondovski 7:48pm February 8)
Love my dogs.
(Lori Byrd 5:24pm February 9)
I love cats and dogs. I also love horses as well.
(Heather Amos 2:40pm February 10)
Registered users may leave comments.
Log in or register now!