Diane Whiteside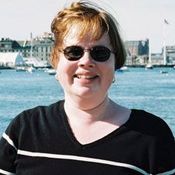 Blogging at Fresh Fiction
Diane Whiteside | What Does He Look Like?
April 5, 2011
Readers always ask me what my book's hero looks like.  I'm lucky enough to almost always have an answer for them, even if Read More...
Diane Whiteside | Special Places and Meals with Family and Friends
November 6, 2010
It's November and time to think about sharing a meal with loved ones. I've always tucked bits of my family history into my Read More...
Diane Whiteside | In Love With A Wandering Man
June 22, 2010
Here I am, on a cruise ship sailing across the Atlantic without a bit of land anywhere in sight. That pretty much describes exactly where Read More...
Diane Whiteside | Dancers Make Magic
November 2, 2009
Hi, everyone! Big hugs to everyone here at Fresh Fiction for asking me to blog Read More...
Diane Whiteside | Once Upon A Time in A Place Far, Far Away
February 26, 2009
Historical authors always write about someplace that can't be seen or felt by their reader. For Read More...
Diane Whiteside | Bond of Fire, or A French Lady Comes to Texas
January 2, 2008
Hullo! Here it is, January 2nd, the Christmas sales are over, the New Year's Day buffet has been reduced to a neat stack of Read More...
Diane Whiteside | Citizen Soldier
September 10, 2007
What do those two words mean, anyway? Strong, stalwart, dependable, intelligent, good in a fight. Oh, and definitely an alpha male – at least to a Read More...
By day, Diane Whiteside builds and designs computer systems for the federal government. By night, she escapes into a world of alpha males and the unique women who turn their lives upside down. Noticing the lack of a husband to keep Diane in line, her Tibetan Terrier stepped up to the plate and makes sure that Diane does everything The Right Way – in Tibetan Terrier terms, of course.
Log In to see more information about Diane Whiteside
Log in or register now!
Series
Books:
Cast Of Characters, March 2012
Paperback / e-Book
Improper Gentlemen, August 2011
Paperback
The Shadow Guard, April 2011
Trade Size / e-Book
The Devil She Knows, June 2010
Paperback
The Mammoth Book Of Vampire Romance 2, November 2009
Paperback
Captive Desires, November 2009
Sequel to CAPTIVE DREAMS
Trade Size / e-Book
The Southern Devil, April 2009
Devil #3
Mass Market Paperback (reprint)
Kisses Like A Devil, February 2009
Devil #5
Trade Size
The River Devil, December 2008
Devil #2
Mass Market Paperback / e-Book (reprint)
Bond of Darkness, October 2008
A Novel of Texas Vampires #3
Trade Size
Bond of Fire, January 2008
Texas Vampires #2
Trade Size
Beyond the Dark, December 2007
Trade Size
The Irish Devil, October 2007
Devil #1
Mass Market Paperback / e-Book (reprint)
Bond of Blood, October 2007
Texas Vampires
Paperback / e-Book
The Northern Devil, August 2007
Devil #4
Trade Size / e-Book
Unleashed, December 2006
Trade Size
Bond of Blood, October 2006
Texas Vampires
Trade Size
The Southern Devil, October 2006
Devil #3
Trade Size
Captive Dreams, September 2006
Trade Size
The Hunter's Prey, February 2006
Erotic Tales of Texas Vampires
Trade Size / e-Book
The Switch, January 2006
Trade Size / e-Book
Not Just for Tonight, August 2005
Trade Size
The River Devil, July 2005
Devil #2
Trade Size / e-Book
The Irish Devil, October 2004
Devil # 1
Trade Size

Videos