Jenny Holiday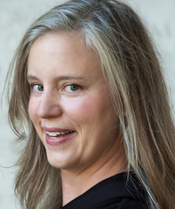 Blogging at Fresh Fiction
Jenny Holiday | The Four Best Jane Austen Adaptations You've Never Heard Of
February 3, 2016
We all know about Colin Firth emerging from the lake. (Right???? If not, here's a Read More...
Jenny Holiday | The romance BFF
February 24, 2015
Lots of people (and by people I mean "ill-informed snobs") say romance novels are unrealistic, that they idealize relationships in a way that's Read More...
Jenny Holiday started writing in fourth grade, when her awesome hippie teacher, between sessions of Pete Seeger singing and anti-nuclear power plant letter writing, gave the kids notebooks and told them to write stories. Most of Jenny's featured poltergeist, alien invasions, or serial killers who managed to murder everyone except her and her mom. She showed early promise as a romance writer, though, because nearly every story had a happy ending: fictional Jenny woke up to find that the story had been a dream, and that her best friend, father, and sister had not, in fact, been axe-murdered.
From then on, she was always writing, often in her diary, where she liked to decorate her declarations of existential angst with nail polish teardrops. Eventually she channelled her penchant for scribbling into a more useful format. After picking up a PhD in urban geography, she became a professional writer, spending many years promoting research at a major university, which allowed her to become an armchair astronomer/historian/particle physicist, depending on the day. Eventually, she decided to try her hand again at happy endings--minus the bloodbaths.
Log In to see more information about Jenny Holiday
Log in or register now!
Series
Regency Reformers | 49th Floor | New Wave Newsroom | Bridesmaids Behaving Badly | Matchmaker Bay
Books:
Sandcastle Beach, March 2021
Matchmaker Bay #3
Mass Market Paperback / e-Book
A Princess for Christmas, October 2020
Paperback / e-Book / audiobook
Paradise Cove, August 2020
Matchmaker Bay #2
Mass Market Paperback / e-Book
Mermaid Inn, February 2020
Matchmaker Bay #1
Mass Market Paperback / e-Book
Three Little Words, February 2019
Mass Market Paperback
It Takes Two, July 2018
Bridesmaids Behaving Badly #2
Mass Market Paperback / e-Book
One and Only, March 2018
Bridesmaids Behaving Badly #1
Paperback / e-Book
The Pacifist, November 2016
New Wave Newsroom #3
e-Book
The Gossip, October 2016
New Wave Newsroom #2
e-Book
The Fixer, September 2016
New Wave Newsroom #1
e-Book
His Heart's Revenge, July 2016
49th Floor #4
Paperback / e-Book
Viscountess of Vice, February 2016
Regency Reformers #3
e-Book
The Engagement Game, October 2015
49th Floor Novel
e-Book
The Likelihood of Lucy, June 2015
Regency Reformers #2
e-Book
The Miss Mirren Mission, April 2015
Regency Reformers #1
e-Book
Sleeping with Her Enemy, March 2015
49th Floor Novels
e-Book
Saving The CEO, October 2014
49th Floor Novel #1
e-Book