Amy Lane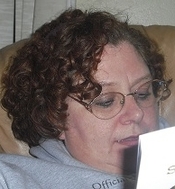 Amy Lane is a mother of four and a compulsive knitter who writes because she can't silence the voices in her head. She adores cats, knitting socks, and hawt menz, and she dislikes moths, cat boxes, and knuckle-headed macspazzmatrons. She is rarely found cooking, cleaning, or doing domestic chores, but she has been known to knit up an emergency hat/blanket/pair of socks for any occasion whatsoever or sometimes for no reason at all. She writes in the shower, while commuting, while taxiing children to soccer/dance/karate/oh my! and has learned from necessity to type like the wind. She lives in a spider-infested, crumbling house in a shoddy suburb and counts on her beloved Mate, Mack, to keep her tethered to reality—which he does while keeping her cell phone charged as a bonus. She's been married for twenty-plus years and still believes in Twu Wuv, with a capital Twu and a capital Wuv, and she doesn't see any reason at all for that to change.
Log In to see more information about Amy Lane
Log in or register now!
Series
Long Con Adventures
Books:
The Face Man, November 2023
Long Con Adventures #6
Paperback / e-Book
Loving Hearts, June 2023
e-Book
The Tech, January 2023
Long Con Adventures
Paperback / e-Book
The Rising Tide, October 2022
The Luck Mechanics
Paperback / e-Book
Weirdos, September 2022
Hardcover / e-Book
The Suit, June 2022
Long Con Adventures
Paperback / e-Book
The Driver, February 2022
Long Con Adventures
Paperback / e-Book
The Muscle, October 2021
Long Con Adventures
Paperback / e-Book
The Mastermind, April 2021
Long Con
Paperback / e-Book
Portals and Puppy Dogs, February 2021
Dreamspun Beyond #43
e-Book
Immortal, May 2015
Paperback / e-Book
Forever Promised, July 2013
Keeping Promise Rock #4
Trade Size / e-Book
City Mouse, March 2013
Country Mouse #2
Hardcover / e-Book
Clear Water, September 2011
Trade Size / e-Book