Parris Afton Bonds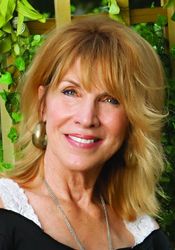 http://www.parrisaftonbonds.com/
Social Media:
GOODREADS
BLOG
TWITTER
FACEBOOK

E-mail me when Parris Afton Bonds releases a new book.
Blogging at Fresh Fiction
Parris Afton Bonds | Never Forget
September 12, 2013
Read More...
Dear Reader
I'M DANCING ON SUNSHINE because you have dropped by my part of paradise ~ reading and writing. We have some things in common ~ that we believe love triumphs over everything, even death, that we love a tension-packed story, and that we feel the best romance books sweeten our lives. I feel as if I was born with the romantic gene, as romance has been a vital part of my life since early childhood.
I remember watching on our television set (our family got our first one when I was five) the old (they were old even then) Jeanette McDonald/Nelson Eddy musicals. But other than those, TV never became a part of my life (still isn't). I'd head to the library on the bus every week and load up an armful of books. I especially loved swashbuckling historical romances (written way back then by mostly men, such as Frank Yerby, Rafael Sabatini, James Fennimore Cooper, and Dale Van Every). Later, I came to love Edna Ferber, Sergeanne Golon, Daphne Du Maurier, Jan Wescott, Annie Seaton, and oh so many more. But it was the plight of the Native American as described in the novel Romana by Helen Hunt Jackson, which influenced the theme of many of my novels.
I am by nature a hopeful romantic and am trusting the Paradise to come includes, still, romance (and chocolate)! Meanwhile, I hope I am able to provide your part of paradise with romantic entertainment.
* * *
The mother of five sons and the author of thirty–eight published novels, Parris Afton Bonds is the cofounder of Southwest Writers Workshop and cofounder and first vice president of Romance Writers of America. Although she wrote her first novel at the early age of five (The Blackhawk Women Ride Again), she didn't publish professionally until she began freelancing while living outside the United States. When she moved back to the States, with more than a dozen articles and short stories to her credit, she decided to tackle novel writing again. Because of the explosion of the romance novel at that time, she wrote and sold her first submission, the historical romance Sweet Golden Sun, to Popular Library. Her editor was Kate Duffy who went on to establish a stellar name for herself in the publishing industry.
Declared by ABC's Nightline as one of the three best-selling authors of romantic fiction, the award-winning Parris Afton Bonds has been interviewed by such luminaries as Charlie Rose and featured in major newspapers as well as published in more than a dozen languages. She donates her time to teaching creative writing to both grade school children and female inmates. The Parris Award was established in her name by the Southwest Writers Workshop to honor a published writer who has given outstandingly of time and talent to other writers. Prestigious recipients of the Parris Award include Tony Hillerman and the Pulitzer nominee Norman Zollinger.
Log In to see more information about Parris Afton Bonds
Log in or register now!
Series
Books:
Answering The Call, June 2023
e-Book
Midsummer Midnight, July 2014
Midsummer Madness #1
e-Book (reprint)
Blue Bayou: Lions and Ramparts, March 2014
Blue Bayou Book II
e-Book (reprint)
Blue Bayou: Fleur de Lis, March 2014
Blue Bayou Book I
e-Book (reprint)
The Captive, December 2013
e-Book
Ravished, December 2013
e-Book
Sweet Enchantress, December 2013
e-Book
Deep Purple, November 2013
e-Book
Lavender Blue, November 2013
e-Book (reprint)
Spinster's Song, November 2013
e-Book (reprint)
Run To Me, November 2013
e-Book (reprint)
Made For Each Other, November 2013
e-Book (reprint)
Wind Song, November 2013
e-Book
Mood Indigo, October 2013
e-Book (reprint)
Blue Moon, October 2013
e-Book
The Maidenhead, August 2013
e-Book
Indian Affairs, July 2013
e-Book
The Flash of the Firefly, June 2013
e-Book
The Dust Devil, April 2013
e-Book
Snow and Ice, March 1995
Paperback
Lavender Blue, January 1995
Paperback
Summer Sizzlers, June 1989
Silhouette Anthology
Paperback