"A Quintessential Beach Romance, no matter the season!"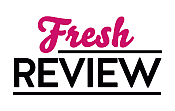 Reviewed by Audrey Lawrence
Posted April 11, 2023

Romance Contemporary | Romance Small Town
He is back! Cate Ainsworth knew that her old flame is back on the island after years of being away, yet no matter how she plans to react, nothing has prepared her for how her heart would respond.
Cate always thought that Knox Price and her were a happy couple with a future together, but all that changed after he left the island to follow his big city dreams and cut all contact with her. Now, with his uncle needing a serious operation, he is back. The big question: Will he stay or will he go?
SERENDIPITY BY THE SEA is the latest novel by author Jennifer Vido, who is well known for her Piper O'Donnell Social Lite mystery series as well as for writing the Jen's Jewels author interview column for the fabulous FRESHFICTION.COM.
Vido's writing is clear, descriptive and instantly immerses the reader into the story and the lives and feelings of the various characters. Making the characters realistic in their actions and reactions. The storyline in SERENDIPITY BY THE SEA is also enriched by hearing about events from the differing viewpoints of the characters.
Cate and her best friend Eliza Brown are both great characters and personify the closest of friendships while each is committed to forging their own path. Cate's love for Gull Island, shines as bright as the summer sun thought-out the novel while Vito showcases its beauty as Cate and Knox go on their treasure hunt. Cate is an island girl and hopes to live there forever. Can Cate and Knox find a way to each other's hearts and aspirations?
SERENDIPITY BY THE SEA is a delightful South Carolina romantic adventure that you definitely do not want to miss! So, get your wine and settle back for a visit to the beach in SERENDIPITY BY THE SEA, no matter the weather outside! It is your treat to enjoy! For myself, I am looking forward to the next book in the Gull Island series.
SUMMARY
Will a hopeless romantic on the verge of landing her dream job reconnect with her wanderlust ex-boyfriend for a second chance at love?

Cate Ainsworth is poised to land her dream job when an ex-boyfriend-the guy she once loved who left town with no explanation-returns to their Lowcountry hometown. Their long-denied attraction tugs her in a new direction, but will she risk everything for a second chance at love?

A freelance photographer, Knox Price seeks adventure, not commitment. Back in town to care for his uncle gets complicated when he crosses paths with Cate, igniting a spark he can't ignore. But can he confess the truth about why he walked away?
Excerpt
Cate maneuvered into the parking lot adjacent to the main road, jumped out of her car, and headed for the employee golf carts used as a means to get around the grounds. Taking the first available, she hurled the little cart in the direction of Guest Services. Whizzing past beachgoers sporting island T-shirts, she spied customers coming out of Novel Ideas, the island's long-standing, secondhand bookstore.
Slowing at the curve in front of Island Scoop, Cate wished for a cool treat to reward her sweet tooth. The strong aroma of steaming coffee alerted her to a few visitors coming out of The Wise Owl, sipping cups of morning brew. Blocking her view, they strolled along the path toward the boardwalk. Their telltale bronzed skin and relaxed demeanor signaled the end of their stay. Cate couldn't blame them for wanting to linger, but she was in a hurry.
When they finally set out, she zipped her cart into the only open parking spot. Cate entered the building and scooted by the buzzing groups now congregating in front of the shiny Guest Services counter, careful not to make eye contact. She shifted her belongings to cover up her navy polo embroidered with the Gull Island insignia to ward off unwanted conversation until she could get settled and prepared to offer assistance.
---
What do you think about this review?
Comments
No comments posted.

Registered users may leave comments.
Log in or register now!