"Bakewell tarts are served in this Oregon cosy mystery"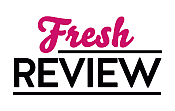 Reviewed by Clare O'Beara
Posted August 5, 2022

Mystery Amateur Sleuth | Mystery Culinary
Misty Bay is the setting for the Willow Pattern Tearoom, between the Oregon coast and hills. Vivian Wainwright is an Anglophile, as her mother was English, and she happily bakes and serves in her British themed catering establishment, while trying to resolve local crimes. This time however she's IN TOO STEEP.
Hal Douglass is a friendly local gentleman, and since both Vivian and Hal are approaching their golden years, and widowed, a comfortable association has developed between them which we see deepening in this second book. The series is called 'Misty Bay Tearoom' which hints at a cosy setting and amateur sleuth. Many's the fault a trained investigator would find – particularly that Vivian puts herself in foreseeable danger – but she's of an era and background where criminals didn't turn vicious, and a mystery feels like a series of puzzles she can't resist solving. Modern crime however has come to Misty Bay.
Lewis Trenton, a reclusive beachcomber, is found shot near his basic shack. Vivian spots in a news item that the deceased man had a replica of Big Ben like one that was sold from her store. That's enough to make her curious, especially when Lewis is rumoured to have been involved in serious crime, without any evidence whatsoever. Maybe he was being unfairly blamed. Detective Tony Messina is on the case, hoping this widowed grandmother will stay out of his way. He's more interested in getting to know her employee, the loyal Jenna Ramsey.
The young dog Felix, which is Vivian's responsibility, is a wonderful character, adding youthful exuberance, and playing a major role in the sleuthing. Dog lovers can relax and settle in for a laugh with this story. Hal owns a store for pet supplies, but we don't see that, just the delicious foods in the tearooms. Scones with clotted cream and English jam, dainty sandwiches, Battenburg cake and Ceylon tea. Lots of interest for the reader as we follow the puzzle trail of who passed the parcel, and how Big Ben came to grace the hermit's cabin.
Anyone looking for a more senior sleuth and a quieter environment will appreciate Kate Kingsbury's latest release, IN TOO STEEP. Best enjoyed with a cup of tea and a Bakewell tart.
SUMMARY
The peace and tranquility of the Misty Bay Tearoom is rocked by murder and a long-buried secret hidden in a most unlikely place in bestselling author Kate Kingsbury's second charming book for fans of Cleo Coyle and Laura Childs.

It seemed like a simple case: the murder of Lewis Trenton, a beachcomber who lived alone in a cabin in the Oregon hills. But the newspaper article piques the interest of Vivian Wainwright, owner of the British-style Misty Bay Tearoom. The photo accompanying the article shows Lewis's cluttered living room, and on the shelf is a replica of Big Ben. Vivian is sure she sold the clock a week before in her shop. Who could have given the replica to Lewis?

Unable to keep from doing a bit of sleuthing, Vivian hunts down the replica in a local thrift shop, noticing that the base is missing, rendering it worthless, but just as Vivian is about to throw it in the trash, a sparkle catches her eye. It's a diamond, hidden away in a crevice in the clock. Vivian takes the diamond to Detective Tony Messina, who identifies it as part of a jewelry heist in Portland a month earlier. Portland police think Lewis was the fence who sold the jewels, and that he was killed after double-crossing the thieves—but Messina doesn't believe the story.

What was the true motive behind Lewis's murder? How did he come upon the diamond? And what secrets can the clock tell—before the killer strikes again?
---
What do you think about this review?
Comments
No comments posted.

Registered users may leave comments.
Log in or register now!