"A chance encounter, a magical kiss - could it be what it takes to break up a decades-long feud?"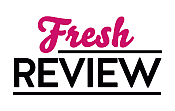 Reviewed by Karen Siddall
Posted June 27, 2022

Romance Multicultural | Romance Contemporary
The last thing busy ER nurse Mariana Capuleta wanted to do was spend New Year's Eve playing wingman to her more outgoing sister, Cat, at a hopping San Antonio rooftop bar, but there she was. However, a magical kiss with a handsome stranger as the new year arrived created an unforgettable memory. But with her work at the hospital, preparing for advanced study to become a physician's assistant, she felt she had no time for a man in her life.
Mariana was the oldest of eight sisters whose parents, Arturo and Berta Capuleta, had fostered and adopted. They had all grown up in a large apartment located above the community center on the west side of San Antonio. Casa Capuleta was a mainstay of the community and had attracted the attention of developers desiring to gentrify the neighborhood and price the original residents out. The Capuletas had taken out a loan to make repairs to the center and were now facing a massive balloon payment they had not foreseen. If they can't make the payment, they will lose their home.
One of the main activities offered at the center was music lessons, and each of the sisters played an instrument. In her small amount of free time, Mariana performed with her sisters in an all-female mariachi band, Las Nubes, and they were beginning to make a name for themselves around town. With their sights on the hefty cash prize offered, the sisters entered the Battle of the Mariachi Bands competition and were determined to win.
Angelo Montero lost his parents when he was 19, leaving him the guardian of his much younger sister. However, his uncle Hugo stepped in and offered the young man a way to make ends meet: a home with him in his mansion on the outskirts of San Antonio, a job in his successful real estate development company, and the spot his father had held in Hugo's mariachi band, last year's Battle of the Bands winner - Los Reyes. He had not yet met a woman he wished to have a relationship with until one magical New Year's Eve night at a downtown San Antonio rooftop bar where he kissed the beautiful girl who disappeared into the night without giving him her name.
As the Battle of the Bands approached, Angelo and his bandmate, Marco, decided to go undercover and check out the latest competition – Las Nubes. He's shocked that the woman who's been haunting his dreams for months is Mariana Capuleta. But the joy of his discovery is marred by the fact that his uncle and Mariana's father hate each other, and the two families have been locked in a feud for decades.
WEST SIDE LOVE STORY is a modern retelling of Romeo and Juliet and was full of the excitement and drama of the bard's original tale with the charm and cultural delights of San Antonio and the mariachi scene. The characters were wonderful – engaging and wholesome, people I would love to know. Mariana and Angelo are both ambitious and responsible, love their families, and are loyal to their community. They were a perfect couple. The Capuleta sisters were fun and so different from one another, and that's a lot of sisters to keep straight. I loved the idea of the eight girls becoming sisters through their adoption by the Capuletas. The subplot involving the most recently placed foster child, Nina, is tense and suspenseful. I would love to see more stories about each of the sisters.
The mariachi band and Battle of the Bands' plotlines were fresh and unique. I have never looked up so many interesting tidbits as I did while reading this, and almost all had to do with mariachi music, costumes, or instruments. I found it fascinating.
Another thing the author did that I enjoyed was the liberal sprinkling of snippets of Spanish dialogue throughout the book. This could slow the story for some readers; however, the English meaning always followed close behind in the exchange.
With its engaging main characters, absorbing drama, and exciting world of mariachi, I recommend WEST SIDE LOVE STORY to readers who enjoy retellings of Romeo and Juliet, strong female protagonists, stories featuring Latinx culture and characters, and the wonderful city of San Antonio.
SUMMARY
A heart-stirring romance of star-crossed love, feuding familias, and the bonds of sisterhood by USA Today bestselling author Priscilla Oliveras.
Two familias in Texas, both alike in dignity, rivalries, and passion…
Having grown up in the nurturing household of Casa Capuleta, Mariana will do anything for familia. To solve her adoptive parents' financial problems amid their rapidly changing San Antonio comunidad, Mariana and her younger sisters are determined to win the Battle of the Mariachi Bands. That means competing against Hugo Montero, their father's archnemesis, and his band and escalating a decades-old feud. It also raises the stakes of Mariana's forbidden attraction for a certain dark-eyed mariachi who sets her heart racing.
To Angelo Montero's familia, Mariana is also strictly off-limits. But that doesn't stop him from pursuing her. As their secret affair intensifies and the competition grows fierce, they're swept up in a brewing storm of betrayals, rivalries, and broken ties. Against the odds, they vow to bring peace. But sacrifices must be made and consequences weighed for two star-crossed lovers to make beautiful music together.
---
What do you think about this review?
Comments
No comments posted.

Registered users may leave comments.
Log in or register now!