"Are these two chefs cooking up a second chance at love?"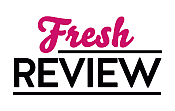 Reviewed by Karen Siddall
Posted December 28, 2021

Philippa Gayle is happy where she is in life. The successful executive chef at the Pasture Lane Restaurant at the Tillbridge Stables and Guesthouse resort near Bolan, Maryland, Philippa is at the top of her game and mentoring the young and talented chefs on her staff. She loves living and working in a small town. She's comfortable, and then her ex-boyfriend Dominic Crawford shows up almost on her doorstep.
It's been six years since their short but passionate affair fell apart when they were both vying for the coveted position as executive chef at an exclusive island resort. Dominic ended up with the gig and is now a celebrity chef with a television show, a wildly successful restaurant in L.A., and about to open a new location in Atlanta. He's here at Pasture Lane, at the special request of the director, to spearhead the culinary aspect of the celebratory premiere of Chloe Daniels' (Tillbridge's owner's wife) latest movie, which was shot right there in Bolan.
Philippa knows she can work with Dominic (they were a great team once) just as long as they keep the past firmly in the past. But when she realizes her feelings for Dominic and his for her are as fresh and passionate as they were all those years ago, she wonders if there really are second chances at love.
A Chef's Kiss is the first story in author Nina Crespo's Small Town Secrets series, an off-shoot of her delightful Tillbridge Stables series. It was great to return to Bolan, Maryland, and catch up with the Tillbridge family, and follow along as Rina Tillbridge's friend, Chef Philippa Gayle, struggles to find her own true love. It is a wonderful second chance romance story where the characters must work hard to overcome their present situation to get back the love they'd discovered years earlier, and there is a lot of water under the bridge to overcome. The characters were genuine, the small-town setting charming, and the restaurant, cooking, and food-focused plotlines interesting and very entertaining.
If you enjoyed the Tillbridge Stables series, A CHEF'S KISS is a must-read, and if you haven't, it's a great place to start and will whet your appetite for the previous as well.
SUMMARY
A welcome second chance…

Or a recipe for disaster?

After their ill-fated fling quashed her dreams, small-town chef Philippa Gayle's onetime rival-turned-lover Dominic Crawford upended her life. But when Philippa's forced together with the celebrity cook on a project that could change her life, there's no denying that the flames that were lit years ago were only banked, not extinguished. Can Philippa trust Dominic enough to let him in…or are they just cooking up another heartbreak?
---
What do you think about this review?
Comments
No comments posted.

Registered users may leave comments.
Log in or register now!