"Geordie and Dwyn, sitting in a tree. K-I-S-S-I-N-G!"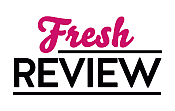 Reviewed by Rosie Bindra
Posted January 27, 2020

An invitation to meet the remaining eligible Buchanan brothers brings Lady Dwyn Innes to Buchanan Keep along with her father and sisters. After meeting the other ladies also vying for the brothers, Dwyn resigns herself to not making a match, given how much prettier and slimmer the other girls are. When Dwyn climbs a tree in an attempt to escape some of the ladies who have taken it upon themselves to torment her, she meets a stranger who gives her a kiss and leaves her wondering what other things she may experience before she has to leave.
Geordie Buchanan returns home only to discover it's hunting season on the bachelor Buchanan brothers. Geordie lets his older brother know he has no desire to settle down quite yet, but the more time he spends getting to know Dwyn, the less desire he has to remain a bachelor. When accidents around the keep begin to harm Dwyn, Geordie takes it upon himself to protect her, but in order to do that, he has to discover the enemy within before it's too late.
The Buchanan brothers are back, and this time it's Geordie's turn to find his lady love in HUNTING FOR A HIGHLANDER. I love that Geordie and Dwyn's story started off like The Kissing rhyme. I can remember chanting that rhyme with friends as a kid, and having a story start off with our leads kissing in a tree is just delightful. With Lynsay Sands' usual brand of humour, our leads find themselves falling in love while battling an unknown enemy. The focus on Dwyn's bountiful bosom that's always threatening to spill over thanks to her sisters tightening her dresses is a running thread that keeps things light even when danger threatens our lovebirds.
As usual with Sands' stories, there's a great mix of romance, mystery, and danger to keep you glued to the pages until the very end. Fans of this series will love HUNTING FOR A HIGHLANDER, and for anyone who's just coming into the series, have fun picking your favorite brother from the bunch. With five of the Buchanan brothers getting their happily ever after, there are only two left, and I can't wait to see what kind of mischief the next brother's story brings.
SUMMARY
Four Buchanan brothers have found their brides…only three more to go in this scintillating romance from New York Times bestselling author Lynsay Sands…
Lady Dwyn Innes feels utterly out of place among the eligible women who've descended on Buchanan Keep, vying for the attention of the last unmarried brothers. She isn't long-legged and slender like her sisters, or flirtatious and wily like other lasses. Since her betrothed died, Dwyn has resigned herself to becoming an old maid. Yet a chance encounter with a stranger in the orchard awakens her to a new world of sensation and possibility...
After weeks away, Geordie Buchanan returns to find his home swarming with potential brides, thanks to his loving but interfering family. But one lass in particular draws his attention from the moment he spies her climbing a tree. Lady Dwyn is not nearly as plain as she thinks. Her lush figure and eager kisses delight him, as does her honesty. But the real test lies ahead: eliminating a hidden enemy, so that he and Dwyn can seal their Highland passion with a vow.
---
What do you think about this review?
Comments
No comments posted.

Registered users may leave comments.
Log in or register now!