"A super sexy, fun, and flirty debut contemporary romance!"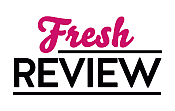 Reviewed by Danielle Dresser
Posted April 15, 2019

Cassie Crow has been in Europe for over a month with her best girlfriends and wants nothing more than to throw caution to the wind and have a sexy fling with a hot guy she'll never see again. So when she encounters a hot Scot in a kilt in a castle claiming to be a time traveler, Cassie decides to just go with it and kisses him. The handsome man happens to be Logan Reid, internet prankster extraordinaire, and he knows the kiss he shared with Cassie is his next viral video waiting to happen. Cassie refuses to sign the waiver he needs to post it, so Logan follows her to London, where instead of pressuring her for her signature, he spends time the American lass and finds himself enchanted.
After a few scintillating nights together, Cassie leaves for Chicago, ready to get back to work and finally become a serious journalist, covering important issues in the Windy City. Logan's been offered a late night gig, and the production company just so happens to be based in Chicago, too... Cassie's back in professional mode and Logan's not even sure he wants a serious relationship, but one thing's certain - they both want to see where things go, and they start a comfortable relationship. But as their feelings begin to deepen and professional pressures intensify, will Cassie and Logan be able to make what started out as a prank actually work?
GETTING HOT WITH THE SCOT is a super sexy, fun, and flirty debut contemporary romance from award-winning author Melonie Johnson! Cassie and Logan are a great couple, with a wonderful meet-cute, chemistry that's off the charts, and poignant moments that show their emotional growth. Cassie's friends are all dynamic and interesting characters, and there was a delightful set up for the next book in the Sometimes in Love series. Both Cassie and Logan are relatable in their professional endeavors and watching them navigate what's expected of them versus what they want to pursue was refreshing to read. This is a promising debut from a fabulous author on the rise - and luckily the next two books come out soon! Highly recommended.
SUMMARY
Cassie Crow, a pop-culture reporter for a TV talk show, is focused on becoming a "serious" journalist. But when she stumbles into a kilted Highlander with a killer accent, Cassie decides that taking one night off from work and spending it with a sexy Scot couldn't hurt. . .
Logan Reid has built a career on his charm, hosting a series of off-the-wall hijinks on the Web. But when the Scottish prankster meets the all-American, equal parts intelligent and irresistible Cassie, Logan realizes that one night of fun won't be enough. Could it be that this career-focused, commitment-phobic couple is finally ready to take a chance at true and lasting love?
---
What do you think about this review?
Comments
3 comments posted.
Re: A super sexy, fun, and flirty debut contemporary romance!

It's Good!!!
(Steve John 7:36am April 16, 2019)
This sounds delightful! Thanks for the review.
(Kathleen Bylsma 6:04pm April 18, 2019)
Thanks for the review! Put Scot in the title and I'm pretty much in, either historical or contemporary!
(Sharlene Wegner 1:18pm May 22, 2019)
Registered users may leave comments.
Log in or register now!