"Everything you want in a Southern rom-com!"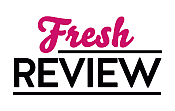 Reviewed by Magdalena Johansson
Posted June 28, 2018

Romance Contemporary | Women's Fiction
Sometimes I dare to leave my safe place of crime and thriller novels and venture into the world of feel-good and romance. I actually do it gladly if the book's setting is in the American South. I just love small town stories, where everyone knows everyone and they drink sweet tea. I was sold when AIN'T SHE A PEACH was available to read and I read the blurb about a former Atlanta cop who moves to Lake Sackett, Georgia and falls for Frankie McCready, the cute coroner who talks to the dead. She is just polite, they don't answer back or anything.
Is the book as sweet, funny and romantic as the blurb want us to believe? You bet your hat it is! Frankie is a spunky 28-year-old woman still living at home, not that she doesn't want to move out. However, being a sickly child has made her parents overprotective of their only child and just can't bear the thought of hurting them. Even if she does feel it's time, perhaps even more now so with the new sheriff Eric Linden in town. They have a past, but Frankie isn't sure there's a future with him, even though he's charming, handsome, and deliciously hot...
AIN'T SHE A PEACH is everything you want in a Southern rom-com. Frankie and her family are a delight to read about and often I had a smile on my face while I read about Frankie latest antics. The book is the second in the Southern Eclectic series and you can definitely read this one without having read the first book, or the novellas. Warning, however: you might find the need to get the first book after finishing this one.
SUMMARY
An Atlanta ex-cop comes to sleepy Lake Sackett, Georgia, seeking peace and quiet—but he hasn't bargained on falling for Frankie, the cutest coroner he's ever met.
Frankie McCready talks to dead people. Not like a ghost whisperer or anything—but it seems rude to embalm them and not at least say hello.
Fortunately, at the McCready Family Funeral Home & Bait Shop, Frankie's eccentricities fit right in. Lake Sackett's embalmer and county coroner, Frankie's goth styling and passion for nerd culture mean she's not your typical Southern girl, but the McCreadys are hardly your typical Southern family. Led by Great-Aunt Tootie, the gambling, boozing, dog-collecting matriarch of the family, everyone looks out for one another—which usually means getting up in everyone else's business.
Maybe that's why Frankie is so fascinated by new sheriff Eric Linden...a recent transplant from Atlanta, he sees a homicide in every hunting accident or boat crash, which seems a little paranoid for this sleepy tourist town. What's he so worried about? And what kind of cop can get a job with the Atlanta PD but can't stand to look at a dead body?
Frankie has other questions that need answering first—namely, who's behind the recent break-in attempts at the funeral home, and how can she stop them? This one really does seem like a job for the sheriff—and as Frankie and Eric do their best Scooby-Doo impressions to catch their man, they get closer to spilling some secrets they thought were buried forever.
---
What do you think about this review?
Comments
No comments posted.

Registered users may leave comments.
Log in or register now!