"Quirky tale filled with friendship and love."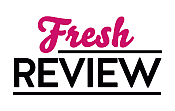 Reviewed by Sandra Wurman
Posted May 4, 2018

CHRISTMAS AT LITTLE BEACH STREET BAKERY is the last installment of the Little Beach Trilogy. This is the first one I've read in this series and I didn't feel as if I had walked into the middle of a scene. Kudos to Jenny Colgan for that. This is always a concern for readers jumping into series.
Jenny Colgan opens with a quote from "Brigadoon" which immediately conjured up wondrous images of a mystical place. Did I mention this was my first Jenny Colgan book -- it certainly won't be my last. And then we are on the Cornish Tidal Island of Mt. Polbearne which has an interesting distinction. The road or route between the island and mainland literally disappears under water twice a day. I know -- you already have a smile on your face -- I did too.
So, now let's see just what's so special about Polly's Little Beach Street Bakery that manages to flourish among a small collection of shops and cottages. The very life of Mt. Polbearne seemed to take a turn for the better when Polly's graphic design business tanked and she moved to this small town opening her little bakery. Mt. Polbearne, like many small towns, fights to maintain it's character while acknowledging the need to provide a living for the town folk. The town is busy in the summer and prosperous for the merchants. The town folk are happy with the small inconveniences and they hope it prevents people from building large homes driving out the people who have lived there for generations. So far, pretty predictable. The townsfolk are not against growth exactly, but they are reluctant to see the charm and character of their town get taken over by wealthy home owners looking to make Mt. Polbearne their summer retreat. To the townies this is their home, but much of their livelihood comes from the vacationers.
Polly and Huckle live in a lighthouse. Romantic and eclectic, but certainly not convenient. Polly has a core group of friends whose lives have branched off from existing on the island. Kerensa is feeling left out of her husband Reuben's very busy business life. Selina is still recovering from losing her husband. This threesome have a way of getting uber involved in each other lives and that's what sets up the comic portion of CHRISTMAS AT LITTLE BEACH STREET BAKERY.
Huckle corners Polly on the subject of their wedding. He wants to move ahead in their relationship. Polly is filled with insecurities. Neither would really like a big affair, but Huckle, fully aware of Polly's angst, suggests an alternate to the wedding idea -- at least for the time being. Why not skip this step and move into parenthood? Parenthood is a vital part of why the younger townsfolk are beginning to plan for things Mt. Polbearne needs -- in particular -- a school. With the population of children growing the need for a local school is a necessity. But with the difficult travel between the island and mainland there are many things to consider.
Jenny Colgan has the gift of gab and the conversations between her characters can't help but get a chuckle out of her reader. Even with an impending disaster in the works, Colgan finds something humorous. The most interesting part of the story is the comparison between Huckle and Reuben. The more we learn about these characters, the more you appreciate their development -- mostly through chatter -- which is definitely Jenny Colgan's wheelhouse. CHRISTMAS AT LITTLE BEACH STREET BAKERY is designed for the reader's enjoyment.
SUMMARY
It's the most wonderful time of the year… and the perfect moment to escape to a charming English village! From the beloved author whose novels are "sheer indulgence from start to finish" (SOPHIE KINSELLA) comes a delightful holiday story — funny, heartfelt, romantic and packed with recipes — perfect for the winter months.
In the Cornish coastal village of Mount Polbearne, the Christmas season has arrived. It's a joyous time for family, friends, and feasting, as decorations sparkle along the town's winding streets and shop windows glow with festive displays. And in Polly's Little Beach Street Bakery, the aroma of gingerbread cookies and other treats tempts people in from the cold.
Though Polly is busy keeping up with the demands of the season, she still makes time for her beekeeper boyfriend, Huckle. She's especially happy to be celebrating the holiday this year with him, and can't wait to cuddle up in front of the fireplace with a cup of eggnog on Christmas Eve.
But holiday bliss soon gives way to panic when a storm cuts the village off from the mainland. Now it will take all of the villagers to work together in order to ensure everyone has a happy holiday.
Full of heart and humor, Jenny Colgan's latest novel is an instant Christmastime classic.
---
What do you think about this review?
Comments
No comments posted.

Registered users may leave comments.
Log in or register now!