"There is no exquisite beauty without some strangeness in the proportion. ~ Edgar Allan Poe"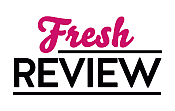 Reviewed by Sherri Morris
Posted January 28, 2018

Young Adult | Young Adult Paranormal
Mara Beznick and her mother have been with Gideon Davorin's Traveling Carnival for most of Mara's life. They are your typical Freak show complete with the strong man, the fortune teller, and bearded lady and the closest thing she has to a family. However, most of them have a unique supernatural ability. The traveling carnival is offered a week-long gig with a hefty paycheck in the small town of Caudry. Carnival owner, Gideon gets a bad feeling about the town even before their caravan of trailers and RVs makes it across the town's line. When the carnival arrives, most of them on fumes and not a dime to their name, a few of the members can already feel the shift in the air.
Like every town she had visited before, Mara slips away from the carnival to explore Caundry. All Mara dreams about is having a normal life. Settling down and having a family and a home of her own, not living out of a travel trailer. Mara meets a local girl dragging her drunk boyfriend into her house and offers to help. From there she meets her brother, Gabe. Their attraction to each one another is strong. While Mara keeps her secret that she is with the traveling carnival, Gabe has some secrets of his own.
The next day Blossom, the first carnival member disappears. Hearing about a music festival the next town over, Mara believes that Blossom headed there and will return in a day or two, which is something Blossom does often. After a few days, it begins to become obvious that Blossom isn't coming back. The town makes the rest of the carnival is becoming on edge. Some of their powers aren't working, and become unpredictable and worse; something is stalking them. Soon Mara herself begins to feel the effects of the town. Her deceased grandmother has been visiting her dreams, screaming in a language Mara can't understand. She had also inherited the necromancy gift that both her mother and grandmother have. The local sheriff has done nothing to help, so it up to Mara and the remaining carnival crew to figure out what's going on before there is no one left.
Having read Amanda Hocking's Trylle Trilogy, I was excited to see a new one come out. The book is written in the 1980s from Mara's point of view. Before each chapter is a tarot card and the date, which adds a little something extra to the story. When I read Amanda Hocking's Trylle series, I fell in love with her writing style. It seemed to flow effortlessly across the pages. FREEKS was no exception. The character development was flawless and her story line held my interest throughout the entire book. This was a fun and enjoyable read.
Learn more about Freeks
SUMMARY
Step into a wondrously strange new world with this dazzling new standalone novel by Amanda Hocking, New York Times bestselling author of The Kanin Chronicles!
Mara has become used to the extraordinary. Roaming from place to place with Gideon Davorin's Traveling Carnival, she longs for an ordinary life where no one has the ability to levitate or predict the future.
She gets her chance when the struggling sideshow sets up camp in the small town of Caudry, and she meets a gorgeous local guy named Gabe. But before long, Mara realizes there's a dark presence lurking in the town that's threatening the lives of her friends. She has seven days to take control of a power she didn't know she had in order to save everyone she cares about—and change the future forever.
In the pages of Freeks, Amanda Hocking once again proves her ability to create amazing characters and enchanting worlds that will capture your imagination and never let go.
---
What do you think about this review?
Comments
No comments posted.

Registered users may leave comments.
Log in or register now!