"For the first time in his life....Thomas is on his own, accused of a crime he didn't commit."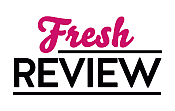 Reviewed by Sherri Morris
Posted December 17, 2015

Young Adult Suspense | Mystery
THICKER THAN WATER is Brigid Kemmerer's new series of small town mystery, involving two teens from very different backgrounds in their search to uncover the truth around a murder that could either clear the suspicion clinging to one of them or get them both killed.
Thomas Bellweather and his mother are new to the small town of Garretts Mill. Thomas's mother has recently married Stan, one of the town's homicide detectives. Thomas' world is shattered and turned upside down when he discovers his mother murdered in her bed.
With no leads or evidence, the police are looking at Thomas as their most likely suspect. As Thomas struggles just to attend his mother's funeral, he realizes the entire town thinks he is the one responsible for her death. He is on the verge of losing it when Charlotte Rooker comes up to him at the funeral
Charlotte is a good girl, the daughter to a police officer, and three older brothers in law enforcement; there isn't much Charlotte is allowed to do. When she notices Thomas outside the church at his mother's funeral, she is drawn to him. So whenever Charlotte is around, Thomas is surely to end up being taken to jail. Sadly, she is the only person who believes he didn't kill his mother.
THICKER THAN WATER is Brigid Kemmerer's first book released since her Elemental series. Told in both Thomas and Charlotte's point of views, their story begins at a slower pace but gradually escalates. Brigid Kemmerer is a new author for me so I don't have any of her previous work to compare to. However, it has been awhile since a book has been able to suck me so far into it I just couldn't stop reading. THICKER THAN WATER did that for me. Brigid Kemmerer's writing style has a wonderful, captivating flow to it. She includes surprises and plot twists I did not see coming and created characters the reader can easily fall in love with. I cannot wait to get my hands on some of her other books!
SUMMARY
On his own
Thomas Bellweather hasn't been in town long. Just long enough for his newlywed mother to be murdered, and for his new stepdad's cop colleagues to decide Thomas is the primary suspect.
Not that there's any evidence. But before Thomas got to Garretts Mill there had just been one other murder in twenty years.
The only person who believes him is Charlotte Rooker, little sister to three cops and, with her soft hands and sweet curves, straight-up dangerous to Thomas. Her friend was the other murder vic. And she'd like a couple answers…
Answers that could get them both killed, and reveal a truth Thomas would die to keep hidden…
---
What do you think about this review?
Comments
No comments posted.

Registered users may leave comments.
Log in or register now!