Brigid Kemmerer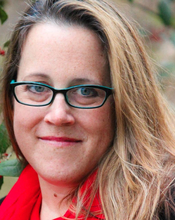 Brigid Kemmerer was born in Omaha, Nebraska, though her parents quickly moved her all over the United States, from the desert in Albuquerque, New Mexico, to the lakeside in Cleveland, Ohio, and several stops in between, eventually settling near Annapolis, Maryland. Brigid started writing in high school, and her first real "novel" was about four vampire brothers causing a ruckus in the suburbs. Those four brothers are the same boys living in the pages of The Elemental Series, so Brigid likes to say she's had four teenage boys taking up space in her head for the last seventeen years. (Though sometimes that just makes her sound nuts.)
Brigid writes anywhere she can find a place to sit down (and she's embarrassed to say a great many pages of The Elemental Series were written while sitting on the floor in the basement of a hotel while she was attending a writers' conference). Most writers enjoy peace and quiet while writing, but Brigid prefers pandemonium. A good thing, considering she has three boys in the house, ranging in age from an infant to a teenager.
While writing STORM, it's ironic to note that Brigid's personal life was plagued by water problems: her basement flooded three times, her roof leaked, her kitchen faucet broke, causing the cabinet underneath to be destroyed by water, the wall in her son's room had to be torn down because water had crept into the wall, and her bedroom wall recently developed a minor leak. Considering SPARK, book 2 in the series, is about the brother who controls fire, Brigid is currently making sure all the smoke detectors in her house have batteries.
Interviews for Brigid Kemmerer
Meet Brigid Kemmerer
Thicker Than Water
December 28, 2015
Log In to see more information about Brigid Kemmerer
Log in or register now!
Series
Elementals Series
Books:
Defy the Night, September 2021
Hardcover / e-Book
Letters to the Lost, April 2017
Hardcover / e-Book
Thicker Than Water, January 2016
Paperback / e-Book
Sacrifice, October 2014
Elementals #5
Paperback / e-Book
Secret, February 2014
Elementals #4
Paperback / e-Book
Spirit, June 2013
Elementals #3
Paperback / e-Book
Spark, September 2012
Elementals #2
Paperback / e-Book
Storm, May 2012
Elementals #1
Paperback / e-Book