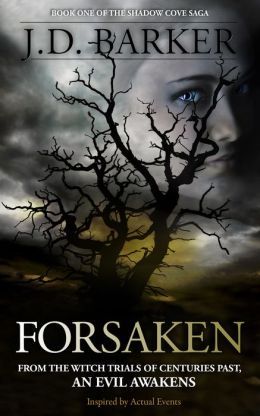 Forsaken, November 2014
Book One of the Shadow Cove Saga
by J.D. Barker

Hampton Creek Press
Featuring: Clayton Stone; Thad McAlister
388 pages
ISBN: 0046385622
EAN: 2940046385625
Kindle: B00P1W6RDQ
e-Book
Add to Wish List

Purchase
"There's always a price to pay."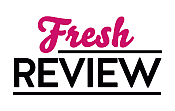 Reviewed by Lynn Cunningham
Posted May 3, 2015

Thad and Rachael McAlister along with their young daughter Ashley are living the life of their dreams. Thad is a wildly successful writer of horror books that have been devoured by an adoring public. In fact, he is so successful that three of his books have been optioned for movies and his latest soon-to-be published novel is already garnering the interest of film makers. On top of all this, they live in a home that anyone would envy, and Rachael will soon be delivering a brand new member of the family.
Oh yes, life is very good in the McAlister household. Except that it might not be quite as good as it appears on the surface.
Rachael has begun dreaming of an old woman who clicks her long fingernails together in an odd manner. This woman also keeps demanding that Rachael give her something that she claims is hers. The old woman keeps saying "I want what is mine!"
The dreams are worrisome, of course, but they are nothing compared to the reality that awaits the McAlisters one morning when they awake. Something has infected their entire lawn; something ugly and odiferous. There's no reasonable explanation for it.
That's only the beginning of the trials that face this family during the next three days. An evil older and more terrible than anyone can imagine has some definite plans for Thad and Rachael. This evil is determined to walk the earth once more and it will use them to do so.
FORSAKEN is one of the creepiest, nerve-jangling books that I've ever had the pleasure to read. The story elicited many responses from me, all of them spoken aloud. There was jaw dropping shock; "don't look under the bed" suspense; hand wringing helplessness; and the hope that I was wrong about what was going to happen next.
Seriously, FORSAKEN has everything that a devoted fan of the horror genre could ever want in a book. J.D. Barker takes an old idea and puts an entirely fresh, new spin on it. For fans of Stephen King, there is a delightful little surprise that I am not going to ruin here. Just know that you are going to love how Mr. Barker wove it into his original plotline.
FORSAKEN is the first novel penned by J. D. Barker and I am deliriously happy to report that it will not be his last. He has begun what he calls The Shadow Cove Saga with FORSAKEN and I am avidly anticipating the next book in this saga. It is interesting to note that Mr. Barker also resides in Shadow Cove, Massachusetts.
J. D. Barker has created a world within FORSAKEN that is enough to make you want to leave all the lights on even after you have finished the last page. There's plenty of things for you to ponder long after you close the book, and that is definitely a sign of a spectacular book.
Mr. Barker may have begun by following in the footsteps of such horror royalty as Stephen King, John Saul and Dean Koontz; but he has blazed a unique path of his own with FORSAKEN. It is a path that I look forward to traveling again in the near future.
Learn more about Forsaken
SUMMARY
Book One of the Shadow Cove Saga Inspired by Actual Events Excerpt from the Journal of Clayton Stone – 1692 She was examined today without torture at Shadow Cove township on the charge of witchcraft. She said she was wholly innocent of the crime and has never in life renounced God. I watched as they brought her out. A poor, sickly thing, worn by her time behind the walls of her prison. Her bared feet and hands bound in leather, her clothing tattered to that of ruin. Despite such condition, her head was held high, her eyes meeting those of her accusers. She still refuses to provide her name so we remain unable to search baptismal records, nor has her family stepped forward to claim her as their own. We have no reason to believe she is anything but an orphaned child. I find myself unable to look at her directly in the moments preceding her trial. She is watching me though; with eyes of the deepest blue, she is watching me. Thad McAlister, Rise of the Witch When horror author Thad McAlister began his latest novel, a tale rooted in the witch trials of centuries past, the words flowed effortlessly. The story poured forth, filling page after page with the most frightening character ever to crawl from his imagination. It was his greatest work, one that would guarantee him a position among the legends of the craft. But was it really fiction? He inadvertently opened a door, one that would soon jeopardize the lives of his family. She wants to come back. At home, his wife struggles to keep their family alive. Secretly wondering if she caused it all…a deal she made long ago. A deal with the Forsaken.
---
What do you think about this review?
Comments
No comments posted.

Registered users may leave comments.
Log in or register now!