"It's a recipe for murder!"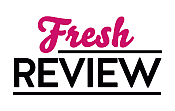 Reviewed by Debbie Wiley
Posted November 30, 2014

Crystal Cove's yearly Grill Fest is scheduled to start soon and this year the Cookbook Nook is hosting it. The competition is cutthroat between the local amateur chefs vying to be this year's winner. Unfortunately, one chef is now dead and the mother of Jenna Hart's best friend is now a suspect. Can Jenna help uncover the identity of a murderer once again?
INHERIT THE WORD is the second book in the Cookbook Nook Mystery series but can easily be read as a standalone story. Daryl Wood Gerber provides readers with enough background information on the town and the residents in order to fully appreciate INHERIT THE WORD. However, I can't imagine why anyone would want to miss out on the fun with Jenna, Vera, and the rest of the Crystal Cove residents!
I never realized there were so many possibilities with grilled cheese! Once again, Daryl Wood Gerber provides the reader with scrumptious sounding recipes while the storyline itself contains multiple tantalizing hints of foods I only wish I could sample. I am crossing my fingers and hoping that Daryl Wood Gerber eventually provides us with a cookbook featuring the Cookbook Nook Mystery series.
We learn a bit more about Jenna's past in INHERIT THE WORD as there is another underlying mystery within the storyline. I'm not sure how I feel about the secondary mystery but it does create some depth of character, as Jenna uncovers some secrets she could choose to keep hidden forever. I love Jenna's commitment and loyalty to her friends and family and we see that element so thoroughly tested by the revelations she uncovers about her deceased husband, David.
INHERIT THE WORD is a strong second entry in the Cookbook Nook Mystery series! Jenna is a great main character and I am beginning to fall in love with all of Crystal Cove. Fans of cozy mysteries, particularly those revolving around food, will love INHERIT THE WORD!
SUMMARY

When tempers get too hot to handle, someone's bound to get grilled.

Jenna Hart moved back to Crystal Cove, California, with the intention to relax and help her aunt, Vera, run the local culinary bookshop and café. But it's hard to follow a simple recipe for relaxation when murder gets thrown in the mix...

The Cookbook Nook is set to host the town's upcoming Grill Fest, a tasty tradition which pits local amateur chefs against one another to concoct the most delicious dishes. This year's challenge: Grilled Cheese. But with competing chefs bearing grudges from past years, more mouths are running off than salivating.

The expression "too many cooks" proves all too true when the eight–time champ is found murdered in the alley behind the cafĂ©. Soon a local diner owner (and Jenna's "second mother") is suspected of bumping off the competition, and Jenna has to douse the flames before the wrong person gets burned...
Videos
---
What do you think about this review?
Comments
No comments posted.

Registered users may leave comments.
Log in or register now!