"50 Shades of learning how to bring BDSM into YOUR bedroom."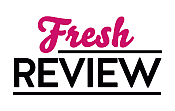 Reviewed by Lizzie Bailey
Posted September 25, 2014

Like most rocker loving chicks with tattoos, I enjoy a lil bit of kink here & there in the bedroom.
When the opportunity arose to do a review for "50 SHADES OF KINK, I immediately jumped on it, cause hey - why not? My husband is your typical country boy, but is willing to branch out should I get an idea. What's the harm in reading a book of this nature & getting a bit of a refresher course?
The book is packed full of information you may not think of otherwise. From paddles, to crops, to the usual suspect, the handcuffs, our minds get a bit of a mind bender with ways to use these tools.
You will also learn about how to have safe rough sex plus sensation play.
Just in case you aren't as mind numbingly perverted as I am with some of the things already in your dresser drawer, there is a "shopping guide" to help you along the journey. Bonus points from Condom Sense not included til you make all your devilishly fun purchases.
I highly recommend this book for a woman new to the "world" & looking for a bit of fun after getting her world rocked reading the original 50 Shades. You will learn how to SAFELY partake in a world that most never get a glimpse into, but secretly desire.
As a side note, do not use duct tape in place of handcuffs. During our experimental use of this book, the husband and I could not locate cuffs, so the thought, "Let's use duct tape!" popped into our genius brains.
It cut the circulation off in my husband's hands and he had a bit of a meltdown. I never knew a man could cut duct tape with his teeth and unwrap his wrists that quickly.
Good to know. Much like 50 SHADES OF KINK is a book good to have in your top drawer should you decide to finally act on all of those kinky fantasies I know you have if you are reading this review.
SUMMARY
Tristan Taormino can tell you everything you want to know about the world of kink, and more! Operating on the pleasure principle, 50 Shades of Kink is a truly helpful how-to that is the perfect beginner's guide to the realm of kinky sex and can also serve as a wonderful refresher course.
Whether readers want to get up close and personal with blindfolds, crops, and paddles or are just looking for some inspiration to keep things fresh in the bedroom, 50 Shades of Kink is ideal for everyone and their lover(s). Included are techniques and creative ideas for bondage, spanking, flogging, sensation play, and rough sex; lessons on how to eroticize power, cultivate deeper connections, and incorporate kink into one's sex life; and role-playing fantasies from the popular to the taboo.
---
What do you think about this review?
Comments
No comments posted.

Registered users may leave comments.
Log in or register now!