"I am possessed."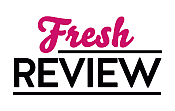 Reviewed by Lizzie Bailey
Posted February 20, 2014

Alexis is your typical outcast teenager complete with pink hair and to make things worse, she lives in a creepy old house. Infamous for standing up for her friend Beth against the cheerleaders, Alexis is trying to survive normal life with her overworked mother, emotionally distant father, & weirdo 12 year old doll obsessed sister, Kasey.
Things start happening in the house & soon, Alexis notices that Kasey's blue eyes shift to green. The house turns so cold the girls can see their breath and Alexis starts noticing Kasey hoarding information on people in their town.
Before you anti-horror story, romance loving, people turn away - there is a romance intertwined in the story. I enjoyed reading a scary story with a budding romance. It gave the book a nice break from the scary parts so I could mentally recover before the next creepy bits jumped out at me.
Possession is a hard subject to write, but BAD GIRLS DON'T DIE nails it. Unable to put the book down, yet shivering every so often from the thrills and chills, I read the entire book in 24 hours. This is a must read for any ghost story fan. You get your thrills and chills plus the added bonus of love too.
SUMMARY
Alexis thought she led a typically dysfunctional high school existence.
Dysfunctional like her parents' marriage; her doll-crazy twelve-year-old sister, Kasey; and even her own anti-social, anti-cheerleader attitude.  When a family fight results in some tearful sisterly bonding, Alexis realizes that her life is creeping from dysfunction into danger.  Kasey is acting stranger than ever: her blue eyes go green sometimes; she uses old-fashioned language; and she even loses track of chunks of time, claiming to know nothing about her strange behavior.
Their old house is changing, too. Doors open and close by themselves; water boils on the unlit stove; and an unplugged air conditioner turns the house cold enough to see their breath in.
Alexis wants to think that it's all in her head, but soon, what she liked to think of as silly parlor tricks are becoming life-threatening--to her, her family, and to her budding relationship with the class president.  Alexis knows she's the only person who can stop Kasey -- but what if that green-eyed girl isn't even Kasey anymore?
---
What do you think about this review?
Comments
No comments posted.

Registered users may leave comments.
Log in or register now!