"WHEN I'M WITH YOU is wrought with sexual tension and burning desire."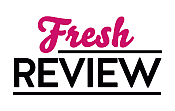 Reviewed by Annie Tegelan
Posted November 3, 2013

Erotica | Romance Erotica Sensual
Elise Martin is known for her socialite status but she has come to Chicago to show people that she isn't just a pretty face. However, she never expected to fall back into the hands of Lucien Lenault, her childhood crush again.
Lucien has a dominant personality. He is ruthless, controlling and will do anything to get what he wants. When he essentially blackmails Elise into an arrangement, the sizzling sexual tension between them mounts until all those years they've known each other snaps into a sensual whirlwind of emotion. There is some emphasis of BDSM in this novel, as well as some scenes that were thrown in for some shock value. Kery definitely pushes her readers, wanting to see how far they will come with her.
Although I didn't find the plot to be particularly engaging, it was Lucien's character that I found most alluring. He is a hard one to understand sometimes because of his ruthless ways, but as the story goes on, you see some of the heart hidden inside that he keeps only for Elise and I think that's a very romantic notion.
WHEN I'M WITH YOU is wrought with sexual tension and burning desire. Kery's writing takes hot to a whole new level.
SUMMARY
New York Times bestselling author Beth Kery's blistering new novel of a man and a woman bound by the scandalous secrets of the past—and by the sexual hunger that still fuels their uncontrollable desires…
Out-of-control party girl and wealthy socialite Elise Martin has come to Chicago to prove to herself and the rest of the world that her life is truly worthwhile. But she never dreamed she'd find herself at the erotic mercy of the dynamic and wealthy Lucien Lenault, her girlhood crush, an irresistible enigma who renders women powerless and vulnerable...not to mention wholly insatiable.
But Elise isn't just any woman. She's used to playing with fire, and for her, discovering Lucien's secrets is all part of the game. What brought Lucien to Chicago with a new name and a new identity? Who is Ian Noble, the provocative new stranger in Lucien's shadow? And why has Lucien taken to following him in the night?
As the two of them get deeper into a dangerous sexual dance, Lucien can't help but wonder if the exquisite firestorm that Elise has ignited could not only expose his secrets, but draw him dangerously close to the edge and leave both their futures in ashes.
---
What do you think about this review?
Comments
No comments posted.

Registered users may leave comments.
Log in or register now!