"Everything I do, I do it for you"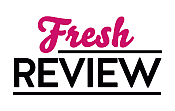 Reviewed by Clare O'Beara
Posted January 1, 2013

A top chef spends his life working in his restaurant, appearing on a TV show and travelling - and the girl who married him and supported him becomes more depressed until she runs off to Tahiti.
TURNING UP THE HEAT takes the couple on a voyage of discovery. They should have gotten to know each other better when they were young, but as teenagers life took an unexpected turn and Daniel married Lei to secure her late father's restaurant in Provence. She gave up her dreams of a degree to run the business side while he slaved in the kitchens, always striving for perfection and terrified of losing star ratings. Ten years later with fame under his belt, Daniel returns from a business trip to discover that Lei has gone on an unexpected holiday, leaving her phone. Her friends and the sister she put through college don't think she had a lover or was kidnapped, they just think she needed a break. But Daniel can't rest until he knows for sure, so he traces her holiday purchase and follows.
Tahiti is so scorching hot that even with sun block on Lei has got burned. As she slathers on aloe vera gel and covers up, she wistfully looks back at her isolated life and wonders where she went wrong. Daniel never has time for her any more, and she has time for nothing but the business. Daniel's arrival is like a shock of cold water to her and her skin is too painful to even hug him. The couple have to work out their differences gradually, on beaches and under a waterfall rediscovering how to give each other pleasure, while they step back through their lives and see how they have misunderstood each other through never having time to talk.
Laura Florand is an American who now lives in France, and this gently erotic romance with a French and tropical flavour would warm anyone's heart in the dead of winter. We cheer for the lovestruck teens fighting to build their quality business and wish this short tale was longer.
SUMMARY
Eleven years together, and the woman Daniel married at nineteen can still surprise him. Like coming home from a consulting trip to find Léa has disappeared to a remote island in the South Pacific. Just for a week or two...I'm not sure...I'll call you. Daniel may not know what is wrong with his marriage or his wife, but he does know one thing for sure: he's not losing her. And as a top chef, he knows exactly how to turn up the heat.
Excerpt
"Wh—what the hell is going on, Dan?" His neighbor Grégory stumbled as Daniel dragged him out in front of his house two hours later. After listening to that message over and over. After sitting on their bed gnawing at it. After hunting through the house to see exactly what she had taken—not her family heirlooms, at least. A deep breath there. And he didn't see her wedding rings abandoned anywhere.
"Did you see anything?" Daniel gestured toward the view of his own house. "Any signs of trouble?"
"Danny...it's not even dawn yet. Wait—what? What do you mean—trouble?"
"Léa is gone."
"What?"
"She said she was going on a little trip," Daniel said, but then wished he hadn't. He didn't want to falsely reassure anyone who might help in the search. "I just—did you see her when she left yesterday?"
"Sure, she waved. She did have a suitcase."
"Did you see anyone in the back of the car?" Daniel asked tensely.
Grégory gaped. "You mean—like a lover? Merde, Dan...do you think...?"
Daniel stared at him in white shock, feeling as if the man had just detonated a grenade in his belly. "A lover? You think she has a lover?"
"No." Grégory backed up a step.
Daniel followed. "What the fuck have you seen?"
"Nothing! Just...when you said about someone being in the car"—
"Someone forcing her to go! Her voice sounded funny! Not a—lover, damn you."
"No! No. She seemed—fine. Happy, even."
That stopped Daniel for a moment. He looked back over at his house. "Happy?"
"You know. Like someone going on a vacation, in fact."
"Oh." Daniel continued to stare at his house. He couldn't remember what it was like to go on a vacation. In his teens, his father had taken him camping in the mountains sometimes. He had given all that up for Léa.
And she hadn't even invited him?
Not that he knew when he could have gotten away, but...
He rubbed the back of his neck. "All right. All right. Sorry."
"Were their signs of foul play?" Grégory asked, still worried by Daniel's worry.
"No, I—no."
"She had a suitcase. She must have packed."
"She forgot her toothbrush," Daniel said lamely. Not really a sign that a woman had been drugged and dragged out of the house, when you looked at it closely.
"You must be jetlagged out of your mind," Grégory decided finally, giving him a clap on the shoulder. "Give her a call. She probably won't mind being woken up, if you're this worried. I'm sure she's fine."
Daniel went back into his house, sat down on her side of the bed, and stared at her phone. After a minute, he picked it up, typed in her code, and started checking through all her recent calls.
---
What do you think about this review?
Comments
No comments posted.

Registered users may leave comments.
Log in or register now!